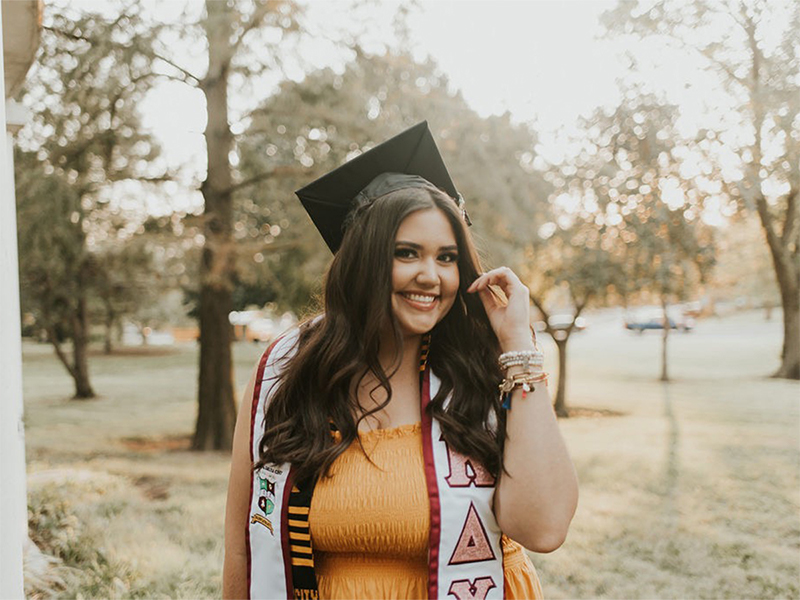 Nayeli Cano is passionate about helping people and wants to work with underrepresented communities to provide equal access to health care for those in need.
Nayeli is one of more than 1,100 students eligible for fall 2019 graduation. Learn more about her time at Wichita State and what's next for the senior.
What is your degree in?
Health management and health science with a minor in public health.
What led you to WSU to begin with?
As a first-generation student, I knew I was going to need the support of my loved ones. It only made sense to stay close to home and pursue my degree. My family has been my biggest motivation throughout this journey, and I am glad I was able to share my success with them. Without their sacrifices and encouragement, I wouldn't be where I am today.
How are you feeling leading up to graduation?
I am super excited to graduate! I look back on these past couple of years and see how much I've grown and accomplished during my undergrad. I will always cherish the opportunities I've had throughout the years, as well as those who believed in me and encouraged me to aim higher.
What has been your most helpful learning experience while a student at WSU?
Being in the College of Health Professions, I have been exposed to pretty much every aspect of what it means to advocate, serve and ensure the health of my community. Maintaining positive relationships with my professors has made my experience so much more rewarding and has made me look forward to what I have yet to learn. I have been able to apply the skills I have learned in the classroom to clinical scenarios, my internship and various community service opportunities. It is extremely rewarding to see things begin to play a role in my professional career.
What has been your biggest challenge as a student, and how did you overcome it?
My biggest challenge as a student was making sure I did not overwhelm myself with extracurriculars. I always wanted to help and be involved in as much as I could, but there just weren't enough hours in the day. Definitely be involved on campus, but make sure you maintain focus on your classes and don't overwork yourself. Remember, it is OK to say no.
What are your plans now workwise?
After graduation, I hope to work with underrepresented communities and provide equal access to care for those in need. In addition, I plan on earning my master's degree.
What advice would you give other WSU students?
Be sure to always keep an open mind. It is good to be focused and to have an end goal, but do not close your window of academic opportunities simply because it doesn't align with that specific dream. You never know what you will come across and become passionate about. Be willing to lean into discomfort and learn about different cultures and their traditions. There is a beauty behind it. Most importantly, remember those who helped you and become that help to someone else.