Politics isn't as simple as School House Rock makes it out to be. It's more than a bill getting passed or a politician being voted into office. While every vote matters, what's behind the vote is what students from Wichita State University got to experience through political science internships.
The internship partnership between Topeka, Washington D.C. and Wichita State allow students the hands-on, applied learning experience that builds knowledge before graduation. Getting outside the classroom creates valuable understanding and expansion of what is taught in textbooks and assignments.
Students who intern with legislators, representatives and congressmen have the opportunity to work alongside their team as they prepare bills and campaigns, handle finances and travel around the state meeting other Kansans.
Neal Allen, chair of the political science department, coordinates the internships for students.
"Often times, before a student applies for the internship, their perspective of political science is narrow," Neal said. "In reality, there's more opportunities students don't know about. It's all about finding their passions in a job that exists."
Before the outbreak of Coronavirus, there were eight students working in Topeka and seven students located in Washington D.C., a record amount compared to last year.
December graduate and political science major Hannah Chegwidden interned in Topeka with former Democratic representative and now Wichita mayor, Brandon Whipple
During her time in Topeka, she experienced committee meetings and helped research new bills. She was also able to partake in Loud Light, an organization focused on engaging, educating and empowering underrepresented individuals in Kansas to build community power and impact decision makers
Her work on Loud Light was a collaboration with other Topeka interns. She helped create a video that focused on Medicaid expansion in Kansas. The video was released on Loud Light's website and is used to inform voters of the differences between Medicare and Medicaid.
"Working in Topeka and with Loud Light was the most important thing I did in college," said Hannah. "The internship expanded my knowledge of how the legislative process functions."
The internship placements tend to repeat over the years but with changes in legislatures, interns with differing party lines and interests, Wichita State is often picking up new areas of focus.
"Overall, my internship provided real, tangible experience. After completing my work in Topeka, I felt more prepared and ready to graduate," said Hannah.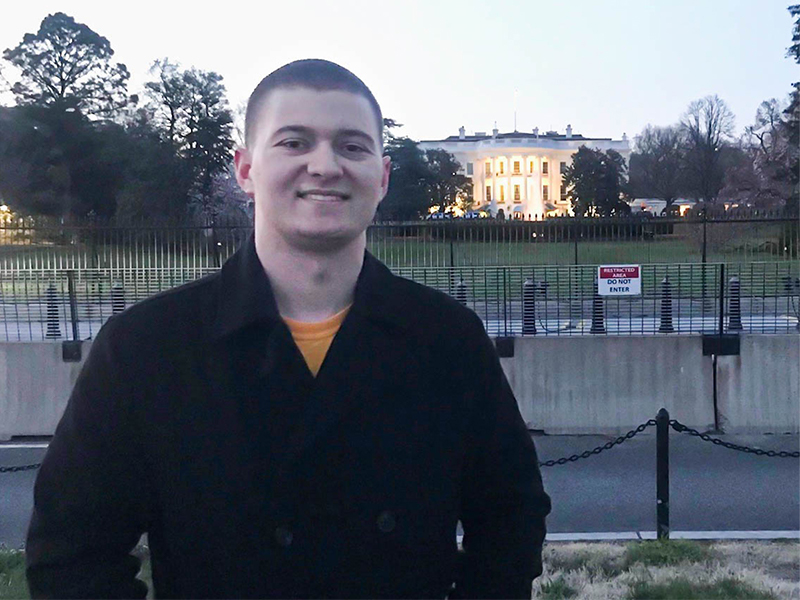 Drake Robinson, a current Wichita State student, interned in Washington D.C. with Jerry Moran. Here he is pictured outside the White House.
---
One Wichita State student, Drake Robinson, had the opportunity to live in Washington D.C. during spring of 2018 and work alongside title Jerry Moran. His experience was unique: While there, he witnessed the government shut down twice. Being there allowed him to understand the why and how behind government.
"I left Washington D.C. with a broader understanding of government," said Drake. "I understand what all Jerry Moran does day in and day out."
During Drake's internship, Jerry Moran also took him and other interns to lunch regularly in the cafeteria at the capitol. He was able to meet other senators and see politics through their eyes.
Internship placements in Topeka and D.C. are a vital experience for any student interested in political science. While some travel on the campaign trail, lobby with senators and representatives or research new bills, time spent in the capitol is second to none.
For most students, their time solidified their interest in the political field.
"The program is an excellent way to get degree experience while also learning more about the country's history," said Hannah. "I was able to expand my knowledge while also making connections that benefited me after graduation."