Three Wichita State researchers and a student group have been awarded the John A. See Innovation Award.
The faculty winners are Anil Mahapatro, Eylem Asmatulu and David Long.
Mahapatro, associate professor of biomedical engineering, won for his research project, "Plant based materials for Stereolithography 3D printers."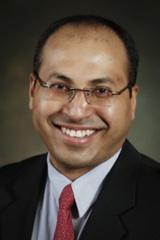 Anil Mahapatro
Asmatulu is an assistant professor the department of mechanical engineering. She is collaborating with Long in biomedical engineering, and their winning research project is titled "Superhydophilic nanofiber desiccants for enhanced food and drug packaging."
Graduate students from the innovation design program were also recognized for their venture-based projects. Jared Goering, Spencer Steinert and Max Hinman won for their project titled "nwire – immersive learning platform"
The John A. See Awards began in 2014 after See donated $1 million to provide prizes to WSU faculty and students conducting outstanding research or producing other significant work.
See was director of flight test and prototype development at Boeing until his retirement in 1985. While not a Wichita State alumnus, he has been a generous WSU supporter who values the importance of higher education and believes in WSU's commitment to growth and pioneering work.