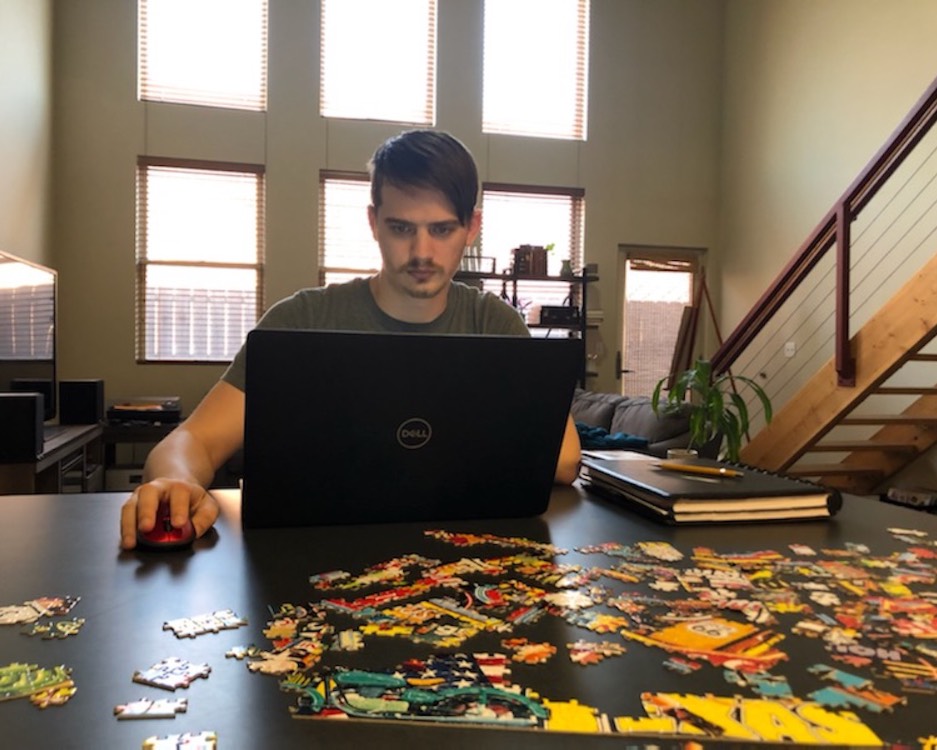 Working in politics appealed to D.J. Gering. He saw himself crunching numbers for a campaign or researching policy and turning those experiences into a career with a think tank.
"When I graduated from WSU, I told myself the one thing I really didn't want to do was health," he said.
Three years later, Gering is helping his community deal with a pandemic as a public health analyst for the Reno County Health Department.
Gering, a 2017 Wichita State University graduate who majored in political science, collects data for Reno County's coronavirus dashboard. It displays all Kansas counties, cases, recovery information and demographic variables such as age and income.
"The purpose of this dashboard is to give real-time information to the community, or to emergency managers, or whoever may be using this dashboard," he said. "I'm mapping testing density, figuring out which neighborhoods have the highest testing density in relation to EMS calls, in relation to where the positive cases are at within Reno County and trying to detect a pattern."
Officials use that information to make decisions about how their community is handling the pandemic.
"If you're an emergency manager in a county where there's a spike in cases one day, your county may want to change its approach," he said.
Gering's aversion to a career in health care began to change when he did a research paper using data analysis for Dr. Dinorah Azpuru of Wichita State's political science department. The paper looked at how religion can affect transparency, democracy and women's equality in countries throughout the world.
"That was my intro to the data world," he said. "It showed me it was a viable career path, which at the time, I wasn't so sure about."
That was my intro to the data world. It showed me it was a viable career path.
D.J. Gering,
Public health analyst, Reno County
After graduation, he worked at the Kansas Department of Health and Environment. He moved to Reno County in November.
"During that time (at KDHE), I really picked up this love for health data and data analysis in the public-health realm," he said.
Azpuru invited Gering to speak to her political data analysis class last year.
"He gave other students great advice," she wrote in an email. "He was hard-working, inquisitive, and found it fascinating that so many questions could be answered through data analysis."
The pandemic began to change Gering's life in early March when he began working from home. Long before that, he saw something coming.
"In late December, we knew it was going to come to the United States," he said. "We were already talking to (Hutchinson Regional Healthcare System) and all the necessary stakeholders in early January about coronavirus and what our response was going to be."
Gering's career took him on a different path than expected. He finds his work in health data intriguing and satisfying. When the pandemic passes, this experience will help him return to his work informing Reno County citizens in real-time about health issues such as blood-lead levels or mosquito surveillance.
"Public health very much like an orchestra, and you're trying to make it all work together," he said. "I do feel pretty fortunate to be in my current position. I do feel like I am contributing in some way."