We've been living through a pandemic since March 2020, and even though we're back in person a lot more now, many students do still have virtual components to their classes. The word Zoom has become an everyday part of our vocabulary. But you may be new to what it's like to use Zoom in a college setting. If so, then congratulations on finding this article, which was originally published in spring 2020, as you can tell by the Tiger King reference below.
When I first joined a Zoom meeting, I noticed that some students were in their PJs and others were wearing dress clothes. I also noticed one person had a dog in the background and another was eating food. I concluded that there is not a widely accepted etiquette for online schooling.
So it is with a raised pinky, and mostly my own opinions, that I present to you my Zoom Etiquette tips:
1. Ask permission before you screenshot or record a lecture!
My teacher was reviewing materials for my upcoming exam when he presented a very important slide. Without thinking I took a screenshot. As the sound of the screenshot echoed in my ears, I felt guilty. Was what I did appropriate or even legal? Time froze as I stared into my computer screen to see if anyone had noticed. No one made any comments. After I made sure the FBI wasn't going to bust down my door and take me to Guantanamo Bay, I realized that I should have asked my professor before taking a picture. It is the courteous thing to do.

2. Don't use distracting, virtual backgrounds.
Sorry fans of the Netflix mini-series, but it's best if images of the Tiger King don't appear on your background during classes. There is a time and place for everything. Use fun or, in the case of the Tiger King, distracting images when you are Zooming with friends. When you are in class, use normal backgrounds. If you don't feel comfortable showcasing your room, Zoom has some virtual backgrounds you can use. If you are missing Wichita State University, there are some lovely Shocker backgrounds here.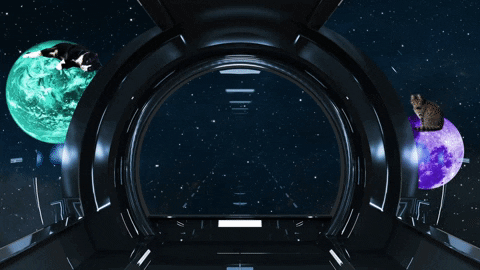 3. Where are your pants?
The only difference between an in-person meeting and a virtual meeting is the necessity of pants. As a general rule, wear the kinds of clothes you would normally wear to school. At Wichita State, pants are a necessary clothing item. Wearing pants is a win-win situation. You will be more focused on academics, and your friends and professors won't have to wash their eyes out when you drop your phone or laptop.
4. If you have a blank space baby, don't just write your name!
Have you ever noticed that your Zoom meetings are made up of faceless, named boxes? This happens when you don't upload a profile picture or use live recording. What you end up with are a series of blank spaces on your computer screen (any Taylor Swift fans here?)
Your teacher already has a long list of ex-in-person students, so he or she doesn't want to see that same list when they are lecturing you.
"I personally like it when students have their videos on during the lecture because I can see their reactions when I lecture and it seems to be more engaging when we discuss examples," said Alexander Ziegler, assistant professor of marketing of the W. Frank Barton School of Business.
Teachers would rather look into a virtual crowd of sleepy, bored faces than a series of blank spaces.

5. Mic check, please!
A man walks up to a microphone stand.
Man: Would all the Mikes stand up please?
A few men stand up.
Man: Thank you. This concludes the Mike check.
For those of you that stuck around after that pun, thank you. Turn your mic on when you are speaking and off when you're not speaking. I recommend that you silence your mic as soon as you enter your virtual meeting, so you don't forget later on. Spare you classmates from your dog's barking or from your mom demanding to know who you're talking to. Teachers like to know when their students are engaged. When you are silenced, try nodding your head or giving a thumbs up to let them know you are still with them.
6. Switch to gallery view.
Switching to gallery view allows you to see everyone in your meeting. This will help build community and make it easier to converse back and forth. While you're in that mode, you and your class should try your hand at a virtual performance of "Alexander Hamilton." It can be done!
7. Have a good Internet connection.
Having a … poor … Internet connection can be … frustrating to those … trying to understand … you. Figure out which locations in your house have the strongest internet connection and make sure those spaces are available for class time. According to Zoom, minimum bandwidth is 600kbps (up/down) and the website recommended 1.5 Mbps (up/down). You can check your Internet bandwidth using Speedtest.
8. You can't have production without pre-production.
You may not be making a movie, but you are in front of the camera. Before you start your Zoom meeting, check to see what the camera sees. Make sure you have good lighting, a clean background and good audio. If you have poor lighting or a dysfunctional background, you should use one of the virtual backgrounds Zoom has preinstalled. The audio on your computer or phone works just fine with Zoom, but you can get fancy by purchasing a headset equipped with a mic. I like to have access to an outlet or a glass of water in case my mouth dries out.
9. Zoom is designed for solos, not choirs.
When people talk over each other in a Zoom meeting, it sounds bad. To avoid incoherent conversation, use sign-offs like "That's all," "I'm done" and "finished." You can ask your teacher to speak by using the raised hand icon or by sending him or her a private message using chat.
10. It's a camera, not a mirror!
I've seen people have a one-minute conversation during a Zoom meeting, and I have been told by one of the interns I work with that a student put on makeup during her lecture. Remember that people can see you. Zoom meetings are not the time to put on your face, dig for gold or slurp up spaghetti noodles. Instead, focus on the individual speaking by looking straight into your camera. I know it feels natural to look at the participant's face, but looking into the camera simulates eye contact. Alternate between these two so you can gauge your audience and make them feel like you're talking to them.
11. Bravo! You are a sophisticated Zoomer!
Now go impress your friends and teachers with your prim and proper Zoom etiquette!