In the battle against COVID-19, it's seamstresses to the rescue.
Through GoCreate, a Koch collaborative, more than 10,000 cloth face coverings have been created by an army of more than 1,500 volunteers in the span of about six weeks. The face coverings have been donated to McConnell Air Force Base, area hospitals, nursing homes and other medical facilities.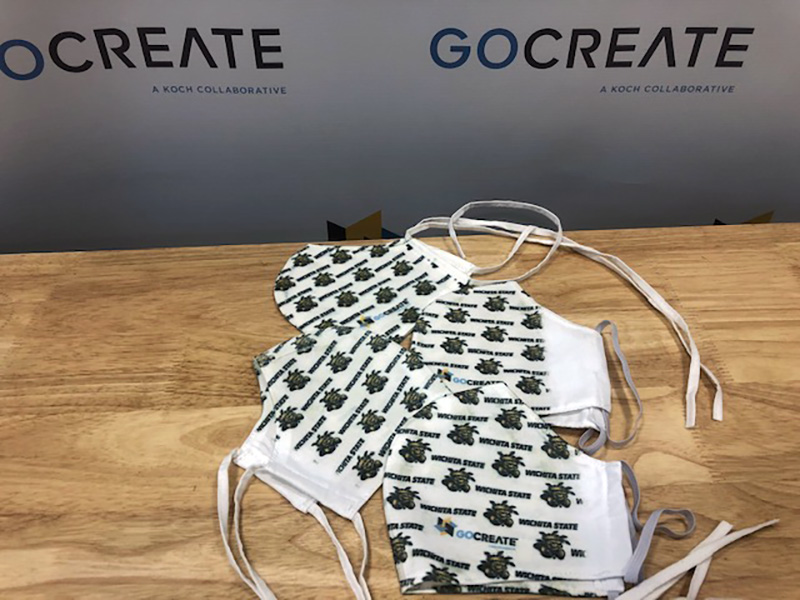 Kim McCollum is assistant director of GoCreate, a community makerspace located on Wichita State University's Innovation Campus. She said her organization has been coordinating with several members of the business community, including the Prairie Quilt Guild and Bella Bonita Designs' owner Stella Hankins.
"Stella did a Facebook page and engaged a lot of home sewers," McCollum said. "We then helped coordinate with her to make sure that the face coverings got to the places that they needed to go."
Stella initially became involved with GoCreate as a way to create fashion accessories for her business. She has gone from employing two or three part-time employees to now more than six or seven workers to create face coverings.
Hankins' good intentions were contagious, and soon members of the public wanted to dust off their sewing machines and volunteered to help.
"It just evolved into getting volunteers or employees and arranging everything with GoCreate, who is behind the scenes and doing so much to make sure that this is a successful project," Hankins said.
GoCreate has also been the force behind protecting Shockers still living on campus.
On March 16, Wichita State informed students that they would be canceling in-person classes for the remainder of the semester in response to COVID-19. Most students returned home, but others continue to live on campus.
President Jay Golden and vice president of student affairs Teri Hall want to do all they can for their students, so they asked Rob Gerlach, director of intellectual property and technology transfer, if he had any way of providing cloth face coverings to the students.
"I had previously worked with GoCreate to help them launch their cloth face covering initiative," Gerlach said.
Now GoCreate is making enough cloth face coverings for every student living on campus.
"GoCreate was very excited to showcase the capabilities of the makerspace on campus and how they are here for the students," Gerlach said.
It's been heartwarming to see people coming together during this difficult time in our history, McCollum said.
"It truly has been a labor of love," she said. "I would say that what we have helped coordinate and get the word out, and things have been nonstop steady since the second week of March."
McCollum said the face coverings can be worn over PPE and can accommodate a filter or other barrier.
"Of course, this is not a replacement for PPE, but there is a protective layer that's there."
Several stores are requiring their customers to wear face coverings when they shop.
"As we transition into the summer months, everybody is going to have to wear a face covering of some kind. This qualifies as that," McCollum said.
For those who would like to help, contact GoCreate at 316-978-2738 or info@gocreate.com.
"GoCreate has done some amazing things, but it's only because of the members that we serve," McCollum said. "When it comes to community involvement, this is a place where people come together. We have been astonished with how the different makers come together to work through this."
McCollum, who was a member at GoCreate before she became an employee, said the organization operates with a spirit of yes.
"I've always loved the fact that we get to the yes. There's not a no," she said. "If there's something that we think can possibly work — instead of saying that can't happen, we find a way to get to the yes. When it came to making face coverings, we found a way to make it work. We donated fabrics, and we got people together."