As a new Wichita State University staffer, I really wanted to make a good impression on my boss, President Jay Golden, during our first Zoom-to-Zoom interview. But I was transfixed by the face I saw staring back at me: fuzzy ears, floppy tongue, expressive eyes and a shiny black nose.
No, it wasn't Dr. Golden. It was Rudy, Wichita State's new first dog, who was adopted by Dr. Golden and his wife, Dina, on May 1 from the Kansas Humane Society.
"I'm not sure if I rescued him or he rescued me," said Golden, who is clearly as enamored with Rudy as Rudy is with his new dad.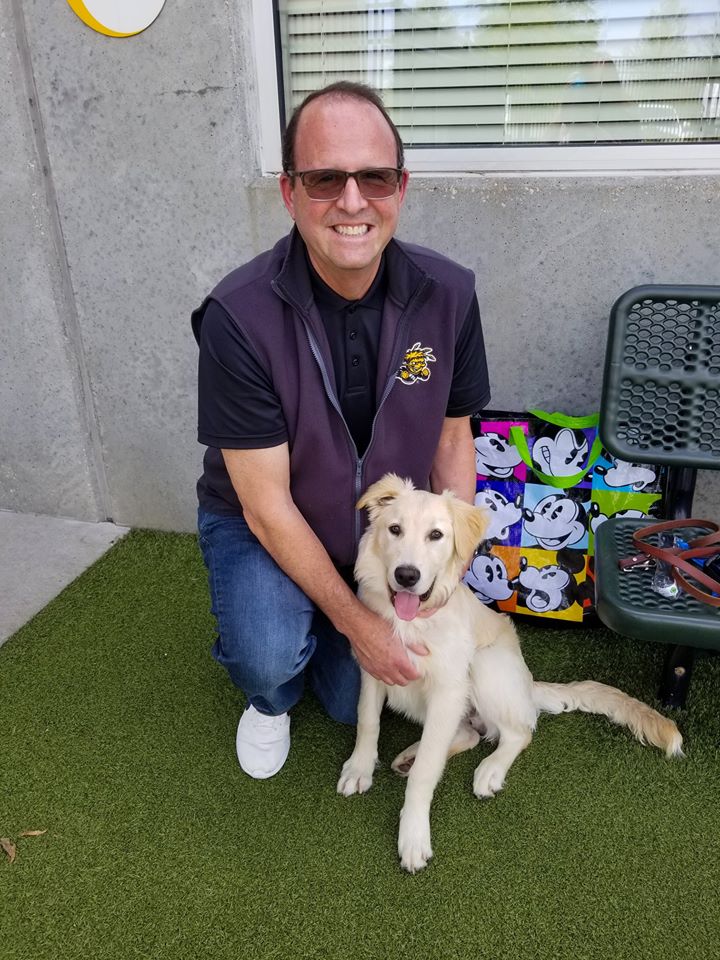 Golden, whose 12-year-old golden retriever recently passed away from cancer, had put some feelers out to local rescue groups and the Kansas Humane Society about adopting a new dog of the same breed.
"Someone from the Humane Society heard that I was looking for a golden, and the stars aligned," Golden said. "A golden was rescued and brought in."
Ericka Goering, director of marketing and communications for the Kansas Humane Society, said the president and the pup were fast friends.
"Rudy's a social butterfly. Dr. Golden and Rudy played together, and Rudy took to him right away. They went home together that day," Goering said.
Rudy's path to the presidency was rough. At about 5 months old, he was picked up by the Wichita Animal Services Center after he'd been shot with a pellet gun, and a pellet was lodged in his leg, requiring surgery to remove it.
"Rudy is a really sweet dog," Goering said. "He's just the sweetest dog in the world. Who would want to do something like that to this poor guy?"
Dr. Golden is at a loss as well.
"I don't understand how people can shoot animals or abandon them," Dr. Golden said, but he added that Rudy's injury is healing nicely: "He walks a little bit with a limp, but I think it's getting a little bit better."
Dr. Golden and Rudy have taken to each other like long-lost best friends.
"He's adjusting great. He's a very loving dog. He's attached to my hip, so to speak. Everywhere I go, he goes. We go for walks on the campus multiple times during the day, so I'm making sure I get my 10,000 plus steps in now that I have him," he said.
Rudy takes his new role seriously and often sticks his nose in campus business, frequently making appearances in Zoom meetings.
"He paws at me like he's doing now, and then he puts his paws up on the table," Golden said. "He likes to stare at the people on the computer."
Don't we all, Rudy?
Golden said he avidly supports the Humane Society and its mission. He said his wife plans to volunteer at the Kansas Humane Society in Wichita soon, and he hopes to host fundraisers for the organization at his house.
"I have a passion for rescuing dogs. All of our dogs, except for one, have always been rescues. The Humane Society is great, and we want to help support them however we can."
As Dr. Golden gushed about Rudy and his love of dogs, I couldn't help but wonder: Might he consider a campus dog park?
"If the campus community is interested in one, yes, I would be a supporter of it absolutely," he said.
Wichita State already welcomes dogs through the Shocker Pet Pathway.
The calming effect of dogs is well-documented and touted as a mainstay of mental health, and Dr. Golden and Rudy plan to work together to bring smiles and serenity to WSU.
"While he's probably not going to be formally trained as a therapy dog," Golden said, "I've been around multiple campuses now, and it's really nice to have calm dogs walk around and allow students to pet them and relax. At prior institutions, we would bring dogs into the dorms or other parts of the campus. Dogs are wonderful for mental health and our souls."