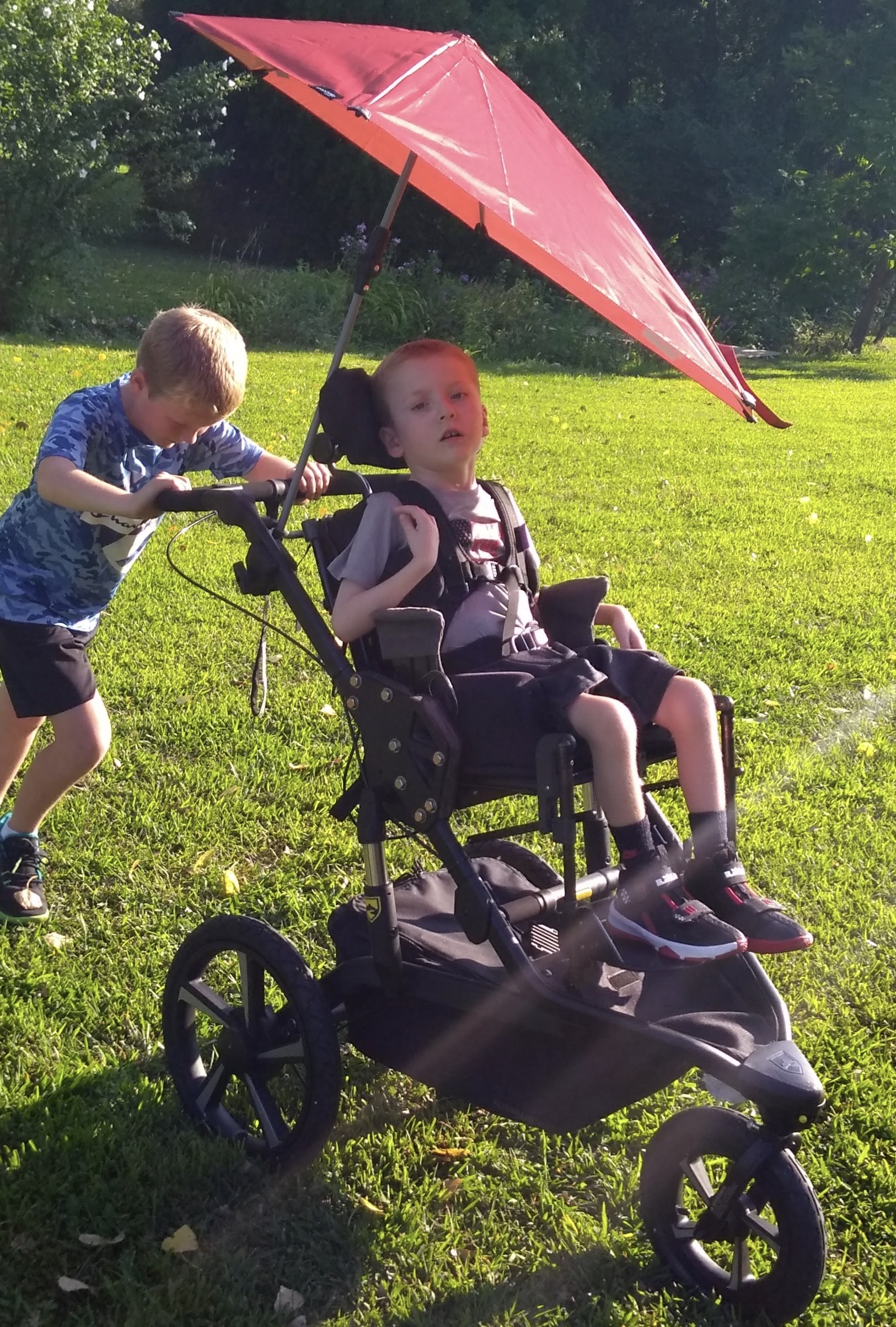 Sutton is a normal, 6-year-old kid. He likes to laugh at the villains in movies and play with his siblings. He loves to be outdoors. Sutton is like every other kid except in one way: he has cerebral palsy.
Sutton was diagnosed with cerebral palsy when he was 10 months old. His condition makes it difficult for him to use his arms and impossible for him to walk and talk.
But Sutton is not a complainer.
He is an ornery, hard worker, said Tiffany Slade, Sutton's mom. One activity Sutton enjoys the most is spending time outside.
Sutton used to walk in his back yard with a gait trainer, but health complications have prevented him from that activity. Sutton uses a wheelchair for his day-to-day activities, but it is not made for off-road adventures.
"We have three and a half acres of land," Tiffany said. "and he can't go out there comfortably."
The solution is not as easy as buying a different wheelchair. Insurance covers one wheelchair per person. With Sutton still needing his day to day wheelchair, the out of pocket cost for an all-terrain wheelchair would be around $4,000.
"It's crazy how much stuff costs," Tiffany said.
So Tiffany went to Facebook to vent her frustrations about the cost of medical equipment for people with disabilities. While looking through her feed, Samantha Corcoran, an engineering educator at Wichita State University, saw her post.
Samantha teaches Accessible Design, ENGR 302. It is part of Wichita State's Assistive Technology and Accessible Design program. The course is an undergraduate certificate program, making it unique to Wichita. This course is designed for students wanting to create innovations that improve the lives of people with disabilities.
Samantha told Tiffany about her class and how they could help solve their problem.
Noah Sentry, Sunjun Park, Regan Archibald and Leah Fisher are part of a Wichita State student team in ENGR 302. The team chose to use their skills to help Sutton.
Samantha's class spent the first four weeks learning the basics. They learned soft skills, how to manage a project, customer interviews and how to use tools in the Project Innovation Hub and GoCreate.
After that, the students got to work.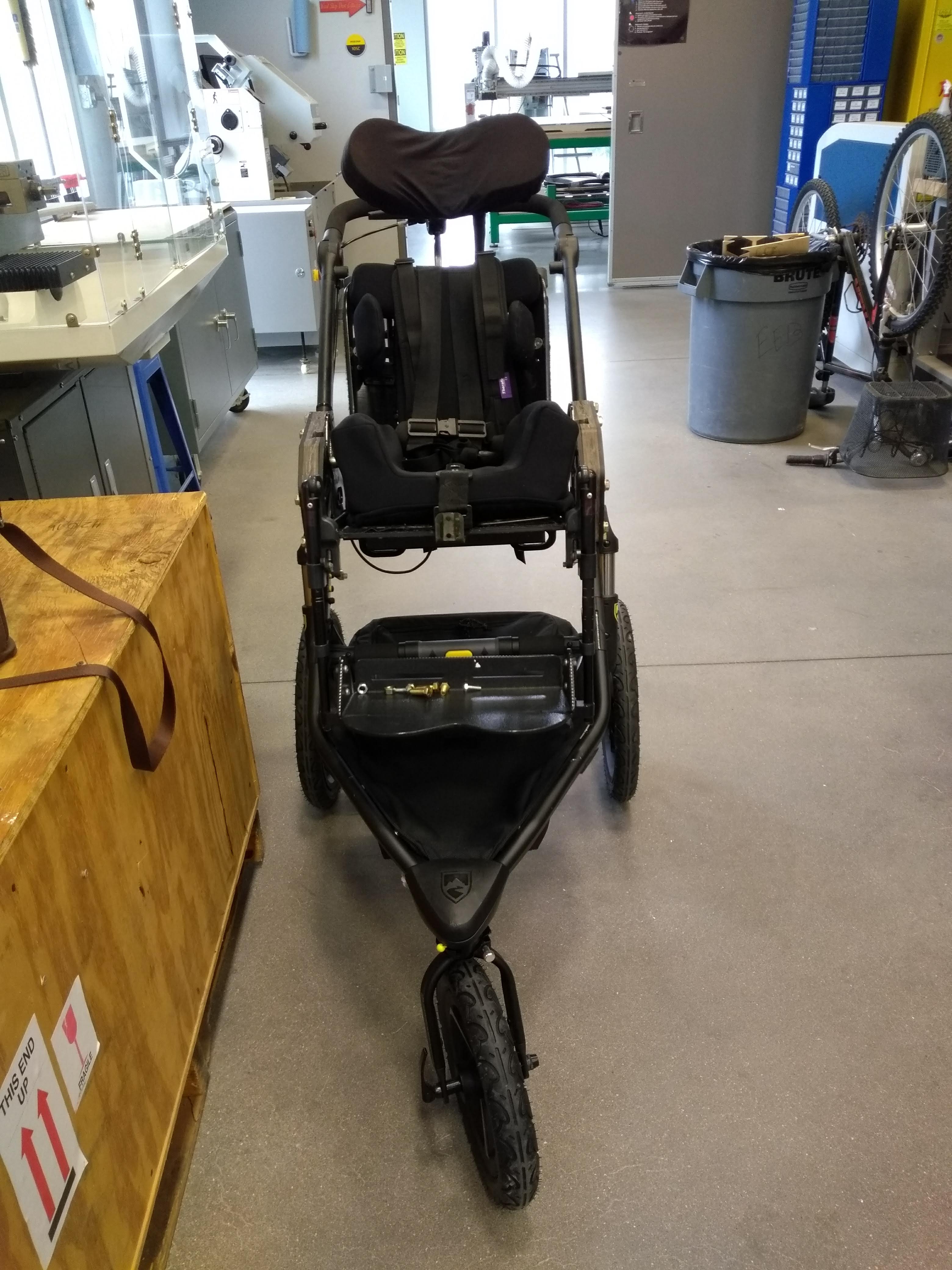 They consulted the Cerebral Palsy Research Foundation, which donated a custom seat and supplies. The student team met with local entrepreneur Mike Drescher, creator of the Jog Along Stroller, for design advice.
The jogging wheelchair will have big, thick wheels and big shocks to stabilize the wheelchair as it rolls through grass and uneven terrain.
"We are making an attachment to the wheelchair that will allow the custom seat to sit into the wheelchair," Leah, a biomedical engineering student, said.
The student team met with Sutton's clinical physical therapist at Wesley Medical Center to understand his specific challenges and the best ways to support his posture.
"The PT had us sit with Sutton and feel how much more support he had when his pelvis and knees were rotated up to 90 degrees," Leah said.
Once they had gathered all necessary information, the student team evaluated different jogging strollers and bike trailers on the market, and they worked with the family to choose one.
They're allowing Sutton to experience things he would never be able to do. There allowing him to go fishing with his dad and be a normal 6-year-old.
Tiffany Slade
Sutton's mother
Then the COVID-19 pandemic hit, and everyone had to take classes remotely.
Aerospace engineering student Sunjun, applied computing student Regan and Leah do not live in Wichita. Only Noah lives in Wichita. The team no longer had access to campus resources and couldn't meet to construct the wheelchair.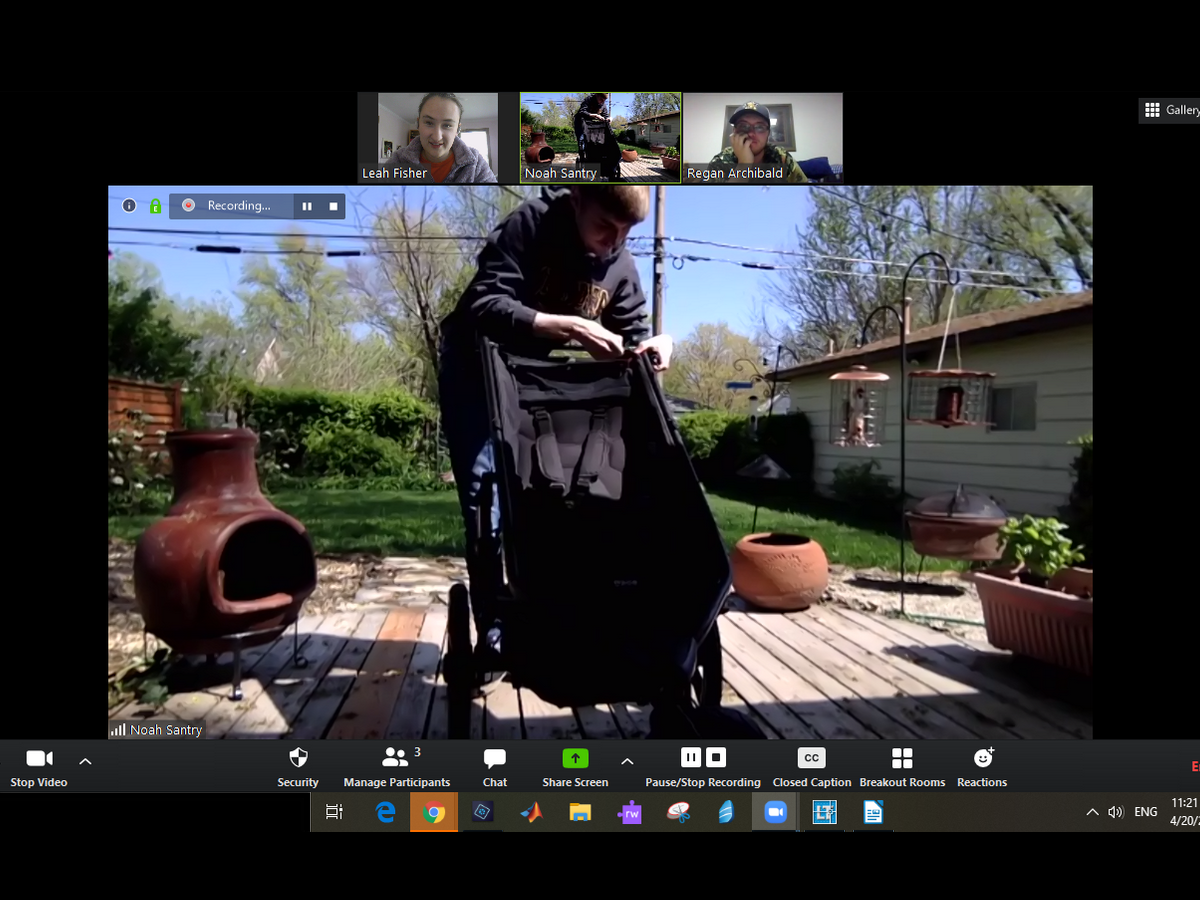 But, the students found workarounds. The team used Zoom to discuss the wheelchair design and finish assembling. In one of their Zoom video conferences, they discussed how to attach the seat to the wheelchair with engineering lab manager Nathan Smith. Noah has a shop in his garage with all the tools his team needed to assemble the wheelchair. He also has the custom seat.
"We are super glad that Noah has all the pieces we need," Leah said.
On August 7, after months of hard work, the team delivered the wheelchair to the Slade family.
"What they created is better than the $4000 chair we almost bought," Tiffany said.
The family plans to use the wheelchair to take Sutton on a hiking trip. They couldn't be more grateful for Wichita State and the student team.
"They're allowing Sutton to experience things he would never be able to do. There allowing him to go fishing with his dad and be a normal six-year-old," Tiffany said.