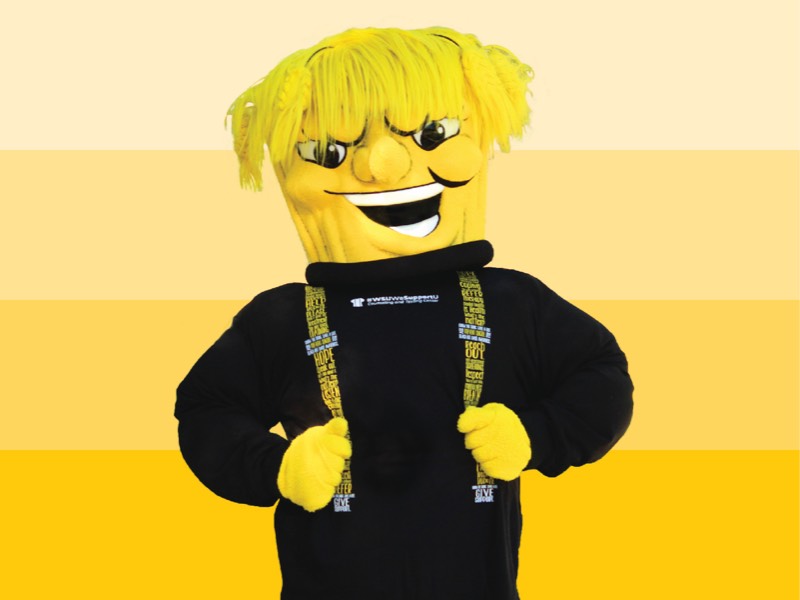 As a way to promote suicide prevention, Wichita State University is expanding the #WeSupportU Suspenders4Hope campaign throughout the country in hopes of creating positive change in communities regarding mental health and suicide prevention.
In 2015, Wichita State started the #Suspenders4Hope mental health awareness campaign, after receiving a SAMHSA Campus Suicide Prevention grant. In 2018, the #WeSupport Preventing Suicide Training was developed as a way to sustain the grant efforts, and just recently, the #WeSupportU Mental Wellness in the Classroom cards have been released to help instructors tend to their students' mental health needs.
Now the program is available to others through the launch of a new website and on-demand version of the training.
The program was inspired by a beloved WSU therapist who was well known around campus as Dr. Suspenders, says Dr. Jessica Provines, assistant vice president of Wellness at Wichita State and a two-time therapist suicide loss survivor. Provines' team decided to play off that theme.
"We thought, hey, suspenders support your pants. Maybe we can help teach people to support each other with suspender t-shirts and words of hope designed into the suspenders."
The "suspenders campaign" has been a big hit at Wichita State, with over 800 people being trained in the #WeSupportU Preventing Suicide Training since it launched in 2018. This represents a 426% increase in the number of people trained previously at WSU.
Provines says uniting the training and awareness campaign under the suspenders symbol of support is what makes the program special.
"We are changing the conversation around mental health and suicide," she says. "The suspenders really help reduce stigma and motivate others to get involved. An evaluation of the program showed that students who are familiar with the campaign are significantly more likely to believe the University cares about their mental health."

Now Wichita State is expanding the program into the community and nationally, as well.
Anyone can help spread the message of support and reduce stigma in the community. Here are some ways you can get involved in the #WeSupportU Suspenders4Hope campaign.
Visit

https://suspenders4hope.com

and share this website with your peers. It offers personal stories of hope from people who have struggled with their mental health.
Show your support by purchasing a Suspenders4Hope shirt. Every purchase of a shirt supports mental health initiatives and includes access to a free, on-demand, hour-long #WeSupportU Preventing Suicide Training to learn how to help someone in need. After your purchase, post a selfie/video on your social media channels using #WeSupportU and tagging @Suspenders4Hope, along with

a link to the website. Also, follow, like and share @suspenders4hope. Throughout the entire month of September, wear your shirts often and especially on Suspender Fridays as a visual display of your support for mental health and a way to end stigma.
Complete and share the #WeSupportU Preventing Suicide Training with your friends. It is an hour-long, evidence-based training created by licensed psychologists. You will learn about the Share, Ask, Support method to identify someone in distress, gain confidence to intervene and connect that person to crisis resources. The cost for the training is only $20, or every purchase of a Suspders4Hope tee comes with a free promotional code to take the training.
To learn more about bringing the #WeSupportU Suspenders4Hope campaign to an organization, connect with a #WeSupportU specialist.
If you work in education, #WeSupportU Mental Wellness in the Classroom is an exciting new tool to support your students' mental health through a series of 5-10 minute exercises aimed at infusing wellness education into the curriculum and helping your students connect to each other, their community and to the instructor. The cards can be adapted to in-person instruction and on-line learning environments.
By doing any of the above, you will be supporting your community, reducing mental health stigma, changing the conversation about suicide and may be saving lives. Help turn a dream into a reality by making suspenders for mental health and suicide prevention what the pink ribbon is for breast cancer.
Data from the Centers for Disease Control and Prevention shows that less than 13% of the 10.6 million people who struggle with suicidal thoughts in the United States each year actually made a suicide attempt, and less than 1% of those struggling with thoughts die by suicide. This means that 99% of people with suicidal thoughts recover and find a way to find hope and live another day.
Many people get help by reaching out to a loved one, starting a healthy lifestyle habit, seeking professional help or calling the National Suicide Prevention Lifeline (1-800-273-8255). This network of community crisis centers across the U.S. connected more than 2.1 million calls to crisis counselors 2019. In Sedgwick County, COMCARE Crisis Center answered over 55,000 of those calls for help. If you or a loved one need help, please reach out for support.

"A traumatic loss like that changes you forever," says Provines. "I have tried to channel my guilt and grief into making sure the #Suspenders4Hope campaign reaches as many people as possible. It can't bring our loved ones back, but maybe we can bring hope to those in pain and help prevent others from these tragic deaths of despair."