The memories of the 31 people who died in a plane crash on Oct. 2, 1970 — including 14 members of the football team, 14 staff and boosters, and three crew members — are honored every year at Wichita State's Memorial '70 observance, but survivors, friends and family choose to remember their loved ones by hiking up to the crash site located on a mountain west of Silver Plume, Colorado.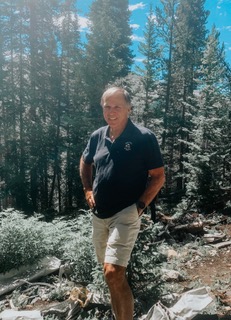 John Yeros, graduated in 1973 with a degree in education.
The trek up the mountain to the plane crash site is about a 1.7-mile hike. The trail is slightly outlined with worn ground and rock cairns. Over time, there are trees that have fallen over the path that have to be walked over. The fallen trees are no obstacle for frequent hiker, John Yeros, who was a WSU football player in 1970 and was seated on the other "Black" plane with the reserve team when the "Gold" plane with the starting team crashed. Yeros says that over the years he has become the go-to guy when there are people who want to hike up to the site. He knows the trail backward and forward and enjoys leading the way to the hallowed ground.
"Usually [the university] has them call me, and I'll take them up there." Yeros said. "I've probably been up there 20 times over the years."
Yeros has taken family members of passed players and others who simply want to see the site.
Since he has been to the site several times, he has been able to watch the site change over time. Yeros says a few years ago, one of the coaches died and he brought the ashes to the site to bury him. He says over time, the site is "always the same but different because someone's brought something else."
Although Yeros has traveled to the site on countless occasions, he says each time up is always emotional: "When you start up there, you start to talk a little bit about those that died there or how things turned out," Yeros said. "You have to stop and collect yourself a little bit."
A big part of why Yeros travels to the site frequently is because he believes it is important to tell the story of those who passed. He says that not everyone who was involved is comfortable with talking about it the same way or chooses to visit the physical site.
"We never understood why we were not on that plane because we could have been. I've always told the story and talked about it. That's the way I've dealt with it. Others treated it differently."
Yeros is frequently reminded of a special quote, which motivates him to keep taking people to the site: "In the Greek religion when somebody dies you always say 'may their memory be eternal and may you the family, continue to allow them to live within you.'"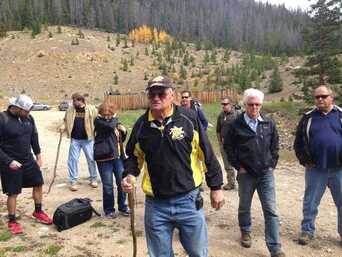 Rick Stephens, center, at the crash site
Wichita State alumnus and plane crash survivor, Rick Stephens, has gone up to the site a handful of times, and is leading a bike ride from Wichita State to Castle Rock, Colorado on Oct. 3, to honor those lost in the plane crash and to visit the site again. The bike ride is a fundraiser for the '70 Football Memorial Scholarship Fund.
At the time of the crash, Stephens was thrown from the plane and rescued by three construction workers who felt the airplane impact. They came to the site to rescue anyone who was still alive, and they managed to carry Stephens down the steep mountain. Stephens says that when he visits the site, on his way down he can't help but envision how difficult it must have been to carry his body down the mountain.
"I have come down that particular way, and it's hard to do just by yourself. I was pretty much a lifeless body, and I wasn't able to help them in any way," Stephens said.
It's emotional to remember the accident, but he feels thankful for the passersby who saved his life 50 years ago.
Stephens says that when he arrives at the site, he remembers his personal experience; but more than that, he remembers the lives that were lost in the crash.
"It's like visiting the gravesite of a loved one. You go there to remember those people that were there. It's like going to the cemetery, and you get that feeling of connection to what happened to me personally and what happened to the others."
Stephens is thankful for the life he has been able to live. His survival was a true miracle that made him feel like he had an obligation to live a beneficial life. Stephens led a fulfilled life in education in which he was able to give back to the community. After the accident, he lived life with one motto: "The thing that often occurs to me in life is that we deal with situations and we move on as we must, but not always as we wish."
There are many other Wichita State alumni who have made the trek up to the crash site simply because of their passion for the university.
Robyn Davis, who graduated in 2014 with a double major in marketing and integrated marketing communication and in 2016 with a master's in communication, hiked up the mountain with her family in October 2019. Davis embarked on the journey alongside her father and sister, also Wichita State alumni. Although Davis does not have a personal connection to the crash, she felt connected to the incident because of the rich WSU history within her family.
"We knew what we were going to see but I think it really was just the magnitude. We didn't realize how much it was going to impact us," Davis said. "It's been a very long time so I could have never expected that it was going to hit me like it did."
As the first piece of debris was revealed to Davis, she was overwhelmed with a feeling of empathy and sadness for the Wichita State football team for what it was and for what it could have been. She says that because of her connection with Wichita State, the site impacted her immensely as she reflected on how it totally altered the history of the university.
As the 50th anniversary of the plane crash approaches, the campus community will gather to remember the lives lost and consider how the event impacts current and future students and alumni.
A memorial event will be held 9 a.m. Friday, Oct. 2, in Cessna Stadium to remember those lost 50 years ago and honor those who survived.