Tom Reeves, as documented by memories typed on ruled notebook paper, talked about Brad, his newborn son. He recited his phone number. He would give anything for a drink, witnesses remember him saying, and that bit of wry humor briefly alleviated the pain.
"Reeves guided the survivors away from the crash site and down the side of the mountain, talking all the while," wrote Conrad Downing, then Wichita State University's sports information director, in 1970. "Reeves talked to the players and kept them from thinking about the nightmare they had just experienced. Safety and concentration on escape kept the group from going into shock.
"Tom Reeves was a hero."
Reeves, Wichita State's football athletic trainer, did his job in the final hours of his life after the Oct. 2, 1970, plane crash near Silver Plume, Colorado. Although badly burned and, according to descriptions, likely blinded, he helped his athletes in a desperate time. He served their physical and emotional needs amidst the flames, smoke and confusion of that sunny afternoon on Mount Trelease.
"He helped them down the mountain," said Dianne Coons, Reeves' wife. "It was very stressful, and he was calm."
Running back Randy Jackson survived the crash and later taught Scott Coons, the oldest of Reeves' two sons, at Robinson Middle School. Coons, who was 4 at the time of the crash, wasn't sure his gruff PE teacher liked him much in junior high.
Then a friend told Jackson that Coons' father was Tom Reeves.
"Coach Jackson told me once, in passing, that, 'I want you to know that I loved your dad, and he saved my life,'" Coons said. "That's all he would talk about it."
On Friday, Wichita State will hold its annual observance on the 50th anniversary of the plane crash that took the lives of 31 people – 14 members of the football team, 14 staff and boosters, and three crew members.
Reeves helped some of the nine survivors before eventually losing consciousness.
On the afternoon of the crash, Wichita State men's basketball coach Gary Thompson and Dee Heller, wife of assistant coach Ron Heller, came to the hospital to deliver the news from Colorado. Later that day, word of Reeves' status as a survivor reached them.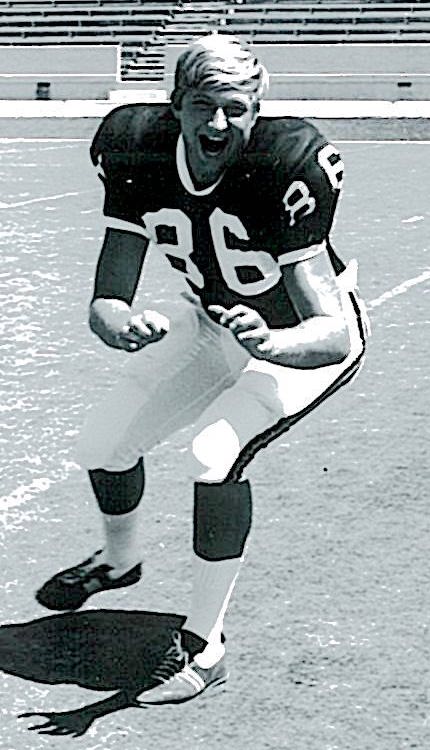 Dave Lewis
Dianne, after giving birth to Brad before the crash on Sept. 30, left what is now Wesley Medical Center and flew to Denver with Reeves' mother.
Tom Reeves remained in a coma until his death two days later in a Denver hospital.
"I talked to him, but he wasn't able to answer," Dianne Coons said.
Reeves loved sports as a youngster in Concordia. Injuries from a scooter accident kept him from playing sports in high school, so he worked as a trainer. He came to Wichita State with the same goal and graduated in 1962. After graduation, he stayed with the athletic department.
"He really had found his niche," said Judy Istas, his younger sister. "He loved that job. My parents were so proud of him when he went to Wichita and took on the job as trainer."
The Shockers knew him as a trusted person who treated their injuries and kept the mood light in his well-organized training room underneath Cessna Stadium. Scott Coons often rode on his father's shoulders in the training room and at practices.
Reeves, Dianne Coons remembers, was close in age to the players and that helped his connection with them.
"He had always had a joke, a smile, something going on," said Bill Burch, who played linebacker on the 1970 team. "As a player, you appreciated it. His was a personal relationship."
Dave Lewis, a defensive lineman on the 1970 team and one of the crash survivors, remembers how much Reeves helped him as his trainer.
"At the 40th reunion, I talked to his son (Scott) about his father and how much I respected him and the good things he did for me," Lewis said. "I hurt my back in the spring of 1970 and spent about three weeks at Wesley Hospital. Tom came to see me every day. He didn't have to do that. That was just Tom. He was a very caring person."
Tom and Dianne met through Shocker basketball player Wayne Durham and Sandy, his wife. Their social life centered on the basketball team, both when they were students and later as part of the athletic department. Tom particularly liked Dave Stallworth, the Shocker All-American, she said.
The family remained close to coaches after the crash, regularly attending games while living in Wichita and then after moving to Hutchinson when Dianne remarried.
"(Tom) was witty and fun," Dianne Coons said. "He enjoyed a good laugh, a good practical joke and teasing."
Lewis was one of those helped down the mountain by Reeves on Oct. 2, 1970.
Lewis emerged from the hole in the side of the Martin 404 airliner, his left leg mangled (he would total seven surgeries) and his mind dazed from the crash.
"Oct. 2 … I pulled myself up, Mike Bruce pushing me out, and Tom was standing there," Lewis said. "He was burned over 90%of his body, terrible burns. He was more concerned for me and the other people than he was for himself. I'm sure he had to know what his fate was."