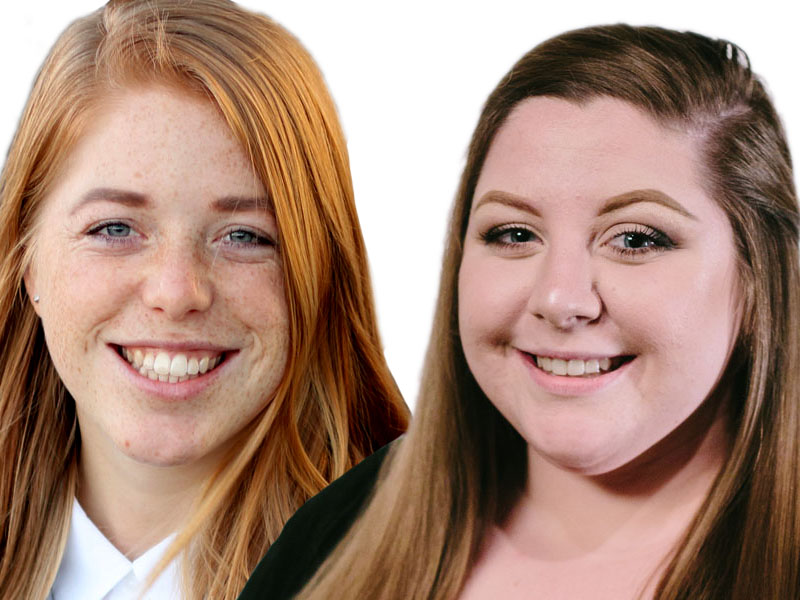 Jessica Sharp, left, and Marissa Sanders
---
Wichita State University students Jessica Sharp, a junior accounting major, and Marissa Sanders, a senior human resources management major, are applying their education to hands-on experience in their internships at Allen, Gibbs & Houlik.
AGH is a Wichita-based business management consultant firm and one of the largest independent certified public accountants and advisory firms in central United States. Landing an internship at the firm is a critical step forward for Jessica and Marissa, who will take this experience with them as they look toward their careers post-graduation.
Access to that experience – the opportunity to connect with local industry and gain real-world experience while still in school – is what makes Wichita State students stand out from the crowd and is directly tied to the university's goal of fostering applied learning opportunities for all students.
As an intern, Jessica is learning how to perform employee benefit plan audits. She's in charge of full audits that require her to complete testing, reach out to clients, and visit clients for field testing. When she works in the tax department, she prepares taxes for trusts, individuals and S-corps. She has found that the accounting courses she's taken at Wichita State have helped her better understand how to work in her internship. She enjoys being able to get the hands-on experience and make connections with her co-workers who are professionals in the field.
"Understanding financial statements and trial balances help me understand where information is pulled from for tax preparation," she said.
Taking advantage of campus activities exposed Jessica to the internship opportunity. She applied for it after attending the Back-to-Business Bash where AGH had an informational table. Jessica says that students should put themselves out there to get ahead.
"You don't have to know everything or have every single requirement to apply for an internship," she said. "Internships are supposed to give you knowledge and experience, so not having expert knowledge on a subject should not prevent you from attempting to get an internship somewhere."
In her AGH internship, Marissa assists in client projects with outsourced human resources and organizational development departments. She also attends client meetings to help with internal projects.
It's never too early to start applying for internships.
Marissa Sanders
Marissa, who also has experience interning for Textron – a WSU Innovation Campus partner, applied to the position at AGH through Handshake. She also found it very helpful that they gave feedback and tips on how to better her resume. She was introduced to the open position by one of her connections, a leader at Ennovar WSU, and landed the interview. She advises students to ask around and see if anyone is open to hiring for applied learning experience.
"I would also encourage you to constantly look for opportunities, even if it seems a weird time of year to begin applying to companies," she said. "It's never too early to start applying for internships, because it's seriously the best tool to help you get on-the-job experience before entering the work force upon graduation."
Making connections is key, Marissa said.
"Attend any and every networking event you can during your time at Wichita State, and actually talk to companies while you're there," she said.
Wichita State hosts many networking events under each school such as Back-to-Business Bash, Comm Week and many more. Students are encouraged to use Wichita State resources and talk to their professors to learn more.