Cindy Graves has only one regret about earning her Master in School Leadership degree at Wichita State University: "I didn't take the class Leading a School During a Global Pandemic. I must have missed that day," she joked.
Graves and thousands of other school principals around the nation are pioneers in pandemic school leadership. Get to know two Shockers who are leading their schools through the uncertainty of the COVID-19 pandemic.
Cindy Graves
Bachelor of Elementary Education, 1992; Master of Educational Leadership, 2005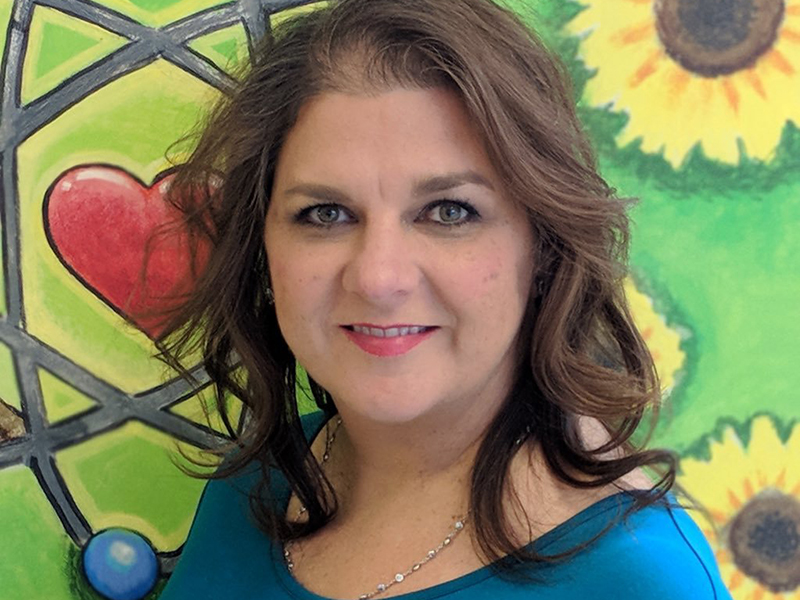 Cindy Graves
It's safe to say that no other principal in the history of McLean Elementary Science & Technology Magnet has ever seen a school year that started quite like the 2020-21 year, but Cindy Graves is handling it one day at a time.
"It's been hard, but we can do hard if we really work together," she said.
At McLean, a K-5 elementary school in Wichita Public Schools, students had the option of attending school from home via the district's mySchool remote learning option or in-person with health precautions in place — including face coverings, social distancing, handwashing and sanitizing.
Graves said that about two-thirds of McLean families chose to attend school in-person. Though coordinating one set of curricula and two formats maintaining social distancing for in-person students sounds like a logistical nightmare, McLean has found creative solutions and workarounds.
"Our rooms look different this year," Graves said. "We have to make sure there's enough space for social distancing between our students and teachers. We've had to combine some classes, and we have some multi-age rooms."
And she's received good feedback from McLean families.
"The parents that I've spoken to are just so happy to have their kids back," Graves said. "They've just missed education and what schools are all about. So that's been a really nice piece.
McLean staff has been putting particular focus on the kids' mental health during this stressful time. Where teachers used to offer a quick hug or high-five for support, those physical connections have been taken off the table during the pandemic.
"I think the physical connections have been hard. That's a piece that we're just so used to," Graves said. "The other day we were walking down the hallway, and I just gave every kid an air-five, and they played along."
She also talked about an art project the McLean students worked on, where "the teachers had the kids do self-portraits. They folded a piece of paper, and there was a mask on it. They got to decorate the mask. Then you fold it down, and they had written words about themselves — just little way to say, 'Even though we have our mask coverings, this is who I am on the inside.'"
Even though Graves didn't receive specific training on being a principal during a pandemic, she said much of what she learned during her classes at Wichita State has helped her during this unusual schoolyear.
"I think the biggest piece was learning to problem-solve and figuring out what options are available," she said. "One of the most important things I took away from my graduate program is how systems work together and knowing that even one minor change or something that may seem minor could have an effect in many areas. I learned how to be visual in seeing where we're possibly going to put the best possible piece in place."
Through it all, Graves and the staff at McLean are keeping kids at the forefront of their hearts and minds.
"The end result is that kids are going to learn," she said. "It's going to look different. Some of the skills to that they're going to learn may not be reading writing and arithmetic, but they're also learning problem solving and perseverance and having grit and resilience. Those are things that are long-lasting through adulthood and make for lifelong learners."
Jeff Freund
Bachelor of Elementary Education, 1998; Master of Educational Leadership, 2010
Jeff Freund
After his first week of being a principal during a pandemic, Robinson Middle School principal Jeff Freund looked both exhausted and energized.
"We started strong. I think we were prepared for the worst, but the teachers did a great job. The kids responded, and they've been interacting. It's been kind of cool," he said.
Middle and high school students in USD 259 all started the schoolyear learning remotely from home.
For Freund, the challenge was twofold: Not only was he leading a school through a pandemic, but he was a new principal at Robinson.
"It was and it is challenging, especially coming into a new school, where you have to build a lot of trust really quickly because you're literally dealing with life and death," he said. "I wanted to be sure to take care of the emotional health of my staff and families. There's been constant focus on the culture of the building and the culture of our families."
Freund said his initial focus on was making sure the teachers at Robinson had the support they needed to be successful as remote teachers.
"Looking at instruction — what can we do so teachers still feel like they can do their job? I think once we narrowed that down and let them know they were going to be successful and we were going to take care of them, that made it easier," he said. "It was definitely the most challenging start I've had in my decade of principalship for sure. I mean no principal alive has had to deal with a pandemic. It's been a learning experience for sure."
Robinson families were welcomed into the new schoolyear with copious communication and virtual events, including orientation, school tours and a meet-the-teachers event.
"We've done a lot of videos, and we're pretty nonstop with communication because I want the parents to feel safe. I want them to feel like we know what we're doing," Freund said.
He said his time in Wichita State's campus helped prepare him for being principal during an uncertain time.
"It's just really gave me a solid foundation to handle the unexpected," Freund said. "I think Wichita State gave me the ability to look at school through multiple lenses. I think it allowed me to open my eyes and look at all the facets of the job through the parents' eyes, through the teachers' eyes, and the students' eyes."