Students and faculty at the Wichita State Speech-Language-Hearing Clinic have teamed up with the College of Engineering to help a 9-year-old child communicate effectively.
The child is a client at the Speech-Language-Hearing Clinic and is considered a complex communicator due to multiple challenges, including physical disabilities, impaired vision, fine motor limitations, seizures and feeding issues. With so many limitations, communication is challenging because many common methods such as speech, writing and signing are not options.
Terese Conrad, clinical professor in the Department of Communication Sciences and Disorders, oversees the child's care at the clinic. Conrad has extensive experience working with clients who have complex communication needs. She knew that creating an effective communication system was critical to improving the child's communication and overall life. She and her team wanted to develop something the child could use across his whole life, including school, home and at the clinic.
"Over time we've used strategies including an Eye Gaze system to communicate what he wants and to make choices," she said. "We decided it was important to expand the system i.e., have an object or picture system to represent common items to help him communicate better."
Conrad says having the actual objects is the most realistic and easiest to identify, but since that is not always possible, a representational system (e.g., miniatures) is often used. The goal is to move away from having the actual object and teach the child to recognize a symbol. Developing a 3D symbol that is lighter weight, easier to transport and make it easy to communicate wants, needs, thoughts, and ideas is the goal.
"There is so much involved with being able to convey something, and the miniature item represents what the kids will see, feel or touch," she said. "I knew what I wanted to create, but needed help making it."
Taking the idea to the next level
To help make her idea a reality, Conrad turned to her colleagues in the College of Engineering. Samantha Corcoran, an educator in the College of Engineering, Conrad, speech-language pathology students and engineering students formed a team. The group spent months brainstorming and planning logistics to create 3D printed prototypes.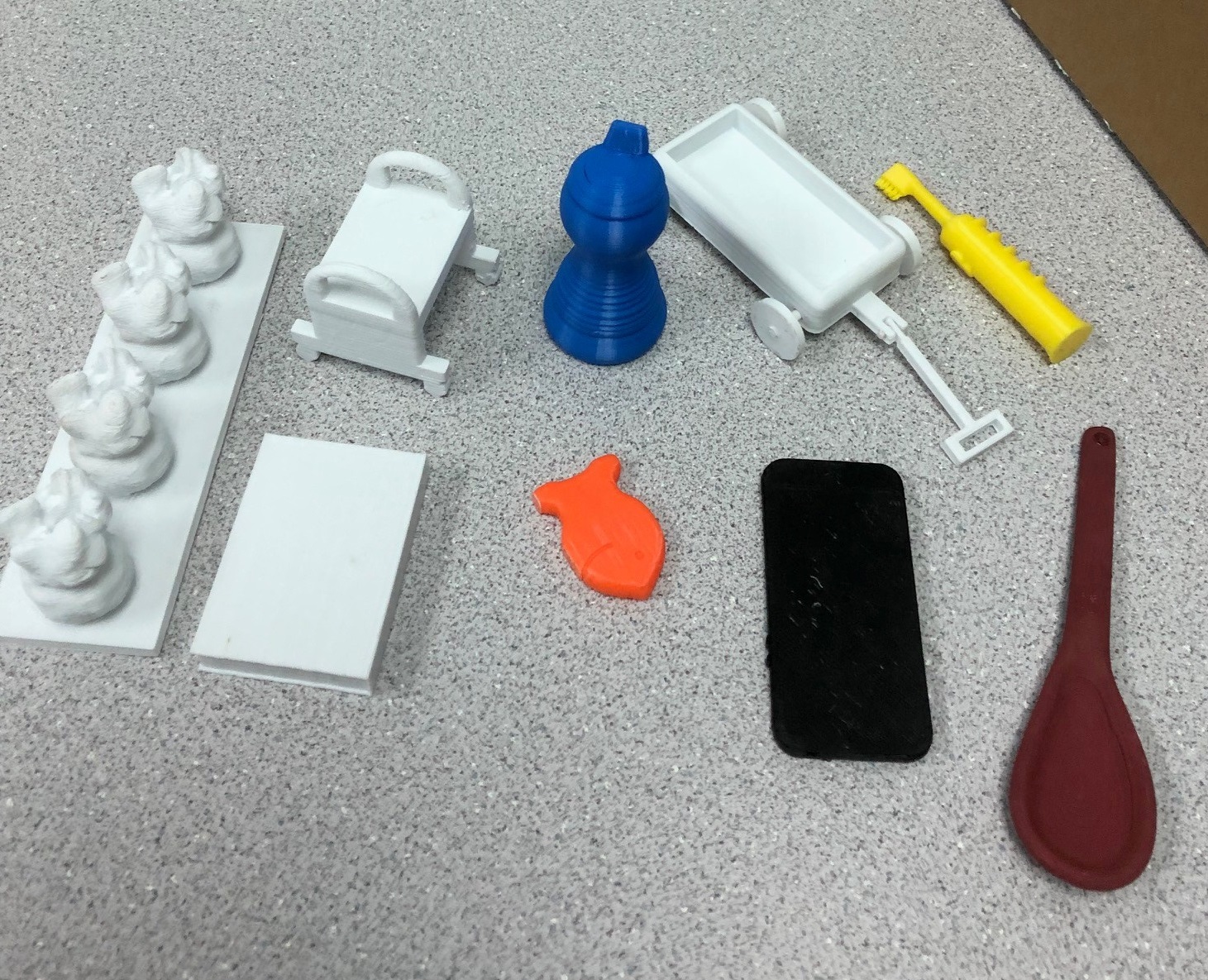 The group started with a small set of symbols and chose objects that had the most meaning for the client, such as a drinking cup or snack. They designed the prototype to represent the actual item as closely as possible. Materials were carefully chosen that would not be dangerous or easily destroyed. When the objects were printed the students examined how closely they represented the real items and adjusted accordingly. Finally, they enhanced the printed symbols by adding details like color. The prototypes are various sizes and designed for a child to easily pick up and hold in their hand.
The plan is to make more symbols, adding to the child's vocabulary and continuing to build his system.
Kate Stybr is one of the speech-language students working on the project. Stybr says she has enjoyed her experience collaborating on this project.
"We all worked together toward a common goal to provide for our client, and the symbols we produced as a group are a small step towards a larger vision down the road," she says. "I am excited (to see) where this project is headed and am looking forward to developments as time goes on."
Conrad says that working through challenges and problem solving is something she enjoys about her job.
"The team has worked really hard, and seeing the results is exciting," she said. "We've all learned a lot through this process, and the new system is improving our client's life, which is always the goal at our clinic."
To learn more about the Speech-Language-Hearing Clinic at Wichita State, visit wichita.edu/SLHclinic.
Learn more about the Assistive Technology and Accessible Design Certificate Program.