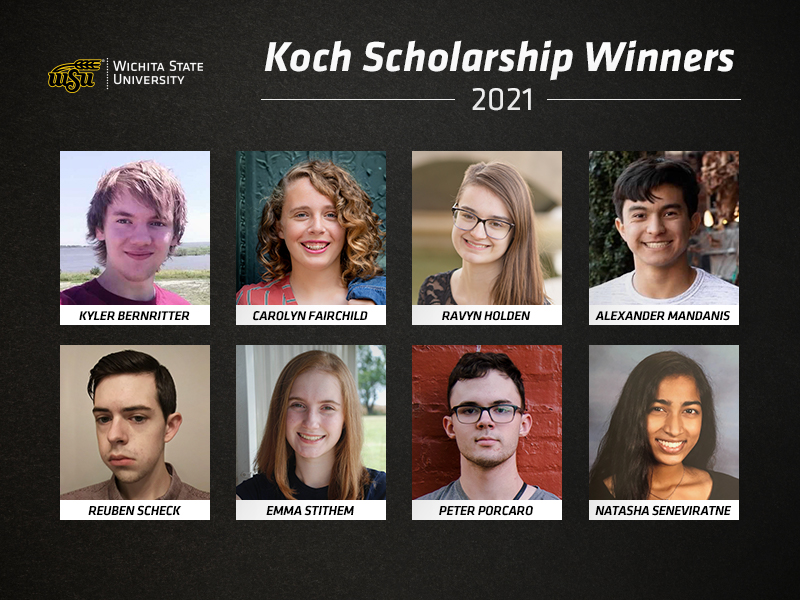 The Wichita State University Dorothy and Bill Cohen Honors College is proud to announce eight recipients of the Koch Scholars Program for the fall 2021 semester. These recipients each will be awarded $30,000 over four years.
"Koch is thrilled to continue to foster opportunities for students throughout the Wichita community. The Koch Scholars Program provides students the opportunity to pursue an education where they can explore their passions, develop their unique talents, and achieve success," Koch Industries Vice President of Public Affairs Meredith Olson said. "Congratulations to this year's scholars."
This competitive scholarship program is open to high school seniors enrolling in the College of Engineering or the W. Frank Barton School of Business. All Koch Scholars are also members of the Cohen Honors College and participate in community service and professional development activities throughout the year. Scholarship selection is based on high academic achievement, work, volunteer and leadership experiences, an essay, and an interview process.
The Koch Scholars Program was first made possible by a $1.54 million pledge from Koch Industries in 2014. The fall 2021 semester marks the seventh freshman class to participate in the Koch Scholars Program.
Kyler Bernritter, Finance, Onaga High School, Havensville, Kansas
Kyler is from Havensville, Kansas and is the son of Von and Suzanne Bernritter. He plans to double major in international business and finance and hopes to study abroad in Spain. In his free time, Kyler enjoys researching stocks and planning trips with family and friends. Kyler also works at his family's greenhouse, Greens and Gills Greenhouse, in addition to working at Charlies, a local bar and grill.
Kyler holds many leadership positions at Onaga High School including class president, Spanish club president, secretary of NHS, and secretary of FBLA. He decided to further his education as a Cohen Honors student at Wichita State University, because of the high standing Wichita's Business school holds in addition to the added rigor and support structure gained by being an Honors student. He hopes to utilize the knowledge and invaluable connections he'll make during this time at Wichita to pursue a career on Wall Street.
Carolyn Fairchild, Mechanical Engineering, Olathe West High School, Olathe, Kansas
Carolyn is the daughter of Lori and Dave Fairchild. During high school, Carolyn served as the president of the Green Technologies Academy and founded the Olathe West Electro Rally team. Carolyn is also a member of the National Honor Society and plays travel ice hockey for the Kansas City Storm.
Carolyn enjoys spending her free time hanging out with friends, playing video games, and creating art. She hopes the honors program will enhance her education by pushing her to new academic heights. Carolyn also hopes to pursue a career in motorsports, building and designing racecars.
Ravyn Holden, Computer Science, Bartlesville High School, Bartlesville, Oklahoma
Holden is the daughter of Melissa and Darren Holden. During high school, she served as president of the National Honor Society and the Technology Student Association. She also served as an officer of the local environmental club, BHS GREEN, and the local leadership association, Ohana.
Outside of academic life, she enjoys reading and participating in programming and cybersecurity capture-the-flag competitions. She also loves to 100% complete video games and is a big Marvel fan. She plans to major in computer science with an emphasis in cybersecurity and is excited to be surrounded by like-minded individuals within the Cohen Honors College.
Alexander Mandanis, Electrical Engineering, Wichita East High School, Wichita, Kansas
Alex Mandanis is a National Merit Finalist and part of the International Baccalaureate Program at Wichita East High School. He is a member of Wichita East High School's State Swim team, Wichita East High School's State Scholars Bowl Team, the Wichita Youth Symphony Orchestra, and an ambassador for the American Heart Association's Ambassador Leadership Council.
He plans to study electrical engineering in Honors because of his love of math and physics and because he believes it provides a great opportunity to challenge himself.
Peter Porcaro, Mechanical Engineering, Northeast Magnet High School, Wichita, Kansas
Peter is the son of Mark and Rachel Porcaro. He is the commander of the Wichita Corps of Cadets, including all JROTC and leadership programs around the city. Peter was also the recipient of the Legion of Valor Bronze Cross for Achievement, an award annually presented to four JROTC cadets nationwide. He is also a member of the National Honor Society and enjoys volunteering with Habitat for Humanity.
Peter spends his time working on cars, taking pictures, playing instruments, and working with his hands. He chose the Honors track to challenge himself and to motivate further independent study beyond regular coursework. Peter plans to work as an engineer creating new, innovative solutions to today's problems while making the world a better place.
Reuben Scheck, Computer Science, Kapaun Mt. Carmel Catholic High School, Wichita, Kansas
Reuben is the son of Jason and Karen Scheck. A National Merit Commended Scholar, he enjoys nearly all subjects, although his favorite is math. In his free time, Reuben participates in his school's theatre program. He enjoys coding, and has been on his school's scholars bowl team the past two years. For as long as he can remember, both computers and math have fascinated him, and he is especially interested in the area of artificial intelligence. He is excited by the research opportunities offered by WSU, as he hopes to eventually pursue graduate studies and work in academia
Natasha Seneviratne, Computer Science, Andover High School, Wichita, Kansas
Natasha is the daughter of Nirosha and Waruna Seneviratne. She is Co-President of the Kids 4 Kids Club, Co-Leader of the student-led Asian Cultural Club, and Secretary in National Honors Society. Natasha is an avid participant in theater, band, the Multi-Ethnic Student Advisory Council, and various AP courses. Her notable achievements include being a HOBY Delegate, writing a children's book for the American Heart Association, and raising $1,400 for social justice charities during a self-started fundraiser with friends.
Natasha plans to major in computer science and is honored to be able to use the Cohen Honors College's resources to challenge herself and explore more about programming. She hopes to use her knowledge to further her social justice activism while still pursuing her interests in video game development and animation.
Emma Stithem, Accounting, Kapaun Mt. Carmel High School, Wichita, Kansas
Emma is the daughter of Marvin and Brandi Stithem. During High School, she was very active in her community, working and volunteering at her church and local school. Emma also became civically active, working the 2020 Election as a Judge. She was a four-year member of the Cum Laude program at Kapaun Mt. Carmel and was awarded Superior Honor Roll all four years.
She has always been interested in business and financial planning, so it is no surprise that she plans to major in Accounting. She looks forward to being a part of the Cohen Honors College and Wichita State's Barton School of Business.