Five-year-old Ford Hall has had to overcome more in his short life than most do in a lifetime. That's because immediately after he was born, he was diagnosed with cerebral palsy. The doctors informed his mother he would probably never be able to walk.
"It was that conversation with that doctor that really lit a fire in us," said Cori Hall, Ford's mother.
Hall not only wanted Ford for to walk, she also wanted him to be able to do childhood activities that most people take for granted, especially riding a bike. While Ford proved his doctors wrong by learning to walk, he was still unable to ride a typical bicycle.
"To be able to see Ford do things that are age appropriate and that his other friends are doing is so special to us and it means so much," said Hall.
The journey to get Ford on a bike picked up momentum when Hall, a Wichita State University grad and physical therapist, learned about GoBabyGo from her friend, Sarah Woelk, a third-year WSU physical therapy student.
Wichita State's GoBabyGo program is run by the WSU College of Engineering. It specializes in modifying off-the-shelf ride-on toy cars for kids with disabilities. Engineering students collaborate with physical therapy students to customize and deliver cars at no cost to the families.
After talking with Hall, Woelk reached out to Samantha Corcoran, co-adviser of GoBabyGo and the instructor for the Accessible Design engineering class, to create a bike for Ford. Corcoran's class and students learn through multidisciplinary hands-on learning experiences in designing and creating assistive technologies for community members of all ages with mobility challenges, hearing or vision loss, communication challenges or other disabilities. Since 2020, the class has been able to make products for special needs children and adults who do not fit the typical GoBabyGo model and need more custom solutions for daily living or enjoyment, which was very important to Hall.
"If something is super hard, it is difficult to enjoy, and I want him to enjoy bike riding," Hall said. "Having a bike will allow Ford to travel to the neighbors down the street without becoming exhausted from the long walk while also helping him build lower extremity strength, endurance and stamina."
Corcoran made the bike project a multi-disciplinary project so that her engineers could work Woelk, a PT student, to create a better product for Ford.
"By making it a multi-disciplinary project, the engineers had the technical side, and the PT takes over the human body, anatomy and physiology side," Corcoran said. "Combining the two makes for a much better end product because we can really meet Ford's needs by knowing about his body while also using the technical side to fit the bike to him."
Corcoran and six of her students began designs for the bike at the beginning of the semester in February. They operated out of the Project Innovation Hub located in the John Bardo Center on Wichita State's Innovation Campus. The team worked with Nathan Smith, WSU College of Engineering applied learning instructor and Project Innovation Hub manager. Smith helped Corcoran and her students guide their designs, material selection, prototyping and finishing. The Tom Sawyer Bicycle shop, a local small business, helped the students rebuild the drive train and provided some pointers for the students.
In addition to Smith, the students reached out to Moira Bayne to gauge the proper technique for modifying a bike for Ford. Bayne, a physical therapist, has experience refashioning bikes and scooters for children with special needs. Because Moira lives in Toronto, Canada, the students had to learn via Zoom sessions and be mindful of the time zone.
Despite these challenges, the students were able to complete the bicycle by the end of the semester. They included Zombie stickers on the pedals and frame after learning that Ford is a huge fan the "Plants vs. Zombies" video game franchise.
One early Thursday morning in May, Hall and Ford drove up from Independence, Kansas, to pick up the bike at John Bardo Center.
Ford's excitement when receiving the bike was matched only by the students who presented it to him. Oliver Price, a senior engineering technology major, worked on the drive train and mechanics of the bicycle.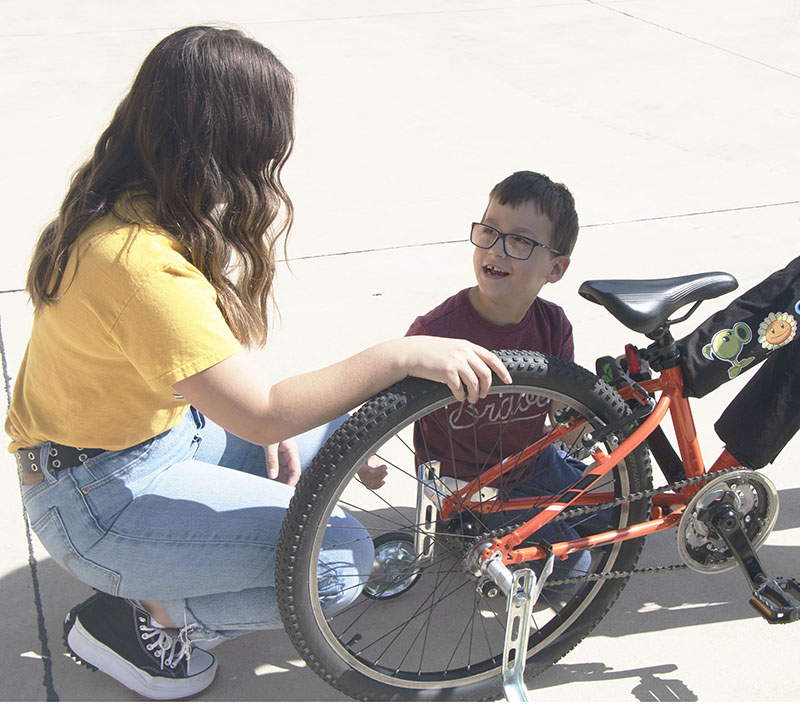 "It was a lot seeing all of our little steps come together as a final project onto one base design and to be able to build it," said Price. "Ultimately when Ford came to see the bike in person and ride the bike it made the whole thing worth it."
Hall was also surprised how quickly Ford was able to operate the bike.
"They just completely outdid themselves with the design and with the modifications that will allow him to actually ride," said Hall. "I never expected him to be able to just get on it and take off right away and he was able to do that today. They clearly did an amazing job."