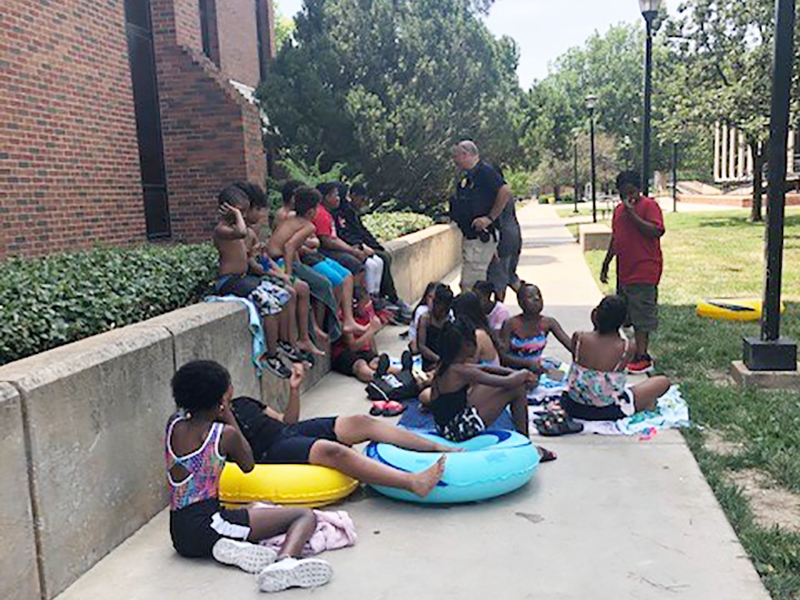 Wichita State University Campus Recreation and the University Police Department teamed up this summer to teach more than 200 children life skills such as swimming, healthy living and goal setting.
The program was made possible by the Michael Phelps Foundation Grant received by Campus Recreation. The no-cost program was through the Boys and Girls Club. The intent is to help children from lower income families who may not have access to these activities at home or school.
"In the U.S., drowning is the second leading cause of death for children ages 1-14. Low- and middle-income kids account for 90% of those drownings," said Beth Albers, WSU Campus Recreation aquatics, risk management and special events coordinator. "One of the biggest reasons for this statistic is children from lower-income families don't typically have access to water or to swim lessons."
This program supports Wichita State's goal to help underrepresented families in the Wichita community.
Albers said her staff focused on teaching Safety Around the Water program, so the children can learn to not fall into situations where drowning can occur. Then, if they do find themselves in a drowning situation, they will have the tools to save themselves.
"Our biggest job in aquatics is prevention of injuries, with drowning at the top of that list," Albers said. "My biggest passion has always been making sure every kid has the opportunity to learn to swim."
Of the more than 230 kids who participated, almost all were taught survival skills, including pushing off the bottom of the pool back to the surface. They also learned to swim, float and swim — which teaches the children to roll over and float on water until they catch their breath and swim toward safety.
In addition to swim lessons, the program offered Campus Recreation and WSUPD a chance to teach and interact with the children, while also acting as role models as they taught the healthy living and goal-settings portion of the program.
"Without access to the Wichita State pool, these kids would have a much greater chance of drowning," said Albers. "If we have saved even one kid in our community from drowning, it was worth every second of class."
Sgt. Efrain Rueda was one of five officers who participated in the program. He volunteered any chance he could find outside of his 9 p.m.-7 a.m. shift during the summer. Rueda has been with WSUPD since 2016.
He first learned of the program from Albers. She reached out to WSUPD in spring 2021 to find out if anyone from the campus police department wanted to get involved with the program.
"These kids are our future leaders," Rueda said. "To be able go out there and encourage them to do the right thing, while paving the way to build future foundations — I would never be able to pass up that opportunity."
John Lee, WSU Campus Recreations director, hopes the program will continue to grow, as it offers a chance to help to save the lives of younger members of the community with swimming lessons, in addition to having positive interactions with police officers.
"Most of the time you never know the impact on the things you program and teach, but I would like to think that we may have saved a life or two by teaching swim lessons to kids this summer who may have never had the opportunity to learn how to swim," Lee said.
Albers agreed and said the program fosters an environment for the instructors to realize the responsibility of being a role model and to find out how much of a difference they can make in the community.
"Without access to the Wichita State pool, these kids would have a much greater chance of drowning," said Albers. "If we have saved even one kid in our community from drowning, it was worth every second of class."