The Department of Communication Sciences and Disorders has received a gift to create the Audiology Simulation Lab at Wichita State University. The lab contains five state-of-the-art Canadian Audiology simulator for Research and Learning (CARL) manikins and auxiliary equipment — four adult heads and one infant head. Dr. William McCormick donated $25,000 in memory of his wife, Deanne, to start the Audiology Simulation Lab located on the lower level of Hubbard Hall.
The manufacturer of CARL, AHead Simulations, developed the units to decrease the risk associated with students practicing on each other or real patients. The CARL manikins provide Doctor of Audiology (AuD) students the autonomy to practice important procedures such as making earmold impressions and placing behind-the-ear hearing aids. Manikin use standardizes student learning and testing and allows students to gain practical hours through simulation. It also allows students to continue their education if clinics shut down, as they did during the COVID-19 pandemic.
Dr. Cindy Richburg, AuD program coordinator, said the state-of-the-art CARL manikins are an excellent training tool to prepare students for clinical placements.
"Two of the manikin heads have tiny cameras embedded in the ear canals, which connect to a laptop and allow the instructor to watch students as they place probe microphones or ear blocks into the canals," she said. "If the student touches the eardrum of the simulated head, the student and instructor can see it and plan remediations accordingly."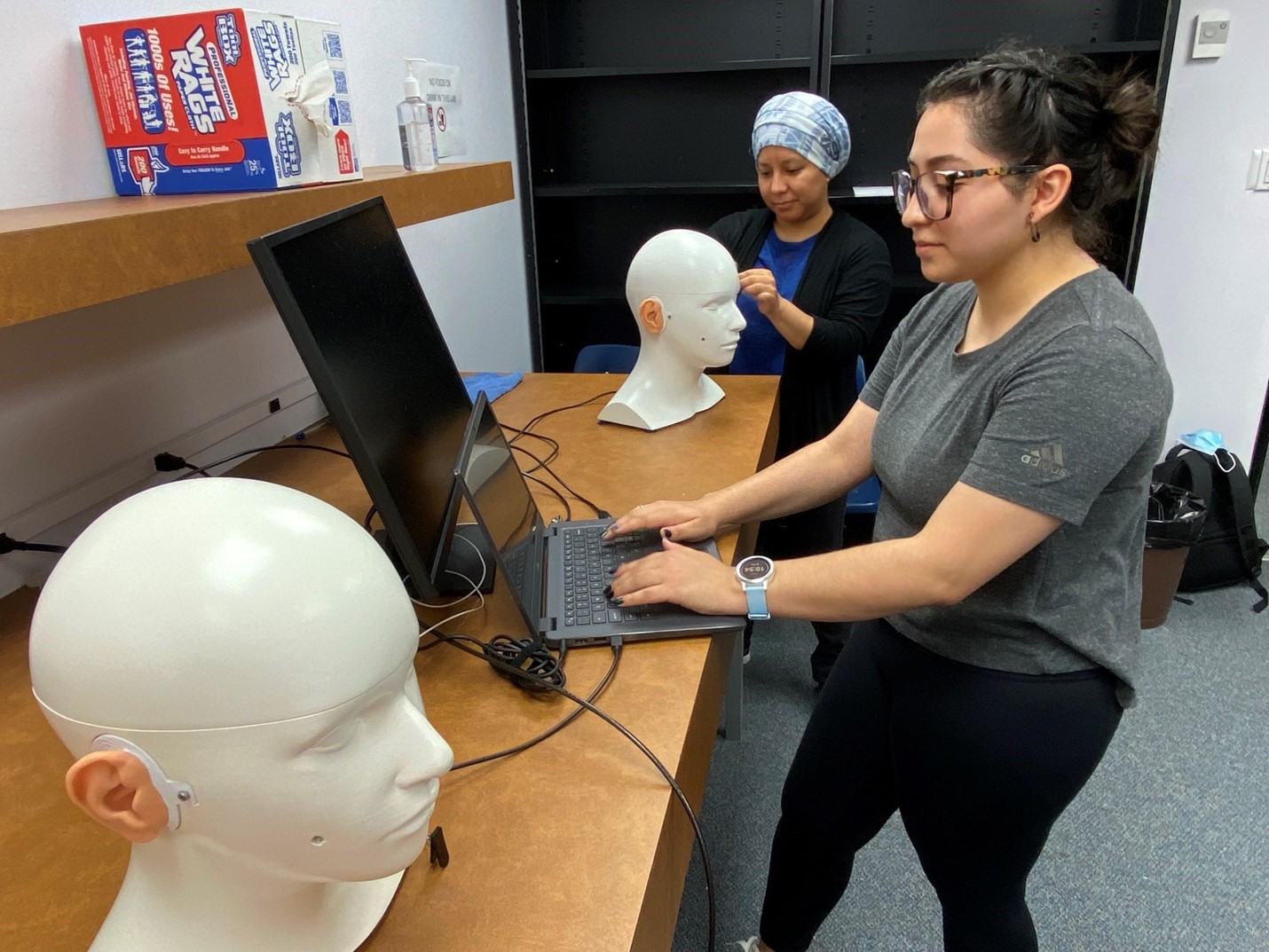 Saraí Gómez, student in the AuD program, said working with the CARL manikins has been a great learning experience and she appreciates the opportunity to practice independently.
"The CARL heads were helpful to practice otoscopy and probe tone mic placement, but it was especially helpful for earmold impressions," she said. "Practicing on the manikins allowed me to gain confidence in my clinical skills."
Kara Barrus, student in the AuD program, said the manikins have realistic ears that are different sizes and shapes to represent adult and pediatric ear canals.
"Practicing proper placement of the probe tone mic and earmold impressions were most beneficial," she said. "Due to both tasks being near the tympanic membrane, being able to have video guided practice was extremely helpful."
Richburg said the manikins are also used in audiology amplification courses to help students prepare to perform tasks on patients at the Evelyn Hendren Cassat Speech-Language-Hearing Clinic. The Speech-Language-Hearing Clinic is open to the public and serves as a clinical training site for graduate students, who provide a wide range of hearing services under the supervision of licensed audiologists.
Pilot site for Audio-CARL Early Access Program
The Audiology program at WSU has also been selected to participate in the Audio-CARL Early Access Program with AHead Simulations. An additional adult CARL has been added to the simulation abilities at WSU, and this Audio-CARL will have the ability to train audiology students to perform pure-tone audiometric threshold evaluations (hearing tests). WSU's AuD Program will be a pilot site for AHead Simulations to work out problems and get feedback for the development of future simulations.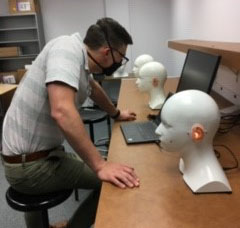 With the new Audio-CARL unit, instructors program audiograms into a connected laptop, and small microphones in the manikin's ears allow students to perform an evaluation. Students can see the simulated responses when strips light up on the shoulders of CARL. The Audio-CARL will be hooked up to an audiometer, so students will be getting experience with equipment that they will be using in a clinical setting.
Richburg plans to teach graduate and undergraduate students with the manikins and include AuD students in studies concerning a variety of audiologic simulated learning methods. One of the Audio-CARLs will also be part of the College of Health Professions' future visits to local high schools. High school students interested in health professions will be able to obtain hands-on opportunities working with equipment and network with WSU students and health care professionals.
"Audio-CARL will show future audiology students what testing is all about and hopefully interest them in attending the AuD Program at WSU," Richburg said.
Learn more about CARL simulation manikins.