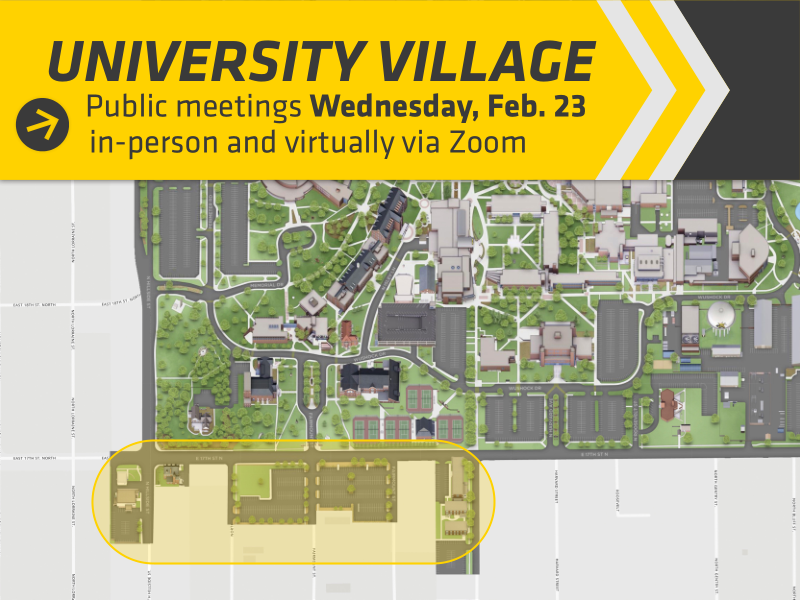 In the next steps toward the creation of the University Village, Wichita State University is seeking public feedback and engagement on the lead proposals.

Public meetings will be on Wednesday, Feb. 23 in the Shirley Beggs Ballroom of Wichita State's Rhatigan Student Center. These sessions will be offered in-person and virtually via Zoom. There will be three meetings:
2 to 3:30 p.m. for Wichita State students, faculty and staff
4 to 5:30 p.m. for everyone on Wichita State's main campus and Innovation Campus
6:30 to 8 p.m. for the Wichita community
In September 2020, Wichita State kicked off an effort to explore opportunities to bring much-needed amenities to the campus and Shocker Neighborhood communities. After completing solicitations for a request for qualifications followed by a request for proposal, the university committee is poised to introduce the lead respondent and solicit additional feedback for the process.

"We have undertaken a thorough and transparent process to ensure that diverse stakeholders have an opportunity to engage in planning for our shared future," said Dr. Kaye Monk-Morgan, vice president for strategic engagement and planning.

University Village — which is proposed to be built along the southern edge of Wichita State's campus along 17th Street between Hillside and Oliver — is at a juncture where community engagement and input are critical, she said.

"Our hope is that in hosting several presentations and feedback sessions, multiple voices will be heard, and considerations are made that help us focus on the greatest needs with limited resources," Monk-Morgan said.
Register for the feedback sessions and learn more about University Village