The W. Frank Barton School of Business at Wichita State University has named Jon Rolph, president and CEO of Thrive Restaurant Group and a member of the Kansas Board of Regents, its Executive-in-Residence for the spring 2022 semester.
The Executive-in-Residence program was established last year to provide Barton School students, faculty and the Wichita community with vital perspectives and knowledge from industry leaders. Tom Gentile, president and CEO of Spirit AeroSystems, served as the program's first resident during the fall 2021 semester.
"I'm honestly shocked and humbled to be the latest Executive-in-Residence," Rolph said. "The world of restaurants is all about community and connection. I hope to share those same values and lessons with Barton School students, faculty and staff."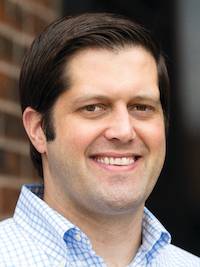 Jon Rolph
As the Executive-in-Residence, Rolph will provide mentorship opportunities to students, exchange ideas with Barton School faculty, and host a conversation with business leaders to shape the future of business education in alignment with the future of work. He will also deliver a keynote speech about his company and the trends that are shaping his industry and the economy.
"Access to professional leadership has been of immense help to me since being enrolled here at WSU," said Maria Edelman, WSU Barton School student. "I have met so many remarkable and inspiring individuals, all of which have helped guide, mentor and provide me with opportunities I would not otherwise have. The Executive-in-Residence events, along with the other career programs the Barton School provides, have played an important role in shaping the young professional I am today."
As president and CEO of Thrive Restaurant Group, Rolph and his team own and operates more than 100 restaurants, including Applebee's, Carlos O'Kelly's, HomeGrown, and Peace, Love, and Pie. The restaurants are located in 12 states across the Midwest and Appalachia and employ more than 5,400 people.
"Jon is a brilliant, compassionate leader who has continued to thrive in an industry that is known for its volatility," said Dr. Larisa Genin, dean of the Barton School of Business. "His success is a direct result of his commitment to what is next. I'm excited for him to share his wisdom with us."
After graduating Magna Cum Laude from Baylor University, Rolph worked with college student leaders as an intern for the National Student Leadership Forum in Washington, D.C. He returned to Kansas in 2002 to work in the family-owned businesses started by his father and his uncle. Prior to being named president, he held a number of key positions in the company, including restaurant-level operations, vice president of administration and marketing, and as chief operating officer of Carlos O'Kelly's.
Rolph has served on the boards of several local and national organizations, including the Wichita Children's Home, United Way of the Plains, the Wichita Metro Chamber of Commerce, chairman of Visioneering Wichita, the Center for Combating Human Trafficking, and the Wichita Metro YMCA boards. His current board memberships and affiliations include co-chairman of the Greater Wichita Partnership, board of directors at INTRUST Bank, chairman of Centralized Supply Chain Services, chairman of the Applebee's Franchise Business Council, Baylor Collaborative on Hunger and Poverty, and as the governor's appointee on the Executive Committee of Strengthening People and Revitalizing Kansas (SPARK), and vice-chair of the Kansas Board of Regents. Jon and his wife, Lauren, are both fifth-generation Kansans. They have been married for more than 15 years and have six children, ages 1 to 12.
"Tom Gentile was an amazing leader to kickstart the Executive-in-Residence program," said Dr. Rick Muma, president of Wichita State University. "Jon is going to continue to carry the torch. I'm excited that the university and Barton School are giving Jon a platform to share his deep and vast knowledge on innovation, business, leadership and importance of human connection. The more we can learn from inspiring and seasoned leaders, our students, faculty, staff and community will be better for it."
For more information on the Barton School, visit wichita.edu/business.