---
More than 50 years after a plane crash killed 31 people on the way to a Wichita State football game, there are still more stories to tell from that tragic day. Diana Krestel – whose husband was a member of WSU's football team in 1970 — recently compiled and designed three scrapbooks that tell the story of college, loss of life and living with the aftermath of the Oct. 2, 1970 crash.
"It was a very traumatic experience for a bunch of 18-, 19-, and 20- year-olds who thought everything was hunky dory, and then all of a sudden, tragedy strikes," she said. "We all grew up and we really bonded together."
Diana and Bob Krestel, a lineman on the Shocker football team, donated the three scrapbooks in early September for display in the Shocker '70 Football Room in the Rhatigan Student Center.
"That's where they really belong," said Bob Krestel.
The Krestels met at Wichita State. Bob is from Ellwood City, Pennsylvania. Diana is from Wichita. They live in Northville, Michigan, and recently visited Wichita to spend time with friends from college.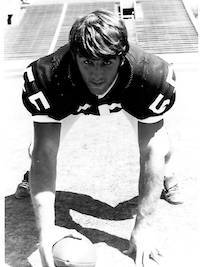 Bob Krestel
Bob flew on the "Black" plane that landed safely in Logan, Utah that fateful day. Fourteen of his teammates died as a result of the crash of the Martin 404 on a Friday afternoon on Mount Trelease near Silver Plume, Colorado. Fourteen staff, administrators and boosters, the pilot and two flight attendants also died. Eight players and the co-pilot survived the crash. The Shockers were flying to Logan, Utah for a game the next day at Utah State.
The scrapbooks contain photos, game programs, newspaper clippings and obituaries.
"I tried to focus on things that were important to me and my husband and our group of friends that were in that 1970 football group," Diana said. "I wanted to share it."
One scrapbook is dedicated to the crash and its aftermath. One documents the Shockers as the playing career of Krestel and teammates continued. The third scrapbook memorializes members of the group who died.
"They are meticulously kept," said Maria Ciski, director of university event services. "She has a very complete picture of all the events associated with that plane crash. It's a wonderful addition to the Shocker '70 Room."
Ciski is considering options for permanent display of the scrapbooks, including using video and pictures to make the pages available for visitors.