A consortium of four local institutions (Wichita State, WSU Tech, Newman University and Friends University) is bringing Dr. Gina Ann Garcia to Wichita for the talk "Becoming Hispanic-Serving Institutions," at 1:15 p.m. Feb. 9, in Newman's DeMattias Performance Hall. Her talk includes a 30-minute question and answer session.
Garcia is an associate professor in the Department of Educational Foundations, Organizations and Policy at the University of Pittsburgh. She is a leading scholar on Hispanic-Serving Institutions (HSIs).
Last fall, when Wichita State released enrollment numbers last fall, it was also announced that WSU had qualified as an Emerging Hispanic-Serving Institution.
What exactly is a Hispanic-Serving Institution?
Dr. Sara Mata, WSU executive director of Hispanic Serving Initiatives, is a member of the Hispanic-Serving Institution Task Force at WSU.
She explains what it all means and how it can positively impact students at Wichita State and beyond.
---
Q: What is an Hispanic-Serving Institution (HSI)?
A: An Hispanic-Serving Institution (HSI) is defined as an accredited and eligible degree-granting institution that has applied to the U.S. Department of Education for the designation and that has at least 25 percent undergraduate full-time Latinx/a/o, Hispanic student enrollment at the end of the award year immediately preceding the date of application.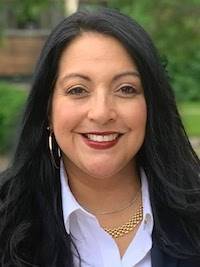 Dr. Sara Mata
Q: What are the benefits of this designation?
A: The HSI designation allows an academic institution to apply for federal grant funding to support strengthening institutional programs and services. Obtaining an HSI designation also expands educational resources and opportunities for students.
Q: Why does Wichita State University want to become an HSI?
A: The changing demographics of Kansas reveals that the Latino/a/x population is the largest and fastest-growing population in the state. The state's largest school district, USD 259 Wichita Public Schools, has a richly diverse student body. These students comprise the largest ethnic minority population in the school district, at 37.09% of student enrollment for the 2022-2023 academic school year.
Pursuing the designation process to become an HSI would allow Wichita State to be more intentional in addressing the systemic and historical barriers that have adversely impacted the educational experiences of Latino/a, Latinx and Hispanic students, as well as other minoritized students at large.
Q: What can people learn from Dr. Garcia's public talk on Feb. 9?
A: The most significant message of Dr. Gina Garcia's work is the emphasis on the "S" of Serving. Although it is the institutions seeking the federal designation of HSI, it is through the university's collaborations not only on campus but also with community partners, local businesses and corporate partners to fully participate in the importance of serving.
Those who attend Dr. Garcia's talk will have a better understanding of what is an HSI but more importantly, how it takes all of us to contribute to the success of this work.
Q: Why did the consortium of local universities select Dr. Garcia to speak?
A: Knowing the significance of the work of Dr. Garcia, the consortium recognized if we are to embark on this journey of becoming an HSI, Dr. Garcia is the absolute best of the best in this field. Understanding the importance of doing this work authentically and appropriately, it was unanimously agreed upon to collaborate to bring Dr. Garcia to Wichita.
Q: How will Dr. Garcia work with the consortium to advance Wichita State's goal of becoming an HSI?
A: In addition to the keynote, on Thursday, Feb. 9, Dr. Garcia will also be conducting a workshop. She will have an opportunity to meet with each of the four leadership teams and provide insight, suggestions, and support for each campuses efforts to become an HSI. As each institution is on their unique journey in this work, the goal is to hear from the expert of HSIs, take into consideration her advice, and incorporate promising practices into the process of preparing for becoming a Hispanic Serving Institution.
Q: How is Wichita State working with other academic institutions on pursuing HSI designation status?
A: For nearly a year, Wichita State has worked with three other institutions in Wichita, including WSU Tech, Newman University and Friends University. This HSI consortium consists of faculty, staff and administrators from all four institutions that recognized the critical importance of pursuing HSI designation status. Rather than focusing on being competitive, a collaboration was built to join forces and work together to strengthen the uniqueness of each institution's supporting efforts of serving Wichita's Hispanic college students.
Q: What does an emerging status mean? Is WSU an emerging institution?
A: An emerging HSI is 15-24% of students enrolled are Hispanic students. Wichita State's 2022 enrollment numbers show 16% of undergraduate, degree seeking students identify as Hispanic. As this demographic of enrollment continues to increase at WSU, it is vital we examine how as a university, we continue the efforts of strengthening services and support for students now, in preparation of the HSI designation.
Q: Does becoming an HSI only benefit Latino/x/Hispanic students?
A: Pursuing an HSI designation status enables the ability to create more equitable practices for all students to achieve academic success and build a diverse talent pipeline to fulfill workforce needs in Kansas and beyond. Ultimately, WSU is committed to increasing graduation rates and student success for all students.