UPDATE: This event has been canceled because of weather and travel issues. Those who purchased tickets will receive a refund.
---
Actor, digital creator and TikTok influencer Chris Olsen will speak about his rise to fame during An Evening with Chris Olsen at 7 p.m. Friday, Feb. 17 at the Wichita State University Eugene M. Hughes Metropolitan Complex (5015 E. 29th St. North).
Advance tickets are free to WSU students, $15 for faculty/staff and $25 for general public. Purchase tickets here.
This event is intended for those 12 and older.
Olsen is an actor and digital creator who rose to prominence after joining TikTok, quickly becoming one of the most celebrated comedic voices on the platform. He is a classically trained actor, singer and dancer, receiving his Bachelor of Fine Arts from the Boston Conservatory for Musical Theatre. He can be seen in the Discovery+ mini-series "The Book of Queer."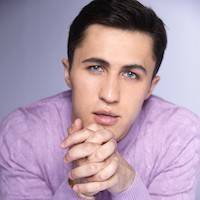 Chris Olsen
Olsen will be launching his own coffee brand, Flight Fuel, soon. As a major coffee aficionado, Flight Fuel was born out of his TikTok series "Flying for Coffee," in which he delivers coffee to celebrities all over the world. Information on Flight Fuel can be found at flightfuelcoffee.com. He was named one of E!'s "New Faces of Pride" and was nominated as TikTok and GLAAD's first-ever "Queer Advocate of the Year." Olsen won "People's Sexiest Guy on TikTok" and was a co-host of the 2022 Oscar's Red-Carpet Experience, in partnership with the Academy of Motion Pictures Arts and Sciences.
He interviewed Dr. Anthony Fauci, former chief medical advisor to the president of United States, for the White House's "Made to Save" campaign to promote vaccine education. He also co-hosted a GUESS Live event celebrating Pride and was tapped to work press junkets, partnering with Hulu and Netflix. He is a proud member of both the Asian Americans and Pacific Islanders (AAPI) and LGBTQ+ communities and is an outspoken mental health advocate.
The moderated discussion is coordinated by WSU's Student Activities Council (SAC), a student led-group charged with shaping campus culture through hosting unique experiences and memorable events. Student leaders gain transferable skills that prepare them for their future career pursuits. Sponsors include the WSU Divisions of Student Affairs and Campus Activities and Recreation.