Wichita State University began planning for its Innovation Campus in 2012 and two years later started work on the 120 acres that once housed Braeburn Golf Course. It is now home to numerous companies, agencies and organizations that partner with WSU and work together to foster resources, ideas, expertise and student talent.

One of those partners is Deloitte's Smart Factory @ Wichita. We asked Jason Bergstrom, Smart Manufacturing Go-to-Market leader and principal for Deloitte Consulting LLP, to describe how Wichita State's Innovation Campus helps the Smart Factory succeed.
---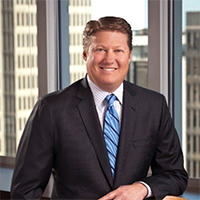 Jason Bergstrom
Q: How long has Deloitte been on the Wichita State Innovation Campus? 
A: Deloitte has had a presence on the campus since 2019 when we started conducting demonstrations at the John Bardo Center to show our clients the potential of smart manufacturing in person. From there, the idea of The Smart Factory @ Wichita was born, and we officially opened our doors in June of 2022. The factory's primary purpose is to demonstrate how organizations can bring smart manufacturing to life through hands-on experiences on a fully functioning production line armed with cutting-edge manufacturing technologies. The factory also brings together an ecosystem of 20 world-leading organizations, including AWS, Dragos, Infor, SAP, Siemens, Wichita State University and more, giving visitors access to the expertise, solutions and tools they need to create their own smart manufacturing environments.
When engaging with Deloitte to help solve manufacturing challenges, clients begin by working with a dedicated team from The Smart Factory @ Wichita that helps to pinpoint opportunity areas and creates a customized experience tailored to the client's specific digital manufacturing goals. The result is an immersive experience that allows an organization's leaders to spur innovation and growth. Coupled with workshops that help demonstrate the art of the possible, leaders depart with a new vision for smart manufacturing success.
Q: Why did Deloitte choose to locate on Wichita State's Innovation Campus, and what can you say about impact to the region/state, etc.?
A: According to the National Institute of Aviation Research, Wichita ranks number one in manufacturing jobs and occupations involving science, technology, engineering and math (STEM) skills. Wichita is also called the "air capital of the world" as it is known for pioneering aviation and manufacturing with a culture of innovation, and delivers 35% of all general aviation planes built in the U.S.
With Wichita continuing to be a major manufacturing and technology hub, Deloitte is proud to collaborate with Wichita State University, given its abundant talent, available infrastructure and university leadership team focused on driving innovation. The location was chosen to inspire a new generation of technologically focused talent and provide a glimpse into career possibilities available within manufacturing.
With over 200 experiences to date and roughly 5,000 visitors expected annually, The Smart Factory has drawn – and will continue to draw – thousands of clients, colleagues and partners to Wichita.
Q: How many employees are at this location?
A: This varies on any given day. Because The Smart Factory is a unique type of facility, the presence of our workforce is also diverse and varies outside the norms of a traditional factory or technology company. The benefits of this are that, in addition to the many local full-time employees and contractors that run The Smart Factory @ Wichita, we have other Deloitte employees, collaborators from our ecosystem organizations, and clients and prospective clients from world-renowned manufacturing and technology companies working in the facility every day. In addition, some of our ecosystem collaborators have established permanent demonstration areas and workspaces within The Factory, which requires a local and hybrid workforce to staff and maintain.
With this, we believe that The Smart Factory @ Wichita will continue to have a positive economic impact from visitors and company officials coming into the area to visit The Factory. We also hope that manufacturing and technology organizations that may have yet to consider Wichita may show interest in establishing more of a presence in the local area.
Q: How does being a part of Wichita State's ecosystem of innovation contribute to your company's success?
A: Wichita State's ecosystem contributes to our success in several ways. First and foremost, having access to students at Wichita State University as part of the applied learning program at The Smart Factory is highly beneficial. Students at Wichita State can work at The Factory in a variety of roles to help bolster their education within the areas of engineering, data analytics, workforce management, cybersecurity, robotics and more. Since 2020, our applied learning students have worked a combined 5,000-plus hours helping Deloitte serve clients and conduct research as integral team members as we established a first-of-its-kind experiential smart factory.
In addition, being housed on the Innovation Campus gives us access to world-leading organizations and academic leaders – they're right in our backyard. Access to and collaboration with people and businesses in Wichita continues to help us think about new ways to solve our clients' biggest challenges.
Q: What are the benefits of working with Wichita State students?
A: First and foremost, we consider Wichita a hub for precision manufacturing and technology. According to the Greater Wichita Partnership, it's the number one manufacturing-specialized region in the United States, and the National Institute for Aviation Research ranks Wichita as number one in manufacturing jobs (as a percentage of all jobs) and number three nationally as an advanced industry hotspot.
Adding to this, Wichita State's Innovation Campus is considered one of the nation's largest and fastest-growing research and innovation parks. It's the "heart of smart," where leading companies, emerging talent and the university's leadership team come together to drive innovation and academic programs to accelerate the future of manufacturing. The university also has a deep history of expertise in innovation, entrepreneurship and investment in engineering research. For instance, according to Wichita State's website, the university is number one in industry-funded aerospace research and development (R&D) and four in total aerospace engineering research dollars.
With this level of investment in students and their education in STEM fields, in addition to being surrounded by manufacturing innovation, we are incredibly fortunate to have access to the student talent at Wichita State. While we're here at The Smart Factory to help them learn more about smart manufacturing and business, they also are significant resources to us as they are currently learning the newest approaches to technological deployments, business strategy, and more. Their perspectives continue to help us understand how the next generation of manufacturing leaders will approach solving challenges in the industry.
Q: Does your company often hire students for full-time positions after graduation? If so, what makes these students an asset to your company?
A: Our goal with the applied learning program is to give students hands-on skills in the smart manufacturing industry while creating a talent pipeline to hire them for full-time positions after graduation. To date, 13 Wichita State University students have been hired into Deloitte in various roles – some work at The Smart Factory, and others work at Deloitte offices around the United States. In addition to the students we've welcomed into our workforce since we established a presence on campus, we are proud to have 19 additional Wichita State alumni working at Deloitte.
Wichita State University is a premier recruiting school for Deloitte, and we have plans to continue our outreach with the applied learning program, student open houses, and partnership events.
Q: What else would you like to say about your partnership with WSU?
A: We are very proud to be a part of Wichita State's Innovation Campus and have access to the incredible student talent that we see at the university, as well as the professors and technologists on campus. We also feel fortunate to serve as the gateway to Wichita for many of our clients and collaborators who may not be familiar with the rich manufacturing and technology history within the broader community. As we continue to bring people to Wichita, we hope to help spread the word about both the city and the University, as we believe this community will be instrumental in helping shape the future of manufacturing.
---
About Wichita State University
Wichita State University is Kansas' only urban public research university, enrolling almost 22,000 students between its main campus and WSU Tech, including students from every state in the U.S. and more than 100 countries. Wichita State and WSU Tech are recognized for being student centered and innovation driven.
Located in the largest city in the state with one of the highest concentrations in the United States of jobs involving science, technology, engineering and math (STEM), Wichita State University provides uniquely distinctive and innovative pathways of applied learning, applied research and career opportunities for all of our students.
For more information, follow us on Twitter at www.twitter.com/wichitastate and Facebook at www.facebook.com/wichita.state.