Kansas NASA EPSCoR Program (KNEP) has named Wichita State University's College of Innovation and Design faculty member Maggie Schoonover as a recipient of its 2023 Partnership Development Grant for her proposal, "Familiarization Training Game for Extended Reality Spacesuit User Interface."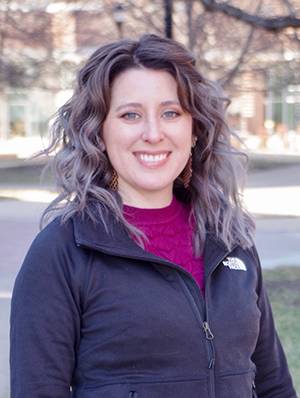 Maggie Schoonover
Schoonover's Open XR Lab offers hands-on tech development with collaborative design and integration of non-STEM majors into STEM activities to enhance team effectiveness and employability. Her area of research focuses on product management processes in emerging technologies.
The $20,000 grant is part of the Research Infrastructure Development effort and has been accepted by KNEP. This funding will support Schoonover's research on creating a training simulation game that will help familiarize astronauts with the user interface of extended reality spacesuits.
Schoonover, an agile and sustainability professor in the College of Innovation and Design at Wichita State, is thrilled to receive this grant and is excited to continue her work in this field.
"This grant will give us the opportunity to involve students in the design, development, and testing of emerging tech for future NASA space missions. This also helps bring our existing student research experiences to the next level," she said.
An interdisciplinary student team will develop the training simulation using an extended reality interface on a head-mounted display unit with headsets like the Meta Quest Pro. The purpose of the training simulation is to familiarize astronauts with basic hand, voice, and eye controls, and to provide an accelerated process for building familiarity and aptitude with the simulated helmet user-interface in preparation for future space missions.
"Drawing on the college's interdisciplinary strengths, the project will prioritize collaboration across campus creating interface development and design opportunities for students," said Dr. Jeremy Patterson, dean of the College of Innovation and Design.
Team building in the Open XR Lab focuses on refining student competencies in both digital and product management skills. Software development, user experience/user interface design, and Agile product management are all listed in the top 10 most in-demand skills globally.
---
About Wichita State University
Wichita State University is Kansas' only urban public research university, enrolling almost 22,000 students between its main campus and WSU Tech, including students from every state in the U.S. and more than 100 countries. Wichita State and WSU Tech are recognized for being student centered and innovation driven.
Located in the largest city in the state with one of the highest concentrations in the United States of jobs involving science, technology, engineering and math (STEM), Wichita State University provides uniquely distinctive and innovative pathways of applied learning, applied research and career opportunities for all of our students.
The Innovation Campus, which is a physical extension of the Wichita State University main campus, is one of the nation's largest and fastest-growing research/innovation parks, encompassing over 120 acres and is home to a number of global companies and organizations.
For more information, follow us on Twitter at www.twitter.com/wichitastate and Facebook at www.facebook.com/wichita.state.