As night falls, an unsuspecting gray mouse chitters under a tree while nibbling on a seed she scavenged in the grass. Then — swoosh! — in less than an instant, the space where she stood is empty, and an owl swoops soundlessly away with the mouse in her talons.
That level of silent stealth is something a group of Wichita State students is attempting to replicate as part of a project to use owl-feather technology to create silent drones for NASA's University Student Research Challenge (USRC).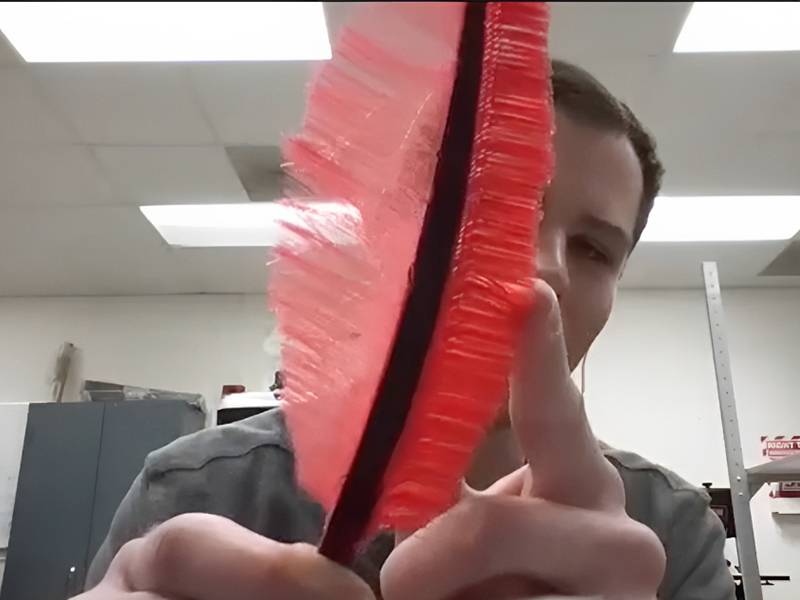 Will Johnston holds up a 3D printed owl feather.
The AeroFeathers team is comprised of seven Shockers, who are all part of the Mechanics, Acoustics and Dynamics Lab (MADLab): primary investigator Will Johnston, Pulitha Janith Chandrasena Godakawela Kankanamalage, Amulya Lomte, Dr. Maria Jose Carrillo-Munoz, Brittany Wojciechowski — all aerospace engineering graduate students; Gabrielle Mathews, a junior in business; and Laura Nobles, a sophomore in aerospace engineering.
According to its website, NASA's USRC "invites students to propose new research ideas that could help solve some of the biggest technical challenges facing 21st century aviation."
Students choose among six research categories that address the future needs of the aviation community. The AeroFeathers team chose to address the request for research on "safe, quiet and affordable vertical lift air vehicles."
"We actually looked to nature," Johnston said. "What we found was that owls are well-known for their quiet flight, swooping down and taking prey without noise."
There are three components to owl feathers that enable it to fly soundlessly:
a soft, velvety coat;

thick serrations on the leading edge of the feather; and ...

thin, jagged fringes on the trailing edge of the feather
Johnston said the team spent a considerable amount of time studying owls and their flight to understand the nuances of the birds' biomechanics.
The goal is to 3D print feathers to create drone propeller blades "to see if we're actually able to make the drone quieter, similar to how an owl feather makes its flight quieter," Johnston said.
NASA has funded AeroFeathers with an initial grant of $40,000. The team will now need to raise $2,000 through crowdfunding. Once they've completed the crowdfunding requirement, NASA will award them with an additional $40,000.
"I think the main goal of the crowdfunding is to increase public awareness of research, so NASA thought a crowdfunding idea would be a good thing to get students to interact with the public," Johnston said. "Even if it's just a small amount, it's still creating public interest in research."
This is also an opportunity to teach students how to raise research funding, said Dr. Bhisham Sharma, AeroFeathers' faculty advisor and assistant professor of aerospace engineering at Wichita State.
"They need to learn how to communicate their science to the general public, learn how to sell an engineering idea, and be able to attract money from other places," he said.
The $82,000 award will fund a large-scale 3D printer that will be able to print the owl-inspired drone blades, facility fees for students to use external research facilities for acoustical testing, travel expenses for the students to present their research at conferences, and it will pay wages for two undergraduate WSU researchers on the project.
"Hopefully, we'll have an actual drone propeller built in the next six months," Johnston said.
Once the drone is built, AeroFeathers team members will find an anechoic chamber, which blocks out ambient noises and will allow the research team to focus exclusively on the drone's noise — or lack thereof.
If the team is successful in creating a quiet drone, the innovative technology will have a wide range of applications, said Sharma, whose own research focuses on structural dynamics, acoustics and vibrations.
"Essentially, anything that has a fan," he said. "Fan noise is a big issue in engineering. Anytime you have a fan, it creates a noise. You cannot attenuate that noise without hurting the performance of the fan itself."
For example, he said AeroFeathers' creation could possibly be implemented into computer servers, ceiling fans, vacuum cleaners and helicopters.
"This could be used in all sorts of technology related to air," said Gabrielle Matthews, the only non-aerospace major in the group. "Something that comes to mind is the loud volume of air dryers in public restrooms. I tend to not use them because of the noise, but with this, that can become a thing of the past."
Dr. Maria Carrillo-Munoz, who was awarded her Ph.D. in aerospace engineering on April 20, said AeroFeathers is the culmination of years of study in various aspects of aerospace engineering research.
"We have to apply our knowledge in math, physics, structures, fluids, coding and computational simulations to our research projects — when these projects are only theory, or when we try to make them a real case application," she said.
The project also combines theoretical and practical work in the classroom and the MADLab, said Amulya Lomte.
"As a researcher, especially being at MADLAB, I have been exposed to and encouraged to go out there and participate in many innovation challenges and competitions," she said. "Our AeroFeathers project is one those challenges where we learn something new, apply our knowledge, and grow by understanding if and what went wrong."
---
About Wichita State University
Wichita State University is Kansas' only urban public research university, enrolling almost 22,000 students between its main campus and WSU Tech, including students from every state in the U.S. and more than 100 countries. Wichita State and WSU Tech are recognized for being student centered and innovation driven.
Located in the largest city in the state with one of the highest concentrations in the United States of jobs involving science, technology, engineering and math (STEM), Wichita State University provides uniquely distinctive and innovative pathways of applied learning, applied research and career opportunities for all of our students.
The Innovation Campus, which is a physical extension of the Wichita State University main campus, is one of the nation's largest and fastest-growing research/innovation parks, encompassing over 120 acres and is home to a number of global companies and organizations.
For more information, follow us on Twitter at www.twitter.com/wichitastate and Facebook at www.facebook.com/wichita.state.