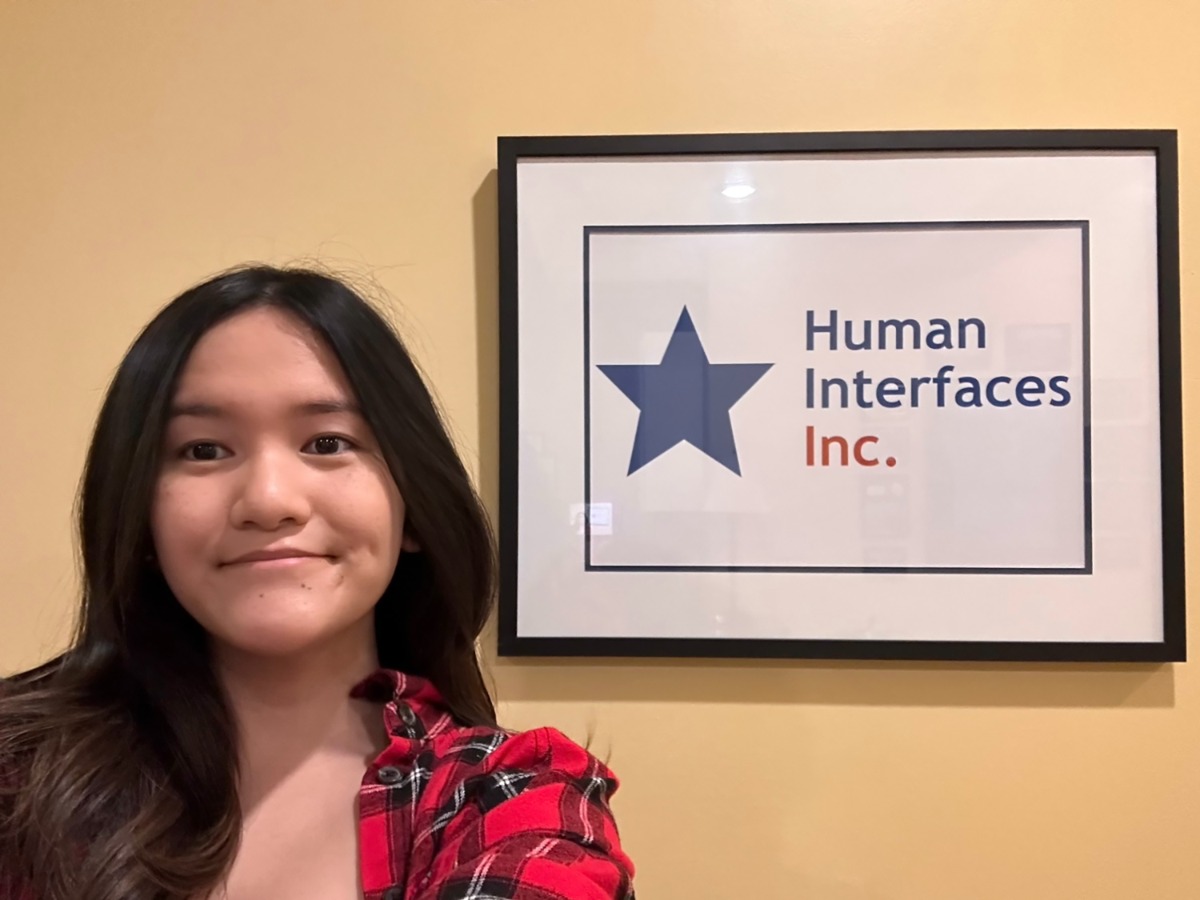 Valerie Hubener, who recently graduated from WSU's Master of Innovation Design program, has worked as a UX research intern at Human Interfaces in Austin since January 2023.
---
A user experience (UX) Austin research firm has discovered a secret ingredient in its recipe for success: Wichita State University students.
"Oh boy, not sure I could count them all," said Nicole Proulx, director of research for Human Interfaces, when she thought about how many Shockers who have worked at the company. "We've been hiring them for over 10 years."
Human Interfaces is a boutique firm that specializes in user UX research and has an impressive client list that includes Fitbit, Amazon, HP and Dell, to name a few.
"We hold WSU students in high regard," Proulx said. "They are always a good addition to our team, even if they are only with us for a short internship."
The partnership between Wichita State and Human Interfaces began about a decade ago when the founder of the company, Dr. Greg Liddell, was working with Dr. Barb Chaparro, former Wichita State professor of human factors and director of the Software Usability Research Lab (SURL).
"The reputation of Barb and her students in the human factors program and associated research labs were the primary reasons for hiring WSU students," Proulx said. "WSU students almost always come to us with some previous practical experience. This allows them to ramp up quickly and take the lead on projects in a very short amount of time."
Proulx said Shockers typically start off as UX research interns and sometimes stay with the company for full-time positions once they graduate.
Valerie Hubener, who recently graduated from WSU's Master of Innovation Design program, has worked as a UX research intern since January 2023.
"It's definitely the experience I was looking for," she said. "They allow the interns here work independently, and they trust us with running the studies and writing reports."
Each project, Hubener said, gives her a chance to experience something new in the field of user experience research.
"Every study is unique because different clients have different goals for their studies. The research methods that we use for one study are different from the next," she said. "We test everything from hardware to software interface products."
Hubener said her time at Wichita State prepared her well for her internship, particularly her work with NASA SUITS.
"The opportunities that were available to me in my grad program were plentiful," she said. "NASA SUITS was a really big project. It was a good experience because I got to work with other designers, engineers and researchers like me. Projects like NASA SUITS are great opportunities to experience what it's like to work in an interdisciplinary environment."
In April, when Hubener's internship ends, she will pass the torch to another NASA SUITS collaborator and Wichita State student. Bob Beran, a third-year human factors graduate student, will begin a summer internship with the firm in May.
Beran, who also holds a master's degree in experimental psychology, said the human factors program fuses his interests in psychology and UX research.
"I'm a huge tech nerd," he said. "Once I realized what human factors was and what I'd be doing at Human Interfaces — that's the experience I'm looking for. I don't know if I want to go into the private industry or government side of things, but this is what I really want to do."
Beran said that he feels well-prepared to begin his human factors internship.
"One of the classes I'm taking right now, Human Factors Methods, goes through all the methods used in industry; and I'm sure I'll be applying that all summer long," he said.
He credits Wichita State's reputation in the field of human factors for helping him secure the internship.
"Wichita State carries a pretty big name when it comes to industry," he said. "It's a really strong program with a vast alumni network."
---
About Wichita State University
Wichita State University is Kansas' only urban public research university, enrolling almost 22,000 students between its main campus and WSU Tech, including students from every state in the U.S. and more than 100 countries. Wichita State and WSU Tech are recognized for being student centered and innovation driven.
Located in the largest city in the state with one of the highest concentrations in the United States of jobs involving science, technology, engineering and math (STEM), Wichita State University provides uniquely distinctive and innovative pathways of applied learning, applied research and career opportunities for all of our students.
The Innovation Campus, which is a physical extension of the Wichita State University main campus, is one of the nation's largest and fastest-growing research/innovation parks, encompassing over 120 acres and is home to a number of global companies and organizations.
For more information, follow us on Twitter at www.twitter.com/wichitastate and Facebook at www.facebook.com/wichita.state.