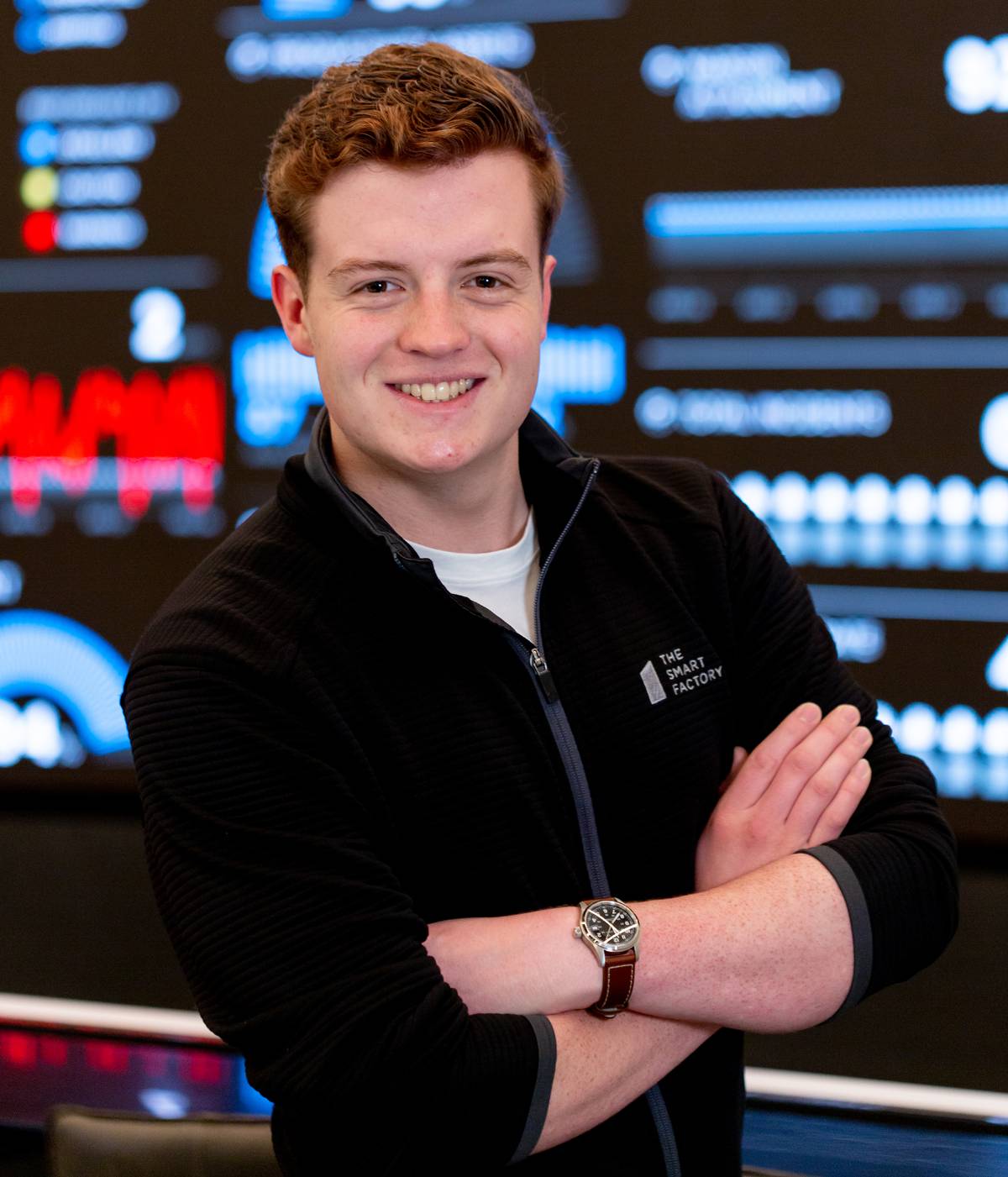 Kyle Walter interned at Deloitte's Smart Factory @ Wichita while he was a student, and he'll be working at the company full-time after graduation.
Kyle is one of more than 2,200 students eligible for spring 2023 graduation. Learn more about his time at Wichita State and what's next for the grad.
---
Hometown:
Wichita, Kansas
Degrees
Bachelor of Science degree in mechanical engineering and a minor in mathematics
What made you want to attend Wichita State?
I chose Wichita State for several reasons. I competed in the WISE competition and was chosen as one of the recipients for the Wallace scholarship. In addition to the scholarship, I was very impressed with the number of opportunities for internships and work experience on WSU's campus, as well as the new engineering buildings on the Innovation Campus.
How are you feeling leading up to graduation?
I am excited for what's next. I will miss the people I've met and experiences I have had a WSU though, and I hope to remain connected to the university.
What has been your biggest challenge as a student, and how did you overcome it?
My biggest challenge as a student has been finding a balance among work, school and personal time. I have had to improve my time-management skills and learn how to prioritize, especially as each semester gets increasingly difficult.
What has been your most helpful learning experience at Wichita State?
My time working at the Smart Factory on campus (and internships as a whole). I've had the opportunity to work on cutting-edge technology and apply the engineering concepts that I have been studying for the past four years, and my current role as the student project lead has given me the opportunity to gain experience in project management and team management.
What are your plans after graduation?
I received and accepted an offer from Deloitte Consulting, who I have worked with at the Smart Factory on campus for the last two years. That starts in September. Before that, I am going on a backpacking trip to Europe and moving to Kansas City.
What advice would you give other Wichita State students?
Take advantage of the incredible opportunities on campus and get connected with the Shocker Career Accelerator. Everyone there genuinely cares about helping students gain work experience, develop resumes, get connected with industry, and learn interview skills. Also, get connected with the student organizations and find ones that pique your interests.
---
About Wichita State University
Wichita State University is Kansas' only urban public research university, enrolling almost 22,000 students between its main campus and WSU Tech, including students from every state in the U.S. and more than 100 countries. Wichita State and WSU Tech are recognized for being student centered and innovation driven.
Located in the largest city in the state with one of the highest concentrations in the United States of jobs involving science, technology, engineering and math (STEM), Wichita State University provides uniquely distinctive and innovative pathways of applied learning, applied research and career opportunities for all of our students.
The Innovation Campus, which is a physical extension of the Wichita State University main campus, is one of the nation's largest and fastest-growing research/innovation parks, encompassing over 120 acres and is home to a number of global companies and organizations.
For more information, follow us on Twitter at www.twitter.com/wichitastate and Facebook at www.facebook.com/wichita.state.