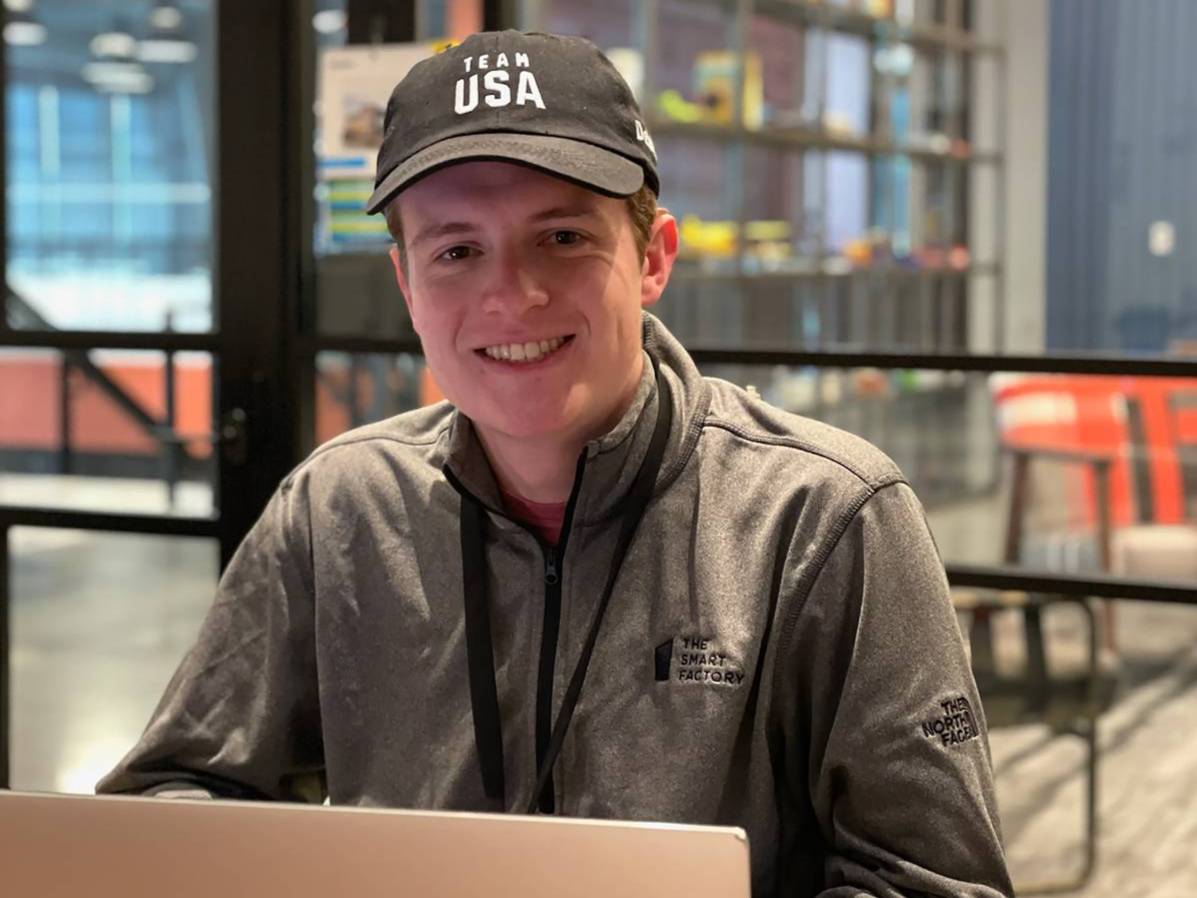 Ryan Walter says his applied learning opportunity at Deloitte's Smart Factory @ Wichita helped him create a connection between what he learned in the classroom and the real world.
Ryan is one of more than 2,200 students eligible for spring 2023 graduation. Learn more about his time at Wichita State and what's next for the grad.
---
Hometown:
Wichita, Kansas
Degrees
Bachelor of Science degree in mechanical engineering and a minor in mathematics
What made you want to attend Wichita State?
The Innovation Campus, Applied Learning Program, and financial aid provided by Wichita State University quickly separated it from the group as the best place to pursue my degree.
How are you feeling leading up to graduation?
I'm excited! There are mixed emotions because I'll definitely miss the communities and friends I've made on campus, but I'm looking forward to starting the next phase of my life and moving into a full-time career.
What has been your biggest challenge as a student, and how did you overcome it?
My biggest challenge as a student has probably been time management. Being involved on campus and working part time, while trying to maintain a GPA, often made it difficult to manage due dates and commitments. It's still a challenge now, but using a calendar and to-do list definitely helped me better manage assignments and stay on schedule.
What has been your most helpful learning experience at Wichita State?
By far my most helpful learning experience at Wichita State has been my time in the applied learning program. Being able to work in internships that prioritize real-world experience over busy work helped me not only connect class work with real life, but also gave me valuable experience for my future career.
What are your plans after graduation?
After graduation, I'm going on a backpacking trip of Europe with my brother before starting full-time as an analyst with Deloitte Consulting in Kansas City.
What advice would you give other Wichita State students?
Take advantage of the opportunity you've been given. It's easy to look at college as just another thing to do before getting a job, but it really is an incredible opportunity to start building a career, make meaningful connections, and participate in great communities of awesome people.
---
About Wichita State University
Wichita State University is Kansas' only urban public research university, enrolling almost 22,000 students between its main campus and WSU Tech, including students from every state in the U.S. and more than 100 countries. Wichita State and WSU Tech are recognized for being student centered and innovation driven.
Located in the largest city in the state with one of the highest concentrations in the United States of jobs involving science, technology, engineering and math (STEM), Wichita State University provides uniquely distinctive and innovative pathways of applied learning, applied research and career opportunities for all of our students.
The Innovation Campus, which is a physical extension of the Wichita State University main campus, is one of the nation's largest and fastest-growing research/innovation parks, encompassing over 120 acres and is home to a number of global companies and organizations.
For more information, follow us on Twitter at www.twitter.com/wichitastate and Facebook at www.facebook.com/wichita.state.