Walking through campus with Wichita State University First Gentleman Rick Case is like taking a stroll with an anthropomorphized version of the Farmer's Almanac.
Case — who's fluent in the care and feeding of flora — points out irises, lilies, hydrangeas, wisteria, ivies and chrysanthemums that thrive both at the President's Residence on campus and at their private home in Wichita.
Ever the teacher, Case shares growing tips and offers advice about how to maintain the various blooms and nurture new seedlings. And ever the gardener, he stoops down every few yards to pull weeds, pick up bits of trash from the meticulously manicured pathways and steppingstones, or get a closer look at the progress of a particular plant.
"I wanted campus to be more inviting; and to me, plants do that," Case said. "It just looks warmer. I want it to be a place where people feel like it's home."
As a father of two grown sons, Case deeply appreciates the significance of creating a nurturing and serene environment on a university campus. Growing up on a farm, which he still manages for his mother in Clay County, Kansas, is where he got this passion.
"I just think as a parent, I want my kids to feel safe. I want them to feel comfortable. I want them to go to a place where people are taking care of things," he said. Plus, "being a student is kind of stressful, and the gardens are calm and peaceful."
Case clearly has the passion, talent and patience of a man who knows how to cultivate the best of all things that grow.
In 2021, Case became the first person to serve as first gentleman of Wichita State, when Rick Muma was selected by the Kansas Board of Regents as the 15th president of the university. The same year, Case retired from a 36-year career with the USDA Farm Service Agency, where he served as a district director.
Case approaches his time on campus and interactions with students much like he does a tour of the gardens: an opportunity to educate. For instance, there was that time when a student had a flat tire right outside the President's Residence.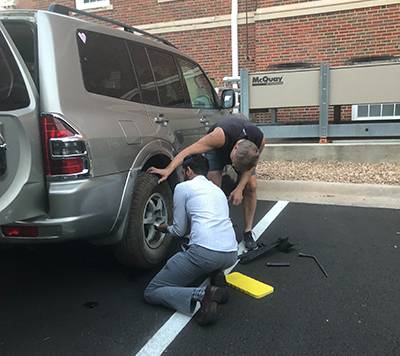 First Gentleman Rick Case teaches
a Wichita State student how to change a tire.
Case walked over to help, and several students were standing around looking perplexed.
"They had all their cars open, and they all got their jacks out and they're like, 'The jacks aren't tall enough to lift up the car," Case chuckled at the memory. "I told them we were going to have a teachable moment. And so they all gathered around, and I explained to them where you have to place the jack and how to make it lift the car."
Case, who holds a bachelor's degree in agronomy and a master's in education from Kansas State University, said, "I always thought I'd end up teaching, so I really enjoy this kind of thing."
He takes seriously his role as an unofficial educator at Wichita State. He says one of the best lessons he can teach is leading by example.
"These students are watching us. Every professor, every administrative person, every leader — we're setting an example. We want to do everything we possibly can to help them succeed because they're the future," Case said. "Whether you're teaching them to garden or how to change a tire or an engineering theory — they're watching."
And his teach-a-man-to-fish approach extends to his off-campus life as well.
"We have a community garden down at our church that Rick and I started several years ago," he said. "The whole reason is that if you teach someone how to grow their own food, they can eat for a lifetime. If you hand them food and don't explain or teach them how to do it, you're not helping them."
While there's no official job description for the first spouse of Wichita State University, it's a full-time job to be sure.
Almost without exception, Case and Muma start each day at 4 a.m. and head out through the campus streets and the surrounding neighborhoods for a run. And, of course, they make brief pauses along the way to uproot invasive weeds.
If we have a legacy, it will be that we tried hard every day.
Rick Case
Wichita State's first gentleman
By 7 a.m., Muma is off to his office, and Case's responsibilities might include representing Wichita State at a speaking engagement, helping plan an event with university staff, or hosting a gathering at the President's Residence.
Since Case and Muma moved into the President's Residence, they've hosted 72 student groups during weekly luncheons, and Case offers them advice before they leave.
"After the tour, I tell them that they're going to be successful because they're here," he said. "Whatever the reason it is that you're here, it's because you're working to make your life better. You're going to be successful. And I always tell them, 'Don't forget who helped you get here and be sure to reach back and you pull someone else up.'"
The first couple also invests in students and Wichita State through giving opportunities and the Richard D. Muma and Rick A. Case Equality Scholarship. The impetus for the scholarship came in 2011 from the tragic suicide of a gay Rutgers University student, and Case and Muma wanted to show their support for the LGBTQ+ community at Wichita State.
"We also thought, 'What can we do to make kids' lives different if they don't have support?' That happens to a lot of students — not just gay, lesbian and trans students, but just students in general," Case said.
It's just another illustration of leading by example.
"It's about not just talking the talk but walking the walk. When you're asking donors to contribute to these students and their futures, we need to be part of that as well and invest in the students and their future," he said
When all is said and done — the landscaping, luncheons, donor meetings, Shocker athletics events and impromptu teachable moments — Case hopes that he and Muma's impact will be measured by the heartfelt and passionate dedication they have for Wichita State.
"If we have a legacy," he said, "it will be that we tried hard every day."
---
About Wichita State University
Wichita State University is Kansas' only urban public research university, enrolling almost 22,000 students between its main campus and WSU Tech, including students from every state in the U.S. and more than 100 countries. Wichita State and WSU Tech are recognized for being student centered and innovation driven.
Located in the largest city in the state with one of the highest concentrations in the United States of jobs involving science, technology, engineering and math (STEM), Wichita State University provides uniquely distinctive and innovative pathways of applied learning, applied research and career opportunities for all of our students.
The Innovation Campus, which is a physical extension of the Wichita State University main campus, is one of the nation's largest and fastest-growing research/innovation parks, encompassing over 120 acres and is home to a number of global companies and organizations.
For more information, follow us on Twitter at www.twitter.com/wichitastate and Facebook at www.facebook.com/wichita.state.