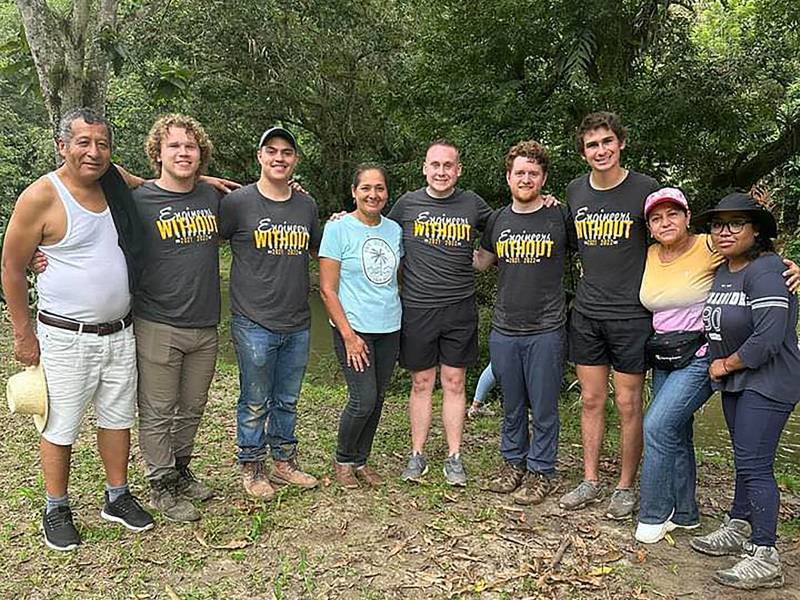 ---
Several Wichita State University engineering students are bringing Shocker innovation to a tiny village in Ecuador.
Through the WSU chapter of Engineers without Borders, three students recently began the process of working with the rural community of Mercedes de Agua Sucia in Manabi, Ecuador, to build a pedestrian bridge that will give residents safe passage to the main road and nearby cities to sell the goods and products from their farms, shop in nearby El Carmen, and for children to attend school.
Three students — Julian Vasquez, a sophomore in electrical engineering from Wylie, Texas; Austin Rempel, a junior in product design and manufacturing from Hillsboro, Kansas; and Nicolas Reyes, a senior in computer engineering from Oklahoma City— traveled to Ecuador over the summer to begin assessing the community's needs.
"They have a wide river preventing access to main roadways, and they have constructed a makeshift bridge across trees using bamboo and metal wires that residents use to cross, including the children who cross on their way to school every day," Reyes said. "Our goal is for this bridge to give safe and fast access to the roadways."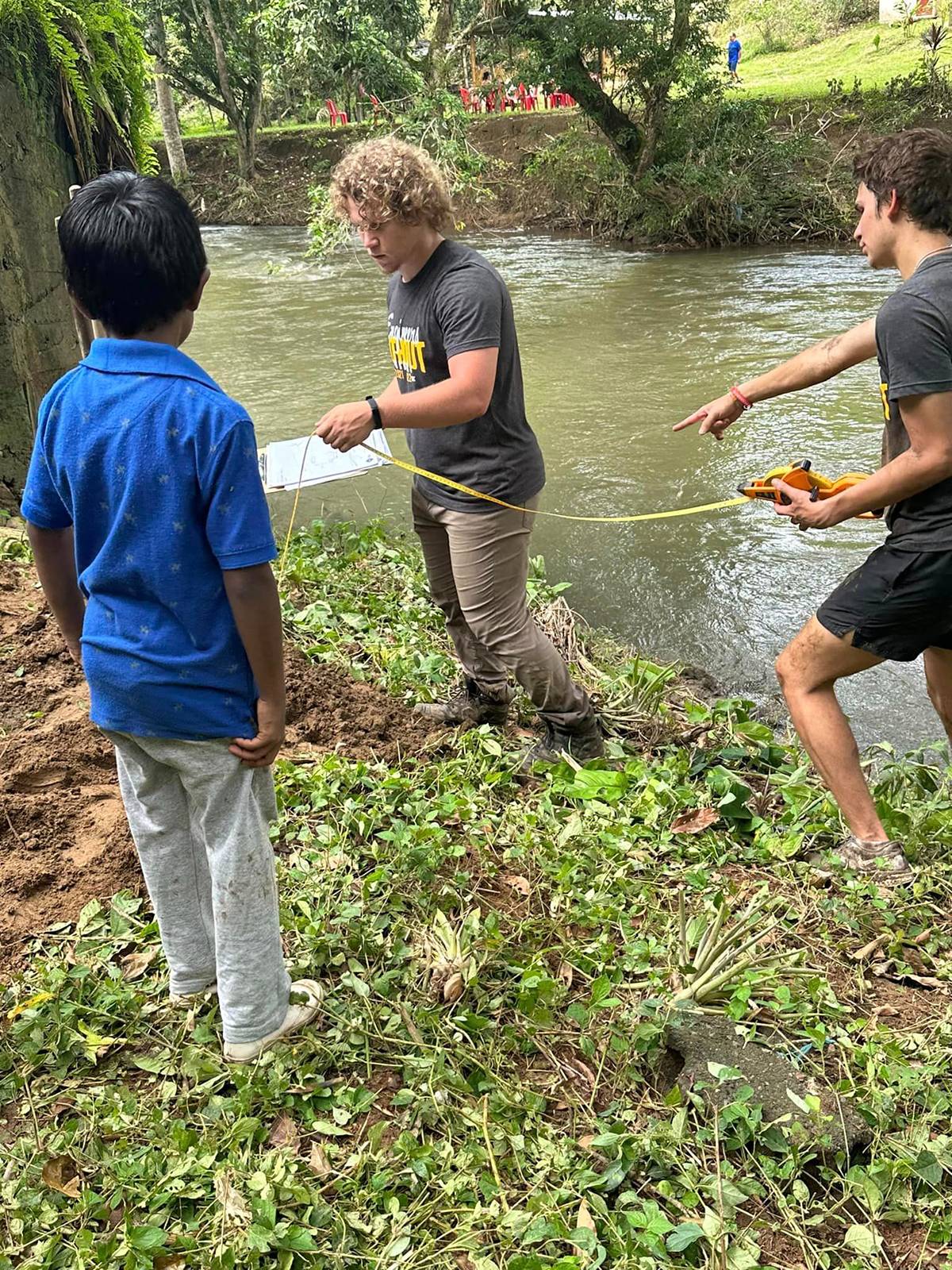 In addition to the Wichita State team, a licensed civil engineer will be working alongside the students to help with the project.
Agua Sucia in Manabi is home to about 20 families, and the Engineers without Borders team was intentional in its efforts to include the villagers in the planning process.
"Our students spent time working with the people in the village and get to know them," said Dr. Jacob Mendez, Wichita State's director of student engagement and career readiness for the College of Engineering. "They also taught the village members how to use the equipment, and some local construction people helped us dig holes for the surveying."
In all, the team spent about six days in Ecuador, surveying the village's needs, creating a plan, and getting to know the people.
"All the people we met in Ecuador were incredibly kind and welcoming," Reyes said. "The culture was rich, and they had incredible food. Everybody in the village wanted to help in any way possible. I'm very grateful to have met everybody."
"It was wonderful," Vasquez said. "They were friendly and just amazing souls."
The team will take the data from the surveys and community feedback and begin the process of pricing and sourcing supplies, recruiting more students into the project, consulting with professionals, and creating a sustainable design plan. Then, in summer 2024, the Wichita State engineers will return to Ecuador to do the work of physically building the bridge.
"Our next trip needs to be much larger scale next summer," Reyes said. "We need to transport materials and pour large sections of concrete within a short window of time for it to cure properly."
The estimated cost to build the bridge and for travel will be between $40,000 and $50,000. The community in Ecuador will pay for 5% of those costs, and the students fundraise of the bulk of the expenses. A fundraising campaign has been set up through WSU Foundation and Alumni Engagement.
In the meantime, planning continues in Wichita.
"We'll be making the technical plans for the bridge itself; but possibly more importantly, we'll be planning the time management to efficiently build an entire bridge with our time given," Rempel said.
The project has invigorated the students' appreciation for the field of engineering.
"Being able to see the technical side in stuff but also seeing the motivation behind engineering. It's not a career. It's a service," Vasquez said.
It's also been helpful in showing the students how what they learn in the classroom can be applied in real-world situations.
"It has helped me see beyond the exhausting classwork that I chose to dedicate four years of my life to," Rempel said. "It also helped me see some useful information within those classes, but mostly excited me for engineering with an actual goal in mind beyond GPA."
Reyes agreed and said his time in Ecuador has helped him gain practical insight into his career.
"This experience has been great for learning to see through a project from start to finish, dividing it into phases, and planning carefully," Reyes said. "Above all, traveling to Ecuador and working directly with the people who we are helping has been a strong reminder of what being an engineer means to me: changing people's lives for the better."
---
About Wichita State University
Wichita State University is Kansas' only urban public research university, enrolling almost 22,000 students between its main campus and WSU Tech, including students from every state in the U.S. and more than 100 countries. Wichita State and WSU Tech are recognized for being student centered and innovation driven.
Located in the largest city in the state with one of the highest concentrations in the United States of jobs involving science, technology, engineering and math (STEM), Wichita State University provides uniquely distinctive and innovative pathways of applied learning, applied research and career opportunities for all of our students.
The Innovation Campus, which is a physical extension of the Wichita State University main campus, is one of the nation's largest and fastest-growing research/innovation parks, encompassing over 120 acres and is home to a number of global companies and organizations.
For more information, follow us on Twitter at www.twitter.com/wichitastate and Facebook at www.facebook.com/wichita.state.