Hannah Bui is now prepared to work with French-speaking colleagues at Airbus, thanks to "Business French for Beginners" taught by Wichita State University lecturer Rachelle Swilley.
"I'm ready if we have a trip to Canada," Bui said. "If I pick up the next project and have to communicate with them, I'm confident I can introduce myself in French."
Bui, a static stress engineer at Airbus, was one of about 15 employees who took the six-week course, taught for two hours each Friday, this summer at Airbus on WSU's Innovation Campus.
Airbus, headquartered in France, also has nine locations in seven Canadian cities, most notably Mirabel in French-speaking Quebec. The course focuses on phrases and vocabulary that will help Airbus employees with travel and basic work interactions.
"Phrases such as, 'I've been at Airbus for five years,'" Swilley said. "Checking into a hotel – 'Where is the room? How many beds are in the room?' Giving basic directions. Pronouncing words on a menu."
Swilley, a 1998 graduate of Wichita State, lived in France as a child. She worked for Bombardier-Learjet in supply chain and marketing before coming to teach at Wichita State in 2007.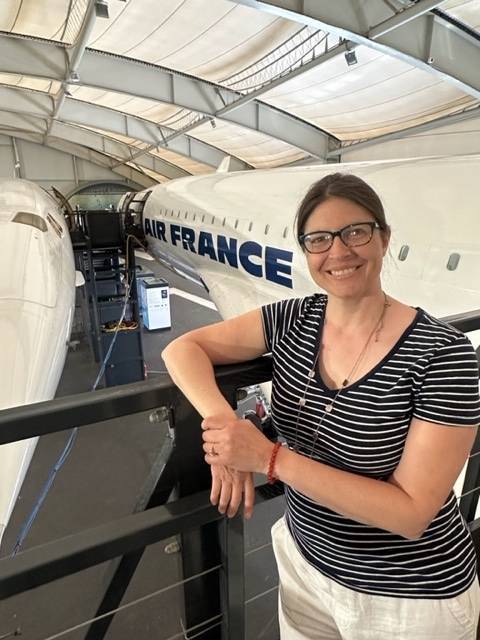 Rachelle Swilley
Dr. Wilson Baldridge, chair of the Department of Modern and Classical Languages and Literatures, sees the course as an important way the Fairmount College of Liberal Arts and Sciences can interact with partners on the Innovation Campus. The relationship with Airbus began with instruction in German for employees traveling to Hamburg, Germany, one of the key sites for Airbus Commercial Aircraft.
"We're not a research department in the sense of physics or chemistry," Baldridge said. "But we can provide instruction. We've gotten lots of support, moral support and financial support (from Dean Andrew Hippisley), to try to move the needle in terms of providing instructional and research service for our business partners."
The class is built on teaching vocabulary and phrases that can be used in multiple settings. Students also used Duolingo language apps to practice.
"I would set up different scenarios and have a weekly vocabulary list with audio that they would study during the week," Swilley said. "When we would meet in class, we mainly focused on using those phrases and that vocabulary to create real-life scenarios."
Bui, who graduated from Wichita State University in 2015 with a degree in aerospace engineering, had no experience with French when she decided to take the class. She's following the lead of her brother, An Bui, who is on the repair team at Airbus. He is also learning French and traveled to Airbus headquarters near Toulouse-Blagnac Airport in the southwest region of Occitania, for a month of training last year.
Hannah Bui continues to practice the language with Duolingo and YouTube videos. She also practices with Airbus friends she made in the class.
"Now we pass by, and we can say, 'Bonjour,'" she said. "The class helped us get to know colleagues who work in a different area."