---
Daniel Bergman grew up in O'Neill, Nebraska, buying comic books at the grocery store.
"It was hit or miss — if you had money, or if you could beg your parents," he said.
Those superheroes stuck with Bergman through his college days at the University of Nebraska and into his career as a teacher. The powers, the costumes, the origins and the variety of story-telling techniques captivated him as graphic novels and blockbuster movies turned the crime-fighters into entertainment powerhouses.
"I'm a superhero fan at heart, even before it was cool," Bergman said. "I'm also a teacher at heart."
Bergman, a professor in the School of Education at Wichita State University, uses his affection for both professions in his book "Teaching is for Superheroes!"
"Teaching is for Superheroes!" offers "insight and inspiration for your classroom (tights and cape optional." It's targeted at new, veteran and aspiring teachers and uses superhero archetypes to help educators understand their role, improve their skills and maintain enthusiasm during a challenging time.
Bergman will read excerpts from the book at a "Night with the Author" from 4-6 p.m. Sept. 14 in the Shocker Store in the Rhatigan Student Center.
"This is a book to help encourage and remind teachers that, 'Yes, this is important,'" Bergman said. "To share that passion with others. It's more than just a job or a career."
Bergman uses popular superheroes such as Superman and Spider-Man, who is often portrayed as a student, as examples. The X-Men comics, whose origin story relies on a school, is also one of his favorites.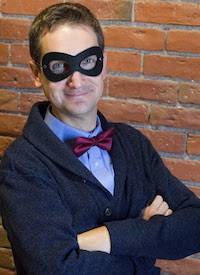 Daniel Bergman
In one chapter, Bergman uses Batman's famous toolkit when he asks, "What's in your utility belt?" Wonder Woman relies on a lasso and bracelets. Thor's hammer is another famous superhero accessory. Teachers, the book points out, use tools ranging from crayons to computers to help students learn.
Like superheroes, teachers also have vulnerabilities – just as green Kryptonite weakened Superman. Sleep, work-life balance and a support system of family and friends can keep teachers healthy and productive, Bergman explains in a chapter that asks, "What color is your Kryptonite?"
"We're all teachers in different ways," he said. "I use anything from origin stories – we all have an origin story, a purpose. Costumes – choosing what we wear as teachers. Our classroom is like our universe, what environments we teach in."
Batman, another one of his favorites, is an example of variety in teaching styles. Batman was portrayed in a campy, humorous show in the 1960s. In recent movies, he is a dark, brooding figure.
"You can be a good teacher in many ways," Bergman said. "An effective superhero story can be light-hearted. It can be serious, fantasy, grounded. We can all think of teachers who were very different, but very good."