FEATURED STORIES
---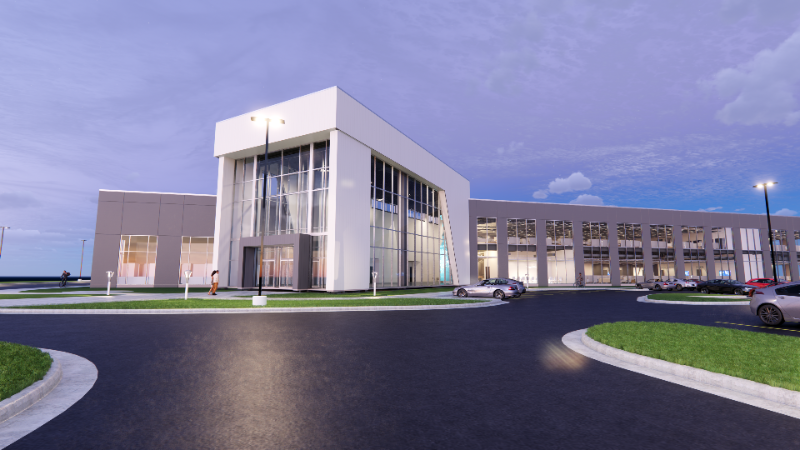 NetApp breaks ground for building on Wichita State University Innovation Campus
Work has begun on a permanent new home for NetApp's Wichita operations on the Wichita State University Innovation Campus, near 17th Street and Innovation Blvd. It is expected to open in early 2022.
The 168,000-square-foot LEED Silver building is designed as an open office plan, with 600+ workstations. The data center will be outfitted with 420 racks for NetApp's product development purposes. Developing a permanent home on Innovation Campus will allow the company to work even more closely with WSU students, faculty and other researchers.
Read more
NetApp, a world leading solutions provider in digital transformation, is already one of the largest employers of Wichita State students and alumni. NetApp is a Fortune 500 global data storage and cloud management company, headquartered in Sunnyvale, California.
The entrance to the building will be through a two-story pedestrian mall that will serve as the entrance for NetApp, along with a kitchen and dining area for the public. NetApp's plan includes a public outdoor recreation space with a multi-layered water ecosystem, seated terraces, and a multi-sport court for pickle ball and basketball.
The company held an online virtual groundbreaking Wednesday (May 27) for its employees. The groundbreaking showed earthmoving on the site by Crossland Construction, a full 3D walkthrough of the planned building and site by GLMV and included brief remarks from Wichita State President Jay Golden and NetApp's Brad Anderson, Executive VP Hybrid Cloud Group, Kim Stevenson, SVP & GM FDSBU, and Robin Huber, site manager of Wichita operations.
While the new building is under construction, NetApp has leased Innovation Campus Partnership 3 Building, on 18th near Oliver, as a temporary home for many of its operations and employees. Most employees are currently working from their homes and will continue to do so while COVID-19 remains a major health concern.
Looking beyond that time, President Golden said: "I fully expect that NetApp's deepening collaboration with Wichita State will change the company, university and the broader community in many positive ways. The collaboration with NetApp is a cornerstone of the university's new National Institute for Digital Transformation.
"It is an ambitious effort." Golden said, "to harness the university's strengths in computer sciences, cybersecurity, artificial intelligence, convergence sciences, fine arts and humanities to advance human knowledge, provide hands-on learning experiences for students and create economic growth for Wichita and Kansas."
Golden told NetApp employees: "I believe that bringing our students and faculty in close contact with NetApp's people and expertise will spark new ideas that will be beneficial to university research, your customers and, ultimately, to companies and device users around the world. Your presence on this campus will be good for Wichita and the region's economic recovery, as we collaborate to provide world-leading technologies from Wichita."
Huber said: "NetApp has been deeply involved with GLMV Architecture in the design of the building and is looking forward to working with students and faculty as part of Wichita State's research emphasis on digital transformation. From the company's standpoint, we expect our presence on the Wichita State Innovation Campus to help us attract and retain excellent employees. This is the next logical step in NetApp's 20+ year partnership with Wichita State."
---
Lou Heldman looked for innovation and creativity throughout WSU's campus
Lou Heldman is retiring from Wichita State University in June, but he's leaving you a comfy place to sit.
He would like you to use those colorful chairs – around four dozen scattered throughout campus – to relax, move to a shady spot, linger on campus, talk and laugh with each other – from a safe distance for now. Perhaps some innovation comes from that time together.
If nothing else, he hopes those moments stick with you.
"I always felt we had a gorgeous campus, but very few comfortable places to sit," said Heldman, special advisor to the president. "It gives me great pleasure to see groups of students sitting in those chairs. Anything we can do to add to the number of happy times people have outdoors on this campus, the more loyal they'll be as alumni."
The chairs, as well as a few tables and benches, are located throughout campus and will return in the fall. Four yellow rocking chairs recently appeared at Morrison Hall so Heldman, who provides for the chairs through a gift to the WSU Foundation, could enjoy them before retiring after 13 years at the university.
---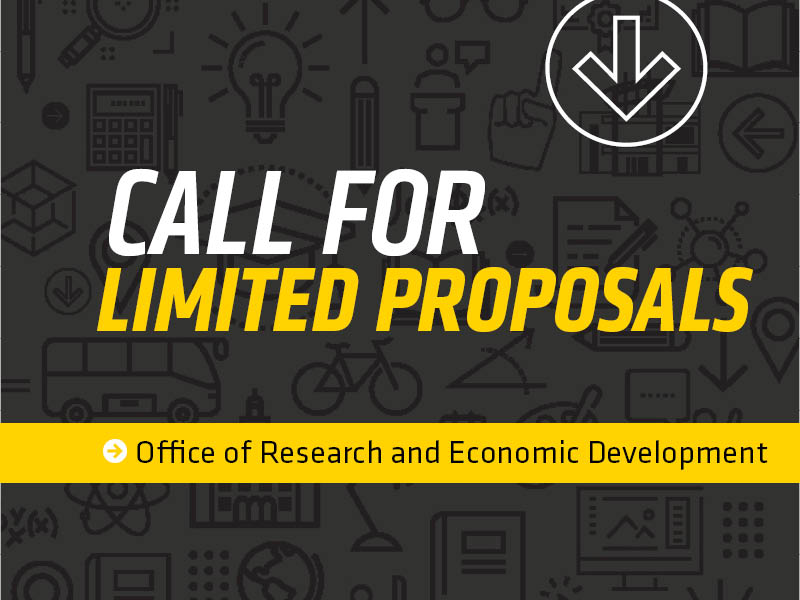 The Office of Research invites Notices of Intent to apply for NSF's Major Research Implementation program
The WSU Office of Research invites you to consider applying for the National Science Foundation's (NSF) Major Research Implementation Program (MRI).
Because WSU is limited to submitting two Track 1 proposals and one Track 2 proposal, interested researchers must notify the Office of Research of their intent to apply by noon July 14, via proposals@wichita.edu. Internal Pre-proposals may be required to determine which proposals will proceed, and if required will be due by noon July 21. Full applications will be due to NSF on Jan. 19, 2021. Track 1 proposals are for amounts between $100,000, and up to $1,000,000. Track 2 proposals are for amounts between $1 million and $4 million. Proposals will also require a cost match.
The NSF MRI program "serves to increase access to multi-user scientific and engineering instrumentation for research and research training in our nation's institutions of higher education and not-for-profit scientific / engineering research organizations.
An MRI award supports the acquisition or development of a multi-user research instrument that is, in general, too costly and/or not appropriate for support through other NSF programs. MRI provides support to acquire critical research instrumentation without which advances in fundamental science and engineering research may not otherwise occur. MRI also provides support to develop next-generation research instruments that open new opportunities to advance the frontiers in science and engineering research. Additionally, an MRI award is expected to enhance research training of students who will become the next generation of instrument users, designers and builders.
Limited Submission Opportunities
---
Four candidates to be interviewed for Health Professions dean position
The Office of Academic Affairs will virtually interview four dean candidates for the College of Health Professions. Anyone is welcome to participate in virtual public forums with each candidate, streamed live on YouTube.

Phillip Funk, Ph.D.; associate dean for Health Programs and Initiatives; associate professor of Biology, College of Science and Health, DePaul University. Monday, June 1, and Tuesday, June 2. Faculty and staff are invited to participate in a virtual public forum at 3 p.m. Monday, June 1. Watch live here.

Sathees Chandra, Ph.D.; director of the Biomedical Sciences Program; professor of Biomedical Sciences, College of Nursing and Health Sciences, Barry University. Wednesday, June 3, and Thursday, June 4. Faculty and staff are invited to participate in a virtual public forum at 3 p.m. Wednesday, June 3. Watch here.

Gregory Hand, Ph.D., MPH; professor of Epidemiology, Medicine, and Physical Activity and Sport Sciences, Robert C. Byrd Health Sciences Center, West Virginia University. Thursday, June 4 and Friday, June 5. Faculty and staff are invited to participate in a virtual public forum at 1 p.m. Friday, June 5. Watch live here.

Kimberly McDowall Long, Ph.D.; provost and vice president for Academic Affairs; professor of psychology, Newman University, Monday, June 8 and Tuesday, June 9. Faculty and staff are invited to participate in a virtual public forum at 10 a.m. Tuesday, June 9. Watch live here.

See additional information regarding the candidates on the Academic Affairs website
NEWS
---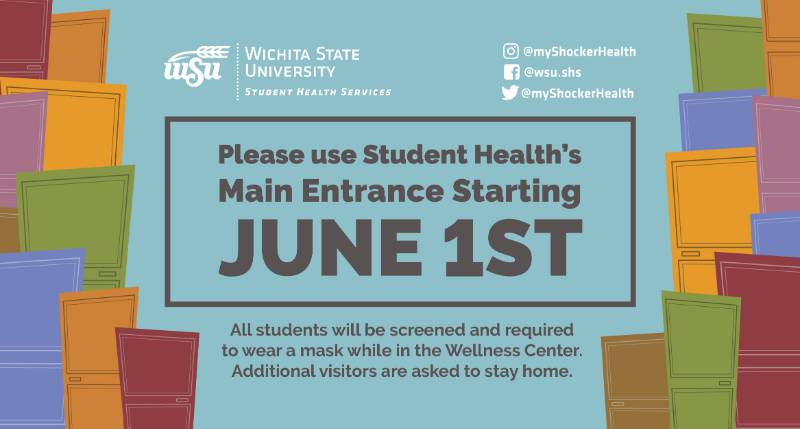 Please use Student Health's main entrance starting June 1
Starting June 1, please use the main entrance for the Student Wellness Center in the lobby of the Steve Clark YMCA. If you are experiencing fever, cough or other symptoms of illness, please call Student Health at 978-4792 before coming into the center.
---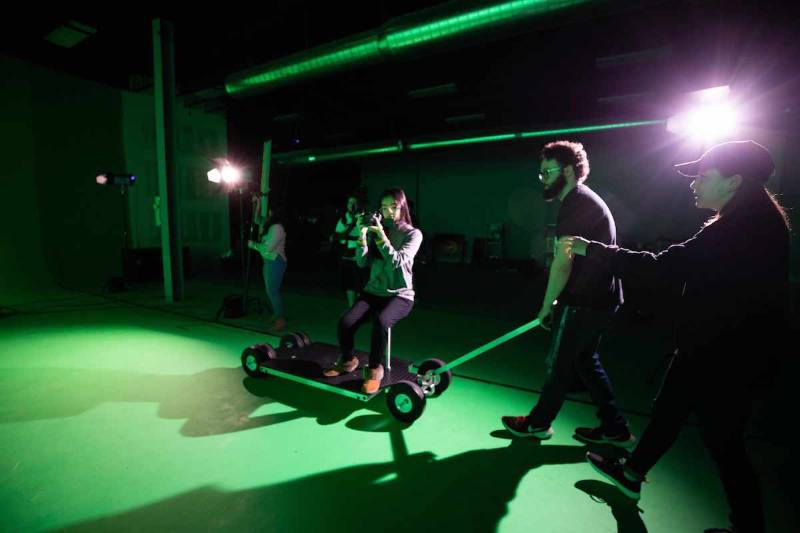 Tech updates keep Shocker Studios on cutting edge for applied learning
Shocker Studios features studios for animation, film, recording, motion-capture and 3D design.
Technology upgrades are crucial to giving students their applied learning opportunities.
School of Digital Arts director Justin Rorabaugh leans on industry input to keep equipment current.
---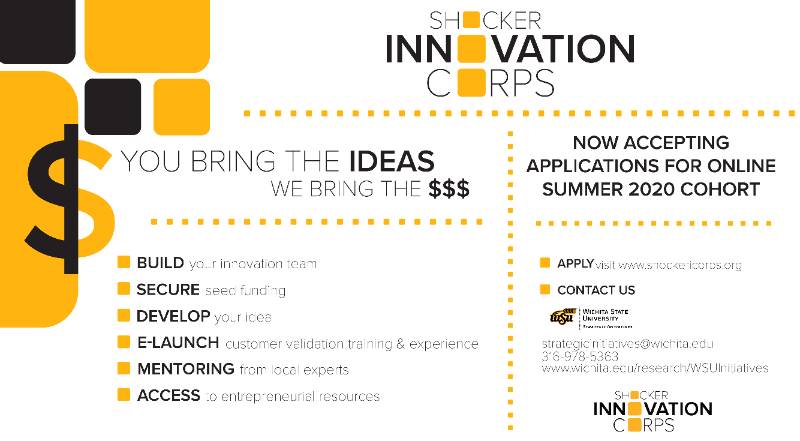 Shocker Innovation Corps now accepting applications for the online summer 2020 cohort
Wichita State University is a National Science Foundation (NSF) I-Corps site. The Shocker Innovation Corps nurtures and supports Wichita State entrepreneurial teams interested in accelerating their STEM ideas, research and product commercialization. Ideas / projects can originate from student or faculty work, research and institutional/industrial projects.
This summer cohort will be held completely online. With the university continuing classes online for the summer term, we want to offer the flexibility of attending the E-Launch sessions online. Visit www.shockericorps.org to find out more information or to apply.
---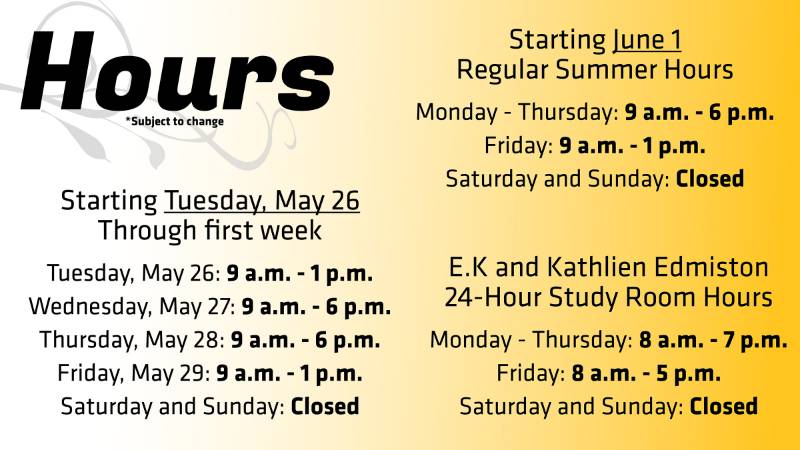 University Libraries has new hours for Shocker community
University Libraries is preparing to start welcoming Shockers back into the building on Tuesday, May 26! We have been working diligently to create a safe, welcoming experience for our students, staff, and faculty, while maintaining safety protocols found in the Shockers United plan. While we are staffing the Libraries in order to provide service hours to the Shocker community, please note that many Libraries employees will continue working remotely.
EVENTS
---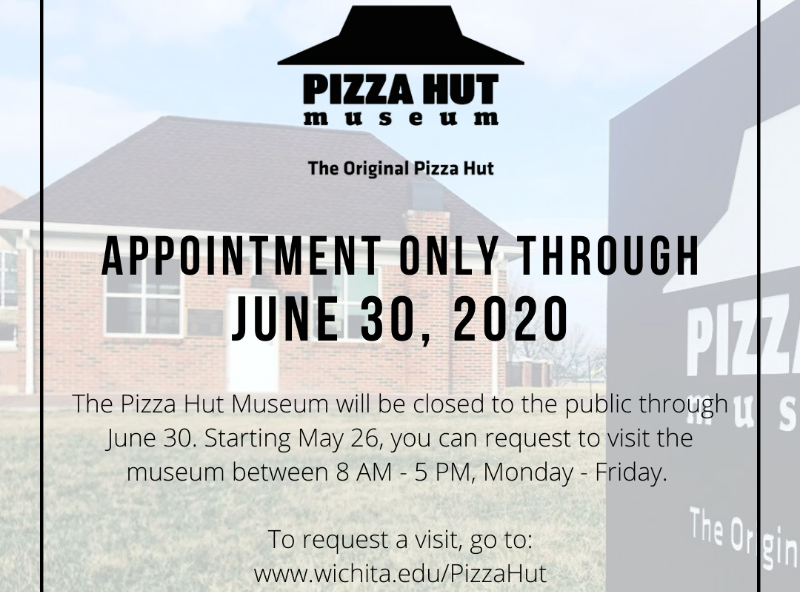 Pizza Hut Museum open by appointment only through June 30
The Pizza Hut Museum will remain closed to the general public through June 30. In the meantime, people interested in visiting the museum can request an appointment to visit between 8 a.m.-5p.m., Monday-Friday, at www.wichita.edu/PizzaHut.
---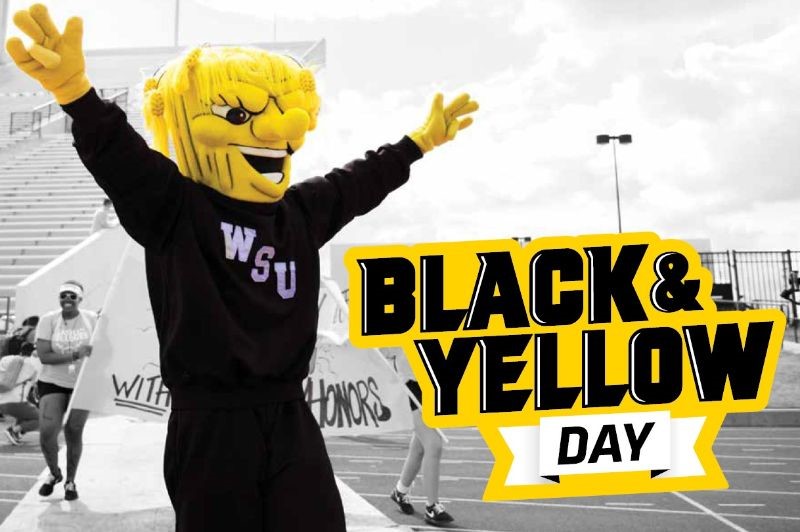 Black & Yellow Day - June 12
We're going virtual! Black & Yellow Day, originally scheduled in April, is now scheduled for Friday, June 12. Students who have just completed their freshman, sophomore, or junior year of high school, are invited to attend. During this virtual event, students will:
Attend an academic session
Learn more about student life & resources on campus
Hear from current Wichita State students
Receive a FREE Wichita State T-shirt in the mail if they register in advance
Interested students should go to wichita.edu/visit and click on Admissions Events to sign up. Questions can be directed to Sarah Brill, event coordinator, at sarah.brill@wichita.edu.
---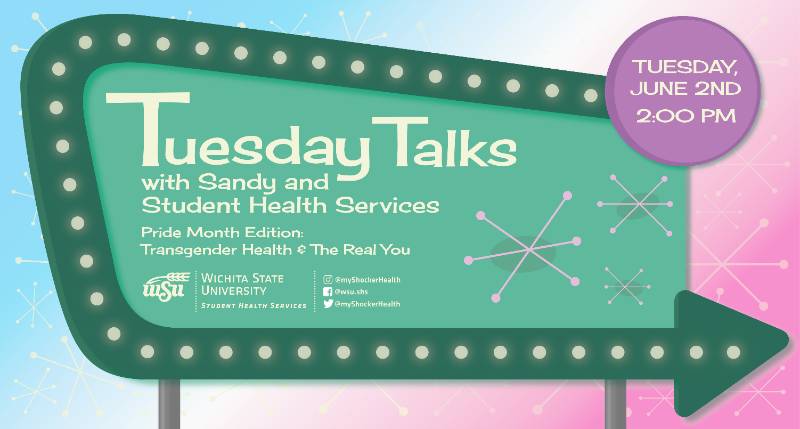 June 2 Tuesday Talk with SHS will discuss 'Transgender Health & The Real You'
For Tuesday Talk on June 2, join Sandy Hill, DNP, APRN, and Nurse Heather for a discussion about "Transgender Health and the Real You." Tune in to Facebook Live at 2 p.m. and learn about the transgender process and one student's story in Part I of our Pride Month series.
KUDOS, PUBLICATIONS AND PRESENTATION
---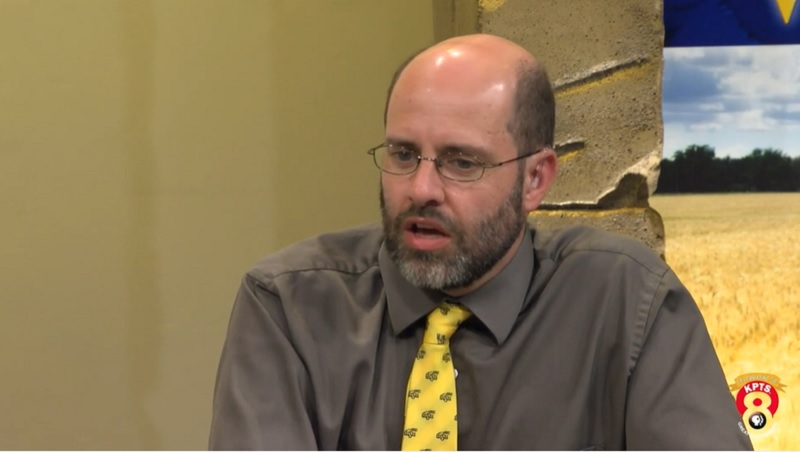 Neal Allen featured on 'Kansas Week'
Wichita State political scientist Neal Allen was one of the featured guests on "Kansas Week" on KPTS-TV 8 last Friday, May 22. You can watch the video of program here. Allen first appears about three minutes into the program.
VOLUNTEER OPPORTUNITIES
---
Invitation Extended by Councilman Brandon Johnson, Wichita City Council, District 1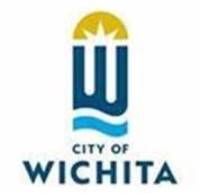 Attention Shockers!
Do you want to add your voice to conversations about community development happening both near and around our campus?!
Do you know what Community Benefits Agreements (CBAs) are and how they can help support the needs of WSU's students, faculty, staff and neighbors?
Do you believe that it is important for those who live, work, or play in the community to have a voice in what happens there?
During the next six weeks, a committed group of community residents will host Virtual CBA Focus Groups to discuss all these questions and more.
Sign up today to participate and have your voice be heard!
STUDENT NEWS
---
WSU Theatre makes a film during quarantine
During the stay-at-home situation the past two months, WSU Theatre made a movie. Using Zoom actors performed in the film, "Pursuit," written and directed by Dr. Bret Jones, professor of Theatre and Program Director of Filmmaking at WSU.
WSU Theatre students auditioned for roles by filming their auditions and sending them to Jones. Jones cast the film, recorded directions for the project, and coordinated students filming their scenes for the movie. Jones edited the scenes and added music to complete the 20-minute film.
"Pursuit" is available to view on YouTube at Wichita State University Theatre Films.
---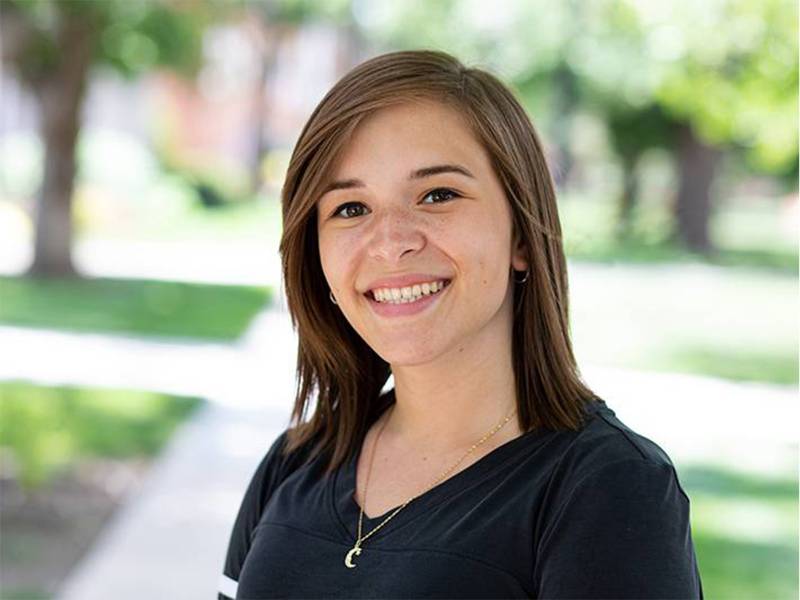 Meet a Shocker: McKenzey Bell, filmmaking graduate
McKenzey Bell knows the importance of taking time to work on your goals and chasing after what you want. She is a pro at visual storytelling and is excited to see where her passion for filmmaking takes her in life.
McKenzey was one of more than 2,400 students eligible for spring/summer 2020 graduation. Learn more about her time at Wichita State and what is next for the grad.