FEATURED STORIES
Phone scam to watch out for
It has been reported to ITS Telecommunications that employees are contacting Human Resources in regards to strange phone calls received. The phone calls are saying the person's social security information has been compromised. What makes these a little different than a normal spam calls is that the calls appear to come from a campus number (316-978-XXXX). This leads people to think this call is coming from the university and is, therefore, a legitimate call. Luckily, we are not aware of anyone that has followed through with the scam.
Read more detail
Please be cautious with your personal information and do not provide it to anyone on a call. Scammers are more clever every day and would love to get your personal and financial information. The Kansas Attorney General's office has an entire site dedicated to scam calls and how to protect yourself at https://ag.ks.gov/in-your-corner-kansas/. The Federal Trade Commission also has some suggestions on how to recognize a scam, examples of scams, how to stop these calls and what to do if you already paid at https://www.consumer.ftc.gov/articles/0208-phone-scams. This site will also allow you to report phones scams.
Unfortunately, there is nothing WSU can do to stop these calls. The Federal Communications Commission has identified blocking illegal robocalls and spoofed caller ID as top priorities; but until all telecommunications providers prevent their customers from spoofing caller IDs, the practice will continue.
The best way to combat calls like this is to be attentive. Do not give out personal, professional or financial information to these callers. If the calls are legitimate, the caller would happily wait on hold while you verify the identity or let you call them back later.
In this time of remote learning and remote work, it is more important than ever to be vigilant with our information.
---
Revisions to remote work guidance and review process are now available

Notice of Revised Remote Work Guidance and Review Procedures – February 12, 2021
On Jan. 15, 2021, President Rick Muma announced new guidance and review procedures for remote work. After listening to questions and comments received about the guidance and review procedures, revisions have been made. The revised guidance and Employee Remote Work Request Form can be found on the HR web page Remote Work Guidance.
Read more about the revisions
Although remote work raises unique legal and administrative issues and must be reviewed and approved before remote work begins, HR and Legal colleagues have worked diligently to ensure only those remote work situations with the most risk require review/approval beyond the direct supervisor.
The Employee Remote Work Request Form is not required if Regular Remote Work is performed at an Alternate Work Location within the state of Kansas and in the case of an Employee on H1B/VISA, at the location contained on the VISA application. An optional form has been developed for use by leaders if they find it helpful to memorialize discussions with an employee regarding an approved remote work arrangement in which a review beyond the direct supervisor is not required.
The Employee Remote Work Request Form is intended to gather information needed for each of the three above situations so a review may be conducted and little, if any, additional information may be needed from the Employee. For ease of location and use, there is one form but only the sections that are pertinent to the individual request need be completed (i.e. if remote work is not being performed internationally, the international questions do not need to be answered).
All employees who are required to complete the Employee Remote Work Request Form and have not previously submitted the Form should complete and submit this revised Form no later than February 26, 2021. All previously submitted forms are valid and there is no need to complete the revised form.
We appreciate your feedback and patience as we work through the implementation of this Remote Work Guidance and Review process to ensure we have a process that works both in the immediate term as well as into the future. We know remote work will continue to be an important option for some employees to enhance work/life balance, job satisfaction and being an inclusive work environment.
---
High SEAS participation by faculty in fall 2020
Fall 2020 saw the highest number of instructors (384) utilize the Student Early Alert System (SEAS) since the tool was designed by faculty in 2014. 89.5% of undergraduate, degree-seeking students were enrolled at census in at least one course where the instructor used SEAS.
SEAS is an important retention tool and promotes student persistence by signaling them about performance issues while there is still time to improve. The tool automatically generates a message to any student that an instructor reports as being at-risk in a class based on attendance, participation, assignments, and quizzes or exams.
Our faculty care about student success, and this is one area where that care is evident. Keep up the great work!
HR, BENEFITS AND TRAINING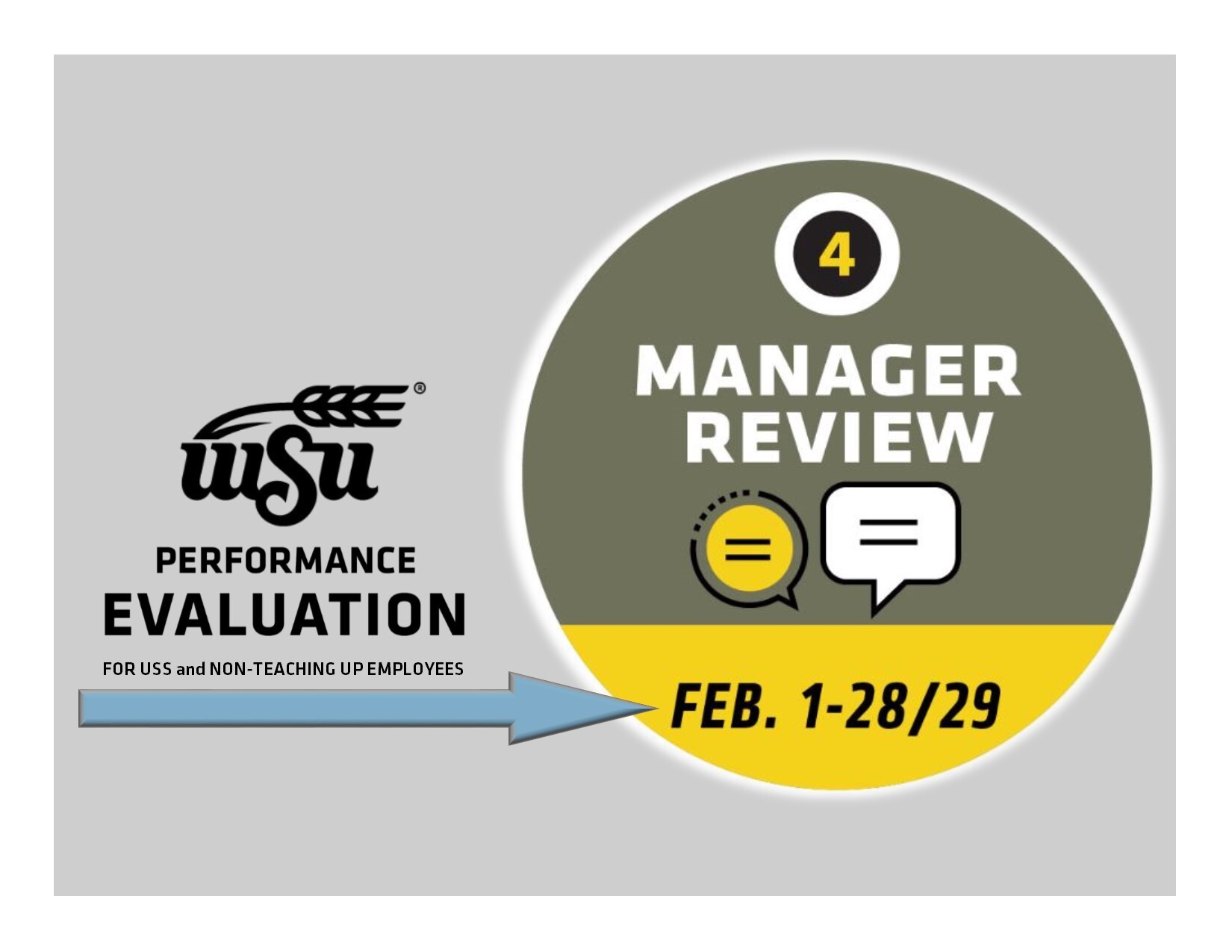 myPerformance manager review is due
Managers of USS and Non-Teaching UP Employees should now submit reviews and ratings for their direct reports for the 2020-21 annual evaluations in myPerformance. This step is due Feb. 28. Managers should log in to myPerformance in myWSU to rate their direct reports and submit comments to justify the ratings.
Note: The planning step for 2021-2022 annual evaluations in myPerformance will also be available on Feb. 1. This will allow managers to potentially meet with their direct reports for the current end-of-review as well as the next cycle's planning meeting at the same time, if desired.
NEWS
Faculty nominations sought for president's distinguished service award
Do you know a faculty member who is deeply engaged in service? Do you know A faculty member who exemplifies any of the following?
Distinguished service to the university
Distinguished service to the community
Notable outreach efforts and/or forging of connections between WSU and the community.
Long-term commitment to WSU through extensive committee service
Consider nominating them for the Presidential Service Award. Please send your nominations to leeann.birdwell@wichita.edu. Complete a nomination form and attach a CV that includes the nominee's service activities. Previous recipients of this award are not eligible for nomination. The deadline is 5 p.m. Feb. 24.
---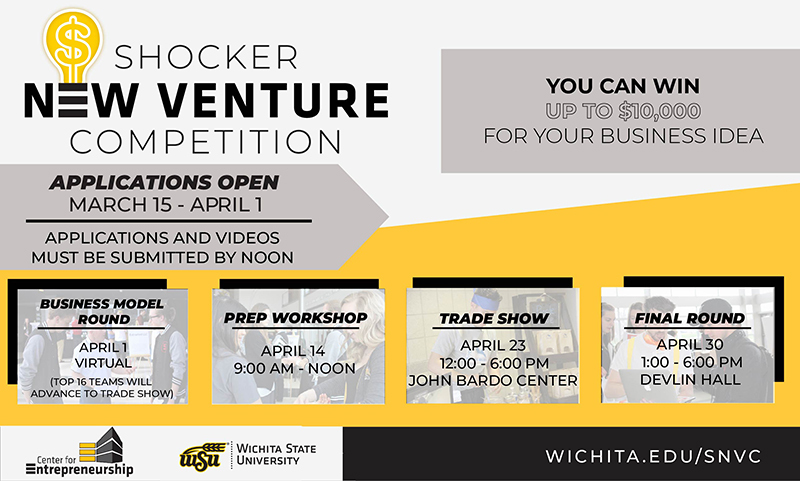 Win up to $10,000 in the Shocker New Venture Competition
The Shocker New Venture Competition is a chance for students to receive insight on their ideas to further develop the skills they need to commercialize them.
More information on the Shocker New Venture Competition
EVENTS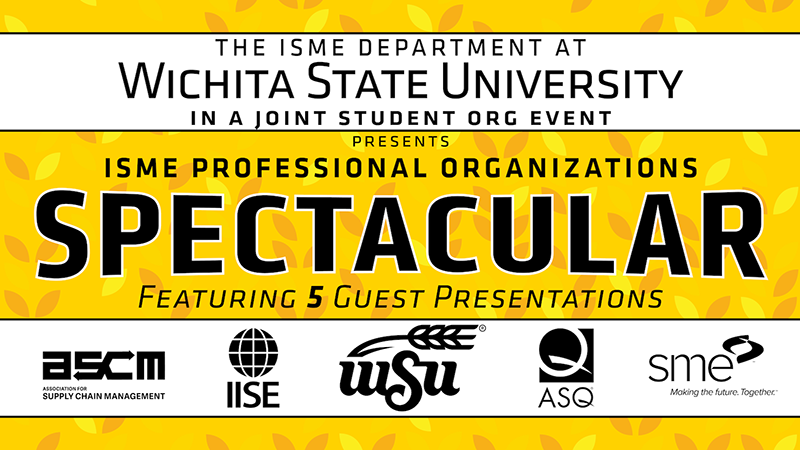 Learn about ISME professional organizations
Discover the many opportunities professional organizations have to offer at this week's Industrial, Systems and Manufacturing Engineering (ISME) Colloquium. In a first-ever joint event, speakers from ASCM, ASQ, IISE, SME, and Alpha Pi Mu will give presentations explaining what their respective organizations do and highlight some of the key advantages of professional membership.
Join us from 11 a.m. to noon Friday, Feb. 19.
Meeting ID: 949 1119 0690
Password: 700721
Guest speakers
Association for Supply Chain Management (ASCM)
John Danley, Chapter President; Master Scheduling Manager at Spirit AeroSystems
American Society for Quality (ASQ):
Roger Merriman, ASQ Aviation, Space and Defense Division — Voice of the Customer Chair; Quality Assurance Manager at Textron Aviation
Institute of Industrial & Systems Engineers (IISE)
Kirsten Jensen, Chapter President; Logistics & Sustainment Specialist at Textron Aviation
Tate Lampe, Chapter President-Elect; Research & Technology Engineer at Spirit AeroSystems
Joshua Kempke, Young Professional; Industrial Engineer at Spirit AeroSystems
Society of Manufacturing Engineers (SME)
Katheryn Daniels, Chapter Vice-Chair and Treasurer; Contract Design Engineer, Dept. of Defense
Alpha Pi Mu
Dr. John Huffman, Senior Member; Senior Technical Fellow at Spirit AeroSystems
---
Submit virtual and in-person events to the WSU Events Calendar
As the semester approaches it is important to submit your upcoming events -- whether virtual or in-person -- to the WSU Events Calendar. The calendar populates feeds throughout the website, including a curated calendar on our Freedom of Expression website.
---
Wu Soul Food Grab-and-Go
Soul Food is a common cuisine that some describe as feeding the heart and soul. To continue celebrating Black History Month, join Dr. Marché Fleming-Randle, vice president and chief diversity officer, for a Wu Soul Food grab-and-go meal. Meals are free and served to the first 100 people who register! Pick up is from 11:30 a.m. to 1 p.m. Friday, Feb. 26 in the RSC Ballroom. This event is sponsored by Textron Aviation and the Wichita State Chief Diversity Officer.
---
Join UP and USS senates for Final Friday Social Activities
Wichita State's UP and USS senates invite you to a series of Final Friday social activities. Events will be held virtually through Zoom, and pre-registration is required.
WSU Trivia Kahoot: 3:30 p.m. Feb. 26
March Mayhem Murder Mystery: 3:30 p.m. March 26
Who Are the People in Your Neighborhood? 3:30 p.m. April 30
Scavenger Hunt: 3:30 p.m. May 28
---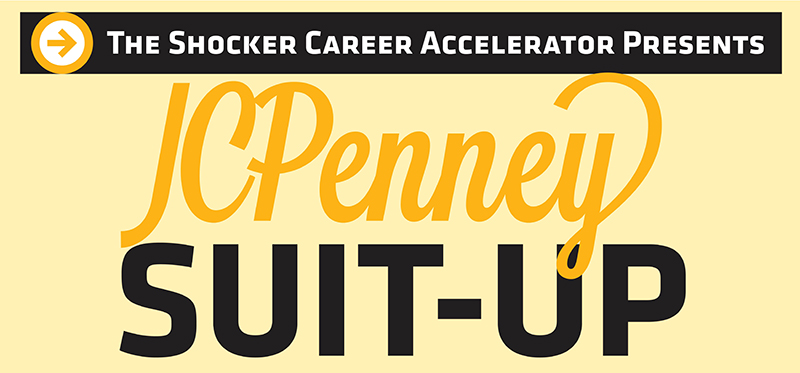 The Shocker Career Accelerator presents JCPenney Suit-Up on Feb. 21
Students, staff and faculty are all invited to join the Shocker Career Accelerator at the 2021 JCPenney Suit-Up Event at 5 p.m. Sunday, Feb. 21 at JCPenney Towne East, 7700 East Kellogg Drive. Use your WSU ID to get the following discounts:
Up to 60% off select men's and women's career dress apparel and shoes.
Free hair consultation and haircare mini.
Download the JCPenney mobile app to earn $10 in rewards.
Receive a free beauty consultation, trial size samples and 15% off the Sephora items in store.
Text SHOCKS to 67292 to get a coupon.
If you can't make it to the event, shop online: https://www.jcpenney.com/m/suit-up-view-all.
STUDENT NEWS


SGA scholarships now open
The Student Government Association is excited to open its annual scholarships for the 2021-2022 academic year. Each year SGA awards about $80,000 to students on campus through four scholarships:
James J. Rhatigan Leadership Scholarship
International Student Scholarship
SGA Endowed Scholarship
SGA Summer Scholarship
Please let students know to apply at wichita.edu/sgascholarships. The deadline is Friday, March 5.
---

Deadline today: Encourage students to apply for Senior Honors
Do you know a senior student who embodies the Shocker spirit? This highly competitive honor is awarded to students who demonstrate outstanding scholarship, leadership, involvement at WSU and service to WSU and the surrounding community. The Senior Honor is one of the most prestigious honors a Wichita State University student can receive, with only 10 students selected each year. Applications are due by 5 p.m. TODAY. Students can apply today at wichita.edu/SeniorHonors.
SPECIAL OFFERS
Free boxes of produce offered to students, faculty and staff
Common Ground Mobile Market provides free boxes of fresh produce and milk and targets areas with a high elderly population and food deserts within Wichita. On Saturday, Feb. 27, Common Grounds will be adding Wichita State to its route.
Drop-off time will be some time between 11 a.m. and 4 p.m., but an exact time depends on Common Grounds' delivery route for the day. If you are not on campus when delivery is made, you can pick up your box at the Shocker Support Locker (Grace Wilkie 103).
Sign up for your free box of fresh produce and milk at https://forms.gle/hA5sEr5k1V2BPGzr5. The deadline for signing up is on Feb. 24.
Learn more about Common Ground Mobile Market
---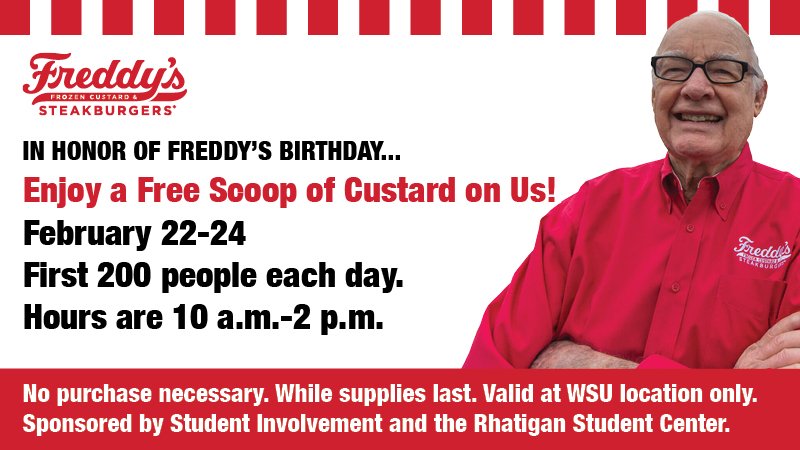 Enjoy a free scoop of custard
In honor of Freddy's birthday, enjoy a free scoop of custard, courtesy of Student Involvement and the Rhatigan Student Center. Offer valid for the first 200 people each day from Feb. 22-24. Hours are 10 a.m. to 2 p.m. No purchase necessary. While supplies last. Valid at the Wichita State location only.
---
TECHNOLOGY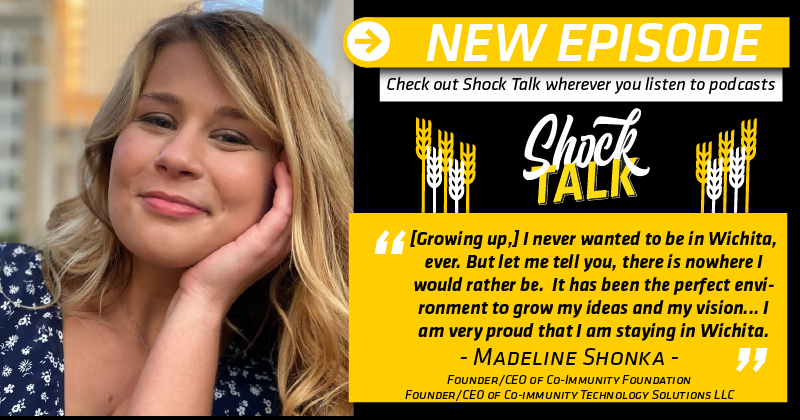 Tune in to Shock Talk podcast for stories about innovation and entrepreneurship in Wichita
From the Office of Tech Transfer and Commercialization (TTC), Shock Talk is a podcast highlighting innovation and entrepreneurship in Wichita. In each episode, Jacob O'Connor – a current Wichita State student – sits down with a Wichita local to hear their unique and innovative story. Episodes are 10-15 minutes in length and released at 7 a.m. Fridays. Please be sure to listen on Apple Podcasts or your favorite podcast app.
In the latest episode of Shock Talk, Jacob O'Connor sat down with Madeline Shonka – a senior at Wichita State who is also the founder and CEO of Co-Immunity Foundation and Co-Immunity Foundation Technology Solutions LLC. Madeline discusses living with a chronic illness and the notion of making a difference where you can. Madeline also touches on the importance of using your fear of failure to motivate you.