The School of Education at Wichita State University was honored to host the 2022 Kansas Teacher of the Year Team campus visit on Wednesday, April 13, 2022. The eight-member team consists of four elementary and four secondary teachers nominated by school districts across the state, and they represent the "best of the best" in Kansas K-12 education.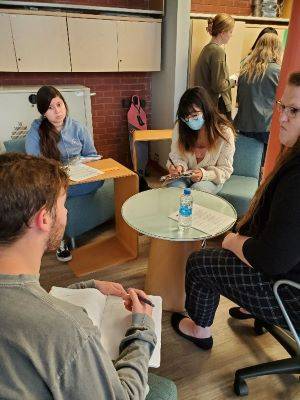 KTOY Team members and SOE students and faculty participated in numerous on-campus activities, beginning with a 90-minute session designed and led by students in our CI 403 Learning and Educational Assessment class. The "round robin" Q & A structure allowed all students to interactive with and learn from each of the eight teachers on topics such as work/life balance, best practices, formal and informal assessments, lesson planning, and more. Margaret Foncannon, CI 403 instructor, commented that all students were actively engaged in the small group discussions, even those students who had previously been quiet during the semester.
Following the 9:30 session, the KTOY Team enjoyed a luncheon with honored guests from the WSU president's office and School of Education leadership and faculty members. Dr. Shirley Lefever, WSU Executive VP and Provost, and Dr. Clay Stoldt, Interim Dean of the School of Education, welcomed the team and expressed their gratitude and appreciation for the ongoing work of teachers across the state and their dedication to Kansas schoolchildren.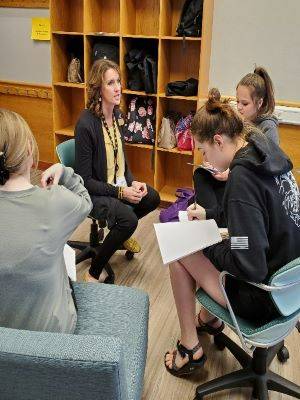 The afternoon events included a virtual Q & A session with our Introduction to the Profession students and their instructor, Vicki Opalewski, and was followed by a tour of the WSU Integrated Support and Empowerment Clinic (WISE) and GoCreate on the Innovation Campus. Rounding out the day's activities was an interactive Keynote Address delivered by Kansas Teacher of the Year, Susanne Stevenson from Dodge City, and her KTOY Team to over 70 Elementary and Secondary student teachers. Students were fully immersed in Stevenson's theme of connectivity and obtained new tools to engage and connect with their own students. Throughout the day, the KTOY Team interacted successfully with over 100 students from the School of Education, working to inspire and motivate them as they embark on a career in K-12 education.