The Heyday of North Market
After World War II, Wichita's northern side hummed with activity. The meat packing plants were busy, as were the scrap metal dealers nearby. 21st Street was an important east-west thoroughfare in the city and Broadway was part of Highway 81, one of the main north-south routes through the Great Plains. Along 21st Street, businesses catered to local needs. There were supermarkets such as Mammel's. There were drug stores, such as Rumple's, seen here, where children got cold treats in the summer months. Across the street, the Nomar Theater played showed both English and Spanish language films. Many families lived in the vicinity of 25th Street and Arkansas. There, institutions such as Sailor's sporting goods served as local hangouts.
A new generation of residents had come of age as those who served in World War II came back from the conflict, settled down, and started businesses. Concepcion Lopez, for example, had made a name for herself cooking at Our Lady of Perpetual Help. She became so well known for her cooking that the family decided to take over a restaurant on north Broadway that they called "Connie's." To hear a podcast about demographics in Wichita, including the story of Connie's, click here.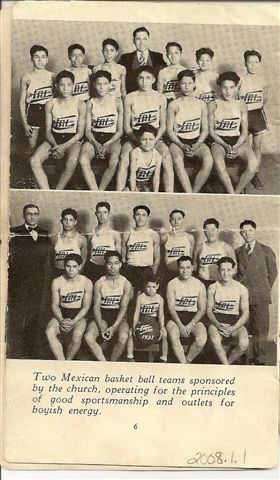 For the residents of El Norte, life was one of family and community. Networks of friends and relatives extended among the modest homes to the north of 21st street. There were activities at Our Lady of Perpetual Help and First Mexican Baptist. The area was host to several social activities, events that merged Mexican with American cultural features. Baseball, basketball, and other sporting events were popular, with businesses such as Cudahy and institutions such as the First Mexican Baptist Church sponsoring teams. There were several Mexican bands playing American music that played at festivals. A farmer's market at 29th street provided ingredients for Mexican dishes while curanderas raised herbs for cures and remedies. At Evergreen Park, the community continued to celebrate Mexican festivals, including Cinco de Mayo and Mexican Independence Day, September 16.
To learn what has happened to the neighborhood in recent years, click here.