Studies in Medieval and Renaissance Teaching (SMART)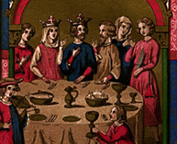 The Camelot Project at the University of Rochester is an online database of Arthurian texts, images, bibliographies, basic information, and frequently asked questions about the Arthurian legends. The project, begun in 1995, is sponsored by the University of Rochester and prepared in The Robbins Library, a branch of Rush Rhees Library. The Camelot Project has been created by Alan Lupack, Director of the Robbins Library, and Barbara Tepa Lupack.
---
The Chaucer MetaPage was initiated at the 33rd International Congress on Medieval Studies by a group of medievalists interested in promoting Chaucer studies on the World Wide Web. Its aims are to organize and provide navigation aids for Chaucer resources on the Web, to work toward enhancing and extending those resources, and to encourage Chaucer studies, including those undertaken via "distance learning," at all levels of education. It also includes a link to help beginners learn the basics of pronouncing and understanding Chaucer's Middle English. A few of the site links follow below.
---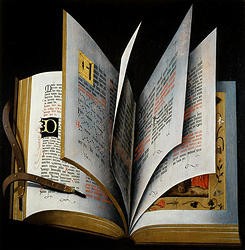 Baragona's Literary Resources, by Alan Baragona of the Virginia Military Institute, Lexington, Virginia, offers useful links with informative annotations. Links are listed in several sections, including Baragona's Chaucer Page, Chaucer Audio Files, Arthurian Legend, Medieval Drama, Beowulf and Old English Literature, Resources for the Study of Dante, some Versions of Hamlet, and Shakespeare and the Renaissance: General Resources.
---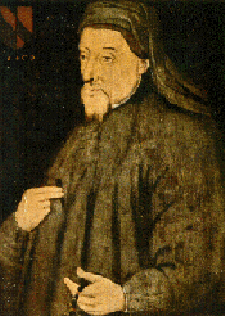 The Harvard Geoffrey Chaucer Page by Larry Benson, is most useful to the serious student who has focused on a particular topic or tale. The site is incredibly rich: Chaucer's language and life, background information on the types and occupations of the General Prologue, background information, and sources and analogues to The Canterbury Tales. An impressive feature is the site index, which links to hundreds of primary and secondary sources on, about, or relating to Chaucer and his times.
---


The Chaucer Page, by Edwin Duncan of Towson University in Maryland, is especially useful to Chaucer beginners and provides a wide variety of links in conjunction with his Chaucer course. In addition to both Chaucer-specific and general research aids, the site links to many versions of Chaucer's work, several in modernized language or spelling. This site also links to other very accessible, helpful Web pages.
---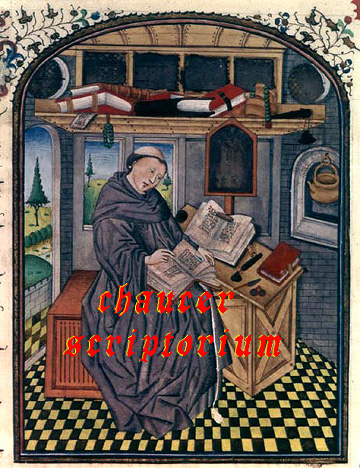 Chaucer Scriptorium, by Michael Hanly, is the Washington State University Chaucer and medieval literature cyber-center for classes at all levels and welcomes all scholars and students who find something useful here. "Michael Hanly . . . has compiled a collection of selected, useful links to such areas as Medieval Texts and Images, Chaucer and Middle English Literature, Bible Research, and information concerning the Catholic Church. The site is most notable, however, for Hanly's original material, which is organized into four sub-pages: "Some Interesting and Essential Stuff"; a very brief, useful 14th-century outline; a sizable bibliography of print sources; and an annotated bibliography. This last sub-page actually consists of links to 17 detailed outlines that Hanly's graduate students did of various articles on Chaucer. Hanly's original material is a good starting place for students who need a little background or who are seeking direction for serious Chaucer study.
---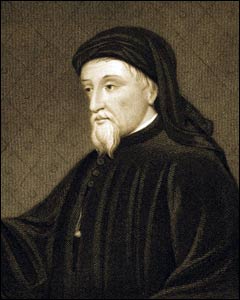 The Chaucer Page, by Anniina Jokinen, is a sub-area of her larger Luminarium Anthology of Middle English Literature, which covers several authors of the period. Here you will find a Chaucer Biography, Chaucer's Works, Quotes, Essays and Articles, as well as links to study resources and a list of books helpful for further study. All of these can be accessed from a navigation bar at the top. A sidebar has links to medieval writers and works, historical persons and events, and concepts relevant to the study of Middle English lyrics. Many of these links lead to the Luminarium Encyclopedia. There is also a Chaucer Discussion Board where one can chat and ask questions.
---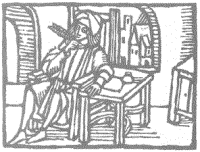 The Chaucer Pedagogy Page, by Daniel T. Kline of the University of Alaska in Anchorage, provides online assistance for teachers and students of Chaucer and the Later Middle Ages, including Kline's Electronic Canterbury Tales. It includes three sections, including a Chaucer Pedagogy Quick Start reference section, a Chaucer Pedagogy Site Map, and Online Networking for Chaucer Teachers and Students. This page is a collection of sites organized under a dialogue format according to the questions that teachers and students of Chaucer might ask; in response, it directs them to pages and sites that help to provide answers. The links include many pages of original material, such as Kline's own class notes and engaging ideas for assignments.
---


The purpose of the New Chaucer Society is to provide a forum for teachers and scholars of Geoffrey Chaucer and his age. To advance such study, the Society organizes biennial international congresses of Chaucerians, publishes the annual Studies in the Age of Chaucer (not online) and a semiannual newsletter, and supports such important projects as the Annotated Chaucer Bibliography (an electronic version of which is available online). Participation in NCS congresses is restricted to active members of the Society. This official site is dedicated to the study of Chaucer in his period. It contains information about the society (officers, membership, meetings), its journal , and links to other Chaucer-related sites.
---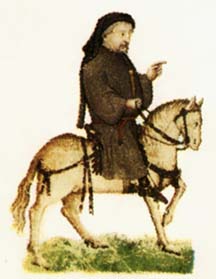 The Chaucer Review: An Indexed Bibliography is an online index to the 798 articles published in The Chaucer Review during its thirty years and two online abstracts of those articles. More than any other resource, it provides a record of most of the significant trends in medieval and Chaucer scholarship for the past three decades. The subject index is alphabetical, its scope explained fully in the online introduction; the abstracts are arranged alphabetically by author's last name and numbered sequentially. Head links allow one to jump to a letter of the alphabet (for the index) or to a range of some 40 items (for the abstracts). A search engine is promised.
---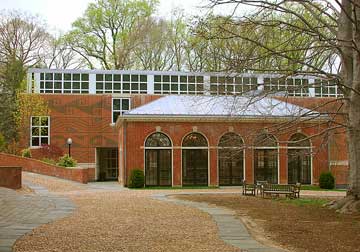 Dumbarton Oaks Research Library and Collection is an international center for scholarship, providing resources for study and publishing scholarly works in Byzantine, Pre-Columbian, and Garden and Landscape Studies. Begun as a private collection by Mildred and Robert Woods Bliss in 1920, and given to Harvard University in 1940, the library and collections include art objects, artifacts, manuscripts, and rare books. The house and collections have undergone renovations, and the garden is open to the public.
---


The Electronic Bulletin of the Dante Society of America was founded in 1995 in the hope of offering, on the distant models of the Bulletino della Societ Dantesca Italiana (1889-1921) and of the Giornale Dantesco (1893-1940), an opportunity for the publication of brief notes (1,500 words or fewer) concerning any and all matters relating to the study of Dante. Our desire is to encourage discussion and debate among Dante scholars by publishing new work that deserves a first airing. Since our electronic format allows the editorial board both to respond to and to publish submissions quickly, publication is possible more rapidly than in any forum devoted to Dante of which we know.
---


The French of England website, jointly supported by Fordham University in New York City and by the University of York, UK, facilitates access to material centering on the French documents of England: partial or complete translations of previously untranslated and unpublished work, and research not yet published. The site welcomes today's newer approaches in, for example, post-colonial and feminist studies, which seek to cross, realign, or even erase disciplinary boundaries, and addresses scholars' questions about the ways in which "French" texts might be "English" and about the interrelations between insular French literature and that of the continent.
---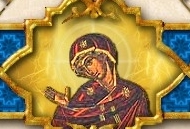 The Hilandar Research Library and Resource Center for Medieval Slavic Studies, is housed at The Ohio State University. The Hilandar Research Library (HRL) has the largest collection of medieval Slavic manuscripts on microform in the world. Its millions of folia of manuscript material on microform from more than 100 different private, museum, and library collections in dozens of countries are utilized by scholars from all over the world. Founded in 1984, the Resource Center for Medieval Slaiv Studies (RCMSS) is an independent center of The Ohio State University College of Humanities and is dedicated to the promotion of medieval Slavic Studies. It fosters and supports research and collaboration in medieval Slavic languages, linguistics, history, and culture. The RCMSS maintains particularly close ties, as well as sharing space with, the Hilandar Research Library.
---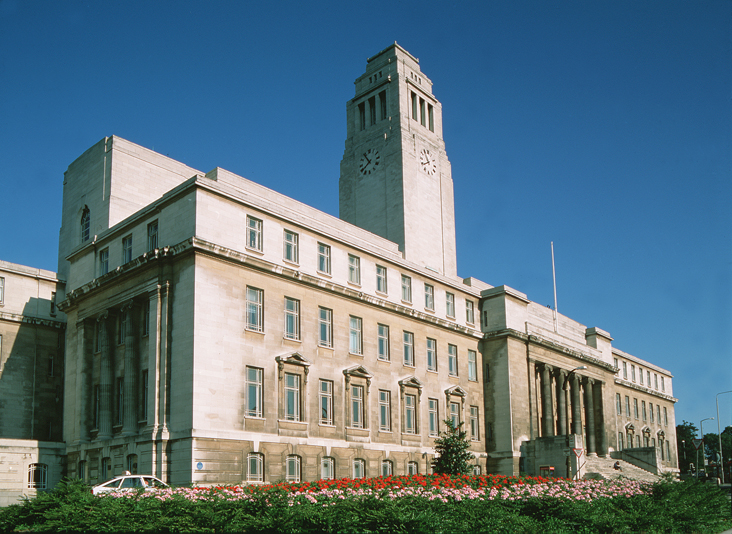 The Institute for Medieval Studies at the University of Leeds, renowned worldwide for the quality and range of its teaching and research, and for a unique combination of resources, is special as a place for study of the Middle Ages. The Institute brings together medievalists from across the University of Leeds and beyond to form a community of scholars working on the societies and cultures of the European and global Middle Ages. With one of the largest research libraries in the United Kingdom, housing more than 2.7 million books, a fine journal collection, and extensive holdings in all areas of medieval studies, with a rich and expanding store of manuscripts and rare books, the Institute is home to the International Medieval Congress, Europe's largest annual gathering of medievalists, and the International Medieval Bibliography, the world's leading interdisciplinary bibliography of the Middle Ages. The nearby archive of the Yorkshire Archaeological Society also has large medieval holdings.
---


The International Medieval Bibliography (IMB), established in 1967, is the leading interdisciplinary bibliography of the Middle Ages. It is produced by an editorial team at the University of Leeds and some 30 contributors word wide. It covers periodical literature and miscellany volumes published in Europe, North America, Australasia, Brazil, Japan, and South Africa. The printed IMB appears twice a year, covering most recent publications.
---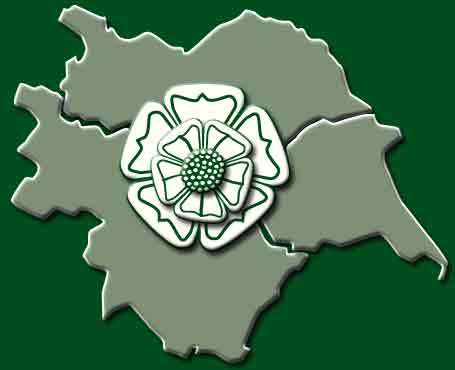 The Yorkshire Archaeological Society exists to promote the study of Yorkshire's historical past. It was founded in 1863 (as the Huddersfield Archaeological and Topographical Association) to promote interest in the history and archaeology of the Huddersfield area. In 1870, it expanded its interest to cover the whole of Yorkshire, and today it is the main society in this field for the historic county. Throughout its history the Yorkshire Archaeological Society has been active in publishing articles on many aspects of Yorkshire's past and transcripts of important Yorkshire records.
---


The International Center of Medieval Art (ICMA) is a world-wide organization dedicated to the study of medieval art and culture. Founded in 1953 in France as the Centre International d'etudes Romanes and reestablished in 1956 in New York, the ICMA has members in twenty countries worldwide. Its international membership of academics, museum professionals, collectors, and enthusiasts of the art of the Middle Ages is vital to its mission. The purposes for which the ICMA was formed are to promote and encourage the study, understanding, and appreciation of the visual arts of the Middle Ages produced in Europe, the Mediterranean region, and the Slavic world, during the period between ca. 300 and ca. 1500 C.E.; and to this end to sponsor and otherwise support study, teaching, conferences, exhibitions, displays, and publications devoted to medieval art and culture.
---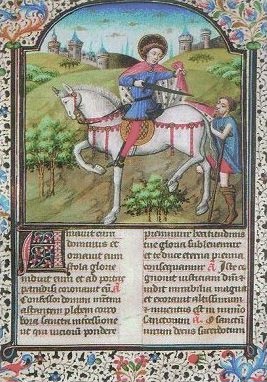 The International Medieval Congress (IMC) is organized and administered by the Institute for Medieval Studies at the University of Leeds. Since it began in 1994, the conference has established itself as an annual event with an attendance of more than 2,200 medievalists from all over the world. It is the largest conference of its kind in Europe. Drawing medievalists from more than 50 countries, with more than 1,900 individual papers and 630 academic sessions and a wide range of concerts, performances, readings, roundtables, excursions, book fair, and associated events, the Leeds International Medieval Congress is Europe's largest annual gathering in the humanities.
---


The Internet Medieval Sourcebook, located at the Fordham University Center for Medieval Studies, makes available a wide range of medieval texts that address elite governmental, legal, religious, and economic concerns, as well as a large selection of texts on women's and gender history, Islamic and Byzantine history, Jewish history, and social history. It has been constructed from available public domain and copy-printed texts comprised of two parts: one, fairly short classroom-sized extracts, and the other, full documents or World Wide Web links to the full documents. The Sourcebook is specifically designed for teachers to use in teaching by pointing students to this website; by downloading the documents, and printing or Xeroxing them for distribution in course packets or as class handouts; and by creating syllabi and course outlines at local websites with links to the documents here.
---


Iter, meaning a journey or a path in Latin, is a not-for-profit research project with partners in Toronto (the headquarters), New York City, and Tempe, Arizona. Iter was created for the advancement of learning in the study and teaching of the Middle Ages and Renaissance (400-1700) through the development and distribution of online resources. A gateway to the Middle Ages and the Renaissance, Iter includes a massive, retrospective, online medieval and Renaissance bibliography covering all languages and disciplines (partnered with the Renaissance Society of America and the University of Toronto). It is a powerful research tool that allows users to do the following: perform keyword and phrase searching and use Boolean, positional, and relational operators; for selected records published since 1990, search by subject, using Library of Congress subject headings, Dewey Decimal Classification, and additional keywords; use hypertext links to perform subsequent searches from results pages; and limit searches by language, publication type, and publication date.
---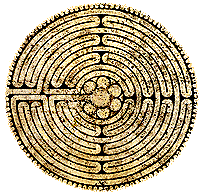 The Labyrinth: Resources for Medieval Studies, a disciplinary server for medieval studies, is an excellent resource that offers free, organized access to electronic resources in medieval studies through a World Wide Web server at Georgetown University. The Labyrinth's easy-to-use menus and links provide connections to databases, services, texts, and images on other servers around the world. This project not only makes available an organizational structure for electronic resources in medieval studies but also serves as a model for similar, collaborative projects in other fields of study. The Labyrinth project is open-ended and is designed to grow and change with new developments in technology and in medieval studies.
---


The Medieval Academy of America (MAA) is the largest organization in the United States promoting excellence in the field of medieval studies. It was founded in 1925 and is based in Cambridge, Massachusetts. Its goal is to support research, publication, and teaching in medieval art, archaeology, history, law, literature, music, philosophy, religion, science, social and economic institutions, and all other aspects of the Middle Ages. The Academy publishes the quarterly journal Speculum and awards prizes, grants, and fellowships, such as the Haskins Medal, which is named for Charles Homer Haskins, one of the founders of the Medieval Academy and its second president. Membership is open to all persons interested in the Middle Ages. The Academy holds an annual meeting each spring.
---


The Committee on Centers and Regional Associations (CARA) developed from organizations active in the 1960's (e.g., ACOMARS headquartered at Ohio State) and became a standing committee of the Medieval Academy in 1969 to serve as a forum for those who are concerned with the administration of institutes, graduate centers, undergraduate programs and committees, and research libraries; with the organization of regional and local groups of medievalists; and with teaching. CARA assists institutions and individual medievalists in meeting the challenges that face medieval studies in the classroom, the library, and other institutional settings locally and nationally. It supports those who work to develop special projects and programs of instruction, local and regional networks of medievalists, and centers of research and institutions in medieval studies. It is concerned with pedagogy at all levels. Institutions and individuals who wish to support and enhance medieval studies are invited to join CARA and participate in its meetings and programs. CARA's mission is advocacy and problem-solving. To accomplish its purposes, CARA organizes its own meetings as well as sessions at the annual meeting of the Medieval Academy and at other meetings of medievalists. It compiles and disseminates information about its constituent institutions and participates in international meetings of centers of medieval studies. CARA publishes in the Medieval Academy's newsletter, on electronic networks, and elsewhere the kind of information that medievalists find useful in their work as teachers and as advocates of medieval studies in their schools, colleges, universities, libraries, museums, or regional associations.
---


The Medieval Association of the Midwest (MAM) is a community of scholars spread across the Midwest area of the United States, as well as interested scholars from Canada and other parts of the U.S. It was originally founded as an interdisciplinary association to promote the study, criticism, research, and exchange of ideas related to all aspects of the medieval period and to articulate the specific needs of medievalists in the Midwest. Methods of achieving this purpose might include faculty exchanges, inter-institutional cooperation, annual meetings, the publication of a newsletter, and particular encouragement of young scholars. Along with its own annual meeting, the society organizes sessions at the yearly International Congress on Medieval Studies at Western Michigan University and the yearly Modern Language Association meeting in the Midwest. MAM also publishes Nuntia (a semiannual newsletter) and Enarratio (a journal of original research on medieval studies).
---


The Medieval Association of the Pacific (MAP) is an organization of university faculty, students, and independent scholars from around the Pacific Rim, including North America, Japan, Australia, and New Zealand. Founded in 1966, MAP has a distinguished history of supporting interdisciplinary medieval studies. MAP holds an annual conference that is open to scholars working on any aspect of the global medieval world; one need not live in MAP's general target area to participate. The Association also supports the development of emerging scholars with conference travel grants and the Founders' Prize for the best graduate student papers delivered at the MAP conference.
---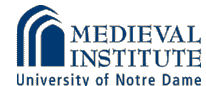 The Medieval Institute at the University of Notre Dame was founded in 1946, and promotes research and teaching on the multiple cultures, languages, and religions of the medieval period. Offering both undergraduate and Ph.D. programs, the Institute facilitates the activities of the largest contingent of medievalists at any North American University. More than eighty faculty medievalists, from thirteen different departments, create a vibrant, interdisciplinary, intellectual community that sponsors frequent speakers, conferences, and other events. The outstanding medieval studies library collection attracts researchers from around the world.
---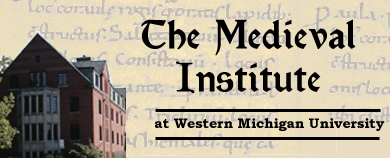 The Medieval Institute at Western Michigan University in Kalamazoo was established in 1962 as a center for instruction and research in the history and culture of the Middle Ages. Its pioneering function then was to introduce the first Master of Arts degree in medieval studies offered at a state-supported university in the United States. Today, many decades later, WMU remains one of the few public institutions in the country with an interdisciplinary M.A. in medieval studies. The degree requirements are intended to provide graduate students with the basic tools and skills necessary for specialized scholarly research as well as with an understanding of and an appreciation for interdisciplinary aspects of the study of medieval culture. The Medieval Institute ranks among the top ten of the some 90 institutes, centers, and programs focusing on medieval studies in North America. The Institute's reputation primarily rests on its annual International Congress on Medieval Studies, the largest annual professional meeting in the field, and Medieval Institute Publications, which has published well over 200 books and journals since 1964.
---


The International Congress on Medieval Studies, the largest, most comprehensive academic conference of its kind in the world, is an annual gathering of more than 3,000 scholars interested in medieval studies. Hosted by Western Michigan University's Medieval Institute and taking place on the WMU campus in Kalamazoo, it features around 600 sessions of papers, panel discussions, roundtables, workshops, and performances. There are also some 100 business meetings and receptions sponsored by learned societies, associations, and institutions. The exhibits hall boasts nearly 70 exhibitors, including publishers, used book dealers, and purveyors of medieval sundries. The Congress lasts three and a half days in May, extending from Thursday morning, with sessions beginning at 10 a.m. until Sunday at noon.
---

Medieval Institute Publications (MIP) assumed its present structure in 1978 as the publishing arm of the Medieval Institute at Western Michigan University in Kalamazoo, Michigan. It became a member of the Association of American University Presses in 2011. Since 2015, MIP has been working with Arc Humanities Press, which publishes scholarly research across premodern interdisciplinary studies and cutting-edge work that links research into the past with today's world. The publications series of MIP provide a space for exploring what it has meant to be human through the ages, using literary, historical, and materials sources and by employing innovative, popular, or interdisciplinary approaches. Its publications explore themes in the late-antique, medieval, and early modern periods. MIP publications are typically interdisciplinary and "edgy," in the sense of being cutting edge, or crossing disciplinary, geographical, or chronological boundaries.
---


The Institute for Medieval Studies at the University of New Mexico offers a variety of Medieval Studies programs dedicated to university and civic outreach, as well as to the enrichment of scholarship, teaching, and research in the civilizations of medieval Europe and its neighbors from 500-1500. Through special student opportunities and advanced research activities, and through its links with graduate degree programs offered by UNM departments, the Institute is committed to furthering the transmission and preservation of our rich heritage from the Middle Ages. The Institute's programs operate under the philosophy that the study of medieval culture provides a powerful vantage point from which to evaluate our own and other cultures and to reflect on the complexity of human behavior and institutions. Each year IMS hosts a week-long Spring Lecture Series that brings internationally distinguished scholars to Albuquerque to make presentations on a set of topics organized around a central theme. The IMS Director offers a biennial intensive summer course in Paleography and Codicology that draws graduate students from across North America. IMS has also developed an Outreach Program to the Secondary Schools, which has been nationally and internationally recognized for its efforts to advance the study of the Middle Ages in local high schools. The Institute is dedicated to furthering interdisciplinary and multicultural work by challenging the conventional separation of existing intellectual disciplines and by offering the broadest possible approach to research in the humanities.
---

The Online Medieval Sources Bibliography, created by the Center for Medieval Studies at Fordham University, is an annotated bibliography of printed and online primary sources for the Middle Ages. This database provides a searchable bibliography of texts--from private letters, wills, and household accounts to literary works, philosophical treatises, chronicles, court proceedings, church records, and a host of other documents--that were written in the Middle Ages and are now available in printed or online editions and translations. The aim is to provide annotated entries that include information on the genre, contents, archival reference, and original language of the text, as well as whether the publication includes a translation, introduction, appendices, glossary, and index. Where appropriate, the bibliography also includes hyperlinks to sources that are online. The database is currently weighted towards primary sources relating to England, France, and Ireland, but more materials for other European countries are being added. The primary sources included here date primarily from the period between roughly 300 and 1500, although there are sources that date from before and after these years.
---


The ORB: On-Line Reference Book for Medieval Studies, maintained by the College of Staten Island, City University of New York, is an academic site, written and maintained by medieval scholars for the benefit of their fellow instructors and serious students. It includes a topical-index encyclopedia, a textbook library of primary documents, a reference shelf guide to online textual resources, a medieval studies guide for the nonspecialist, and external sites of interest to ORB users.
---


TEAMS the Teaching Association for Medieval Studies, was originally founded as a committee of the Medieval Academy of America to develop new ways to support the teaching activities of its members. It was later reorganized as an independent nonprofit educational corporation whose mission continues to be the support of teaching in medieval studies at the undergraduate, secondary, and elementary school levels through the provision of resources and the sharing of techniques. Its current programs include the publication of TEAMS Teaching Texts in cooperation with Medieval Institute Publications, the maintenance of an online library of Middle English texts, and the establishment of a committee for outreach to secondary schools. It sponsors several sessions of papers at the annual International Congress on Medieval Studies at Western Michigan University. TEAMS also publishes a peer-reviewed electronic journal, The Once and Future Classroom: Resources for Teaching the Middle Ages in Grades K-12, and sponsors an annual teaching prize to recognize excellence in teaching medieval studies in the K-12 classroom.
---


The Centre for Medieval Studies at the University of Toronto was envisaged by its founders not just as an institutional umbrella for traditional departments but as a meeting point at which topics and issues for multiple disciplines would be explored and studied in depth. Medieval Studies in Toronto has an international reputation, resting on the wide-ranging interests of its faculty, the caliber and preparation of its graduates, and its outstanding library facilities. The Centre coordinates a program combining the resources of the Pontifical Institute of Mediaeval Studies and of a wide variety of participating departments and programs within the University of Toronto. The Centre also sponsors several major research projects, and is home to a large body of scholars, numerous publication series, and medieval drama and music groups. The Centre represents a large and highly interactive community of professionals who work in widely diverse areas.
---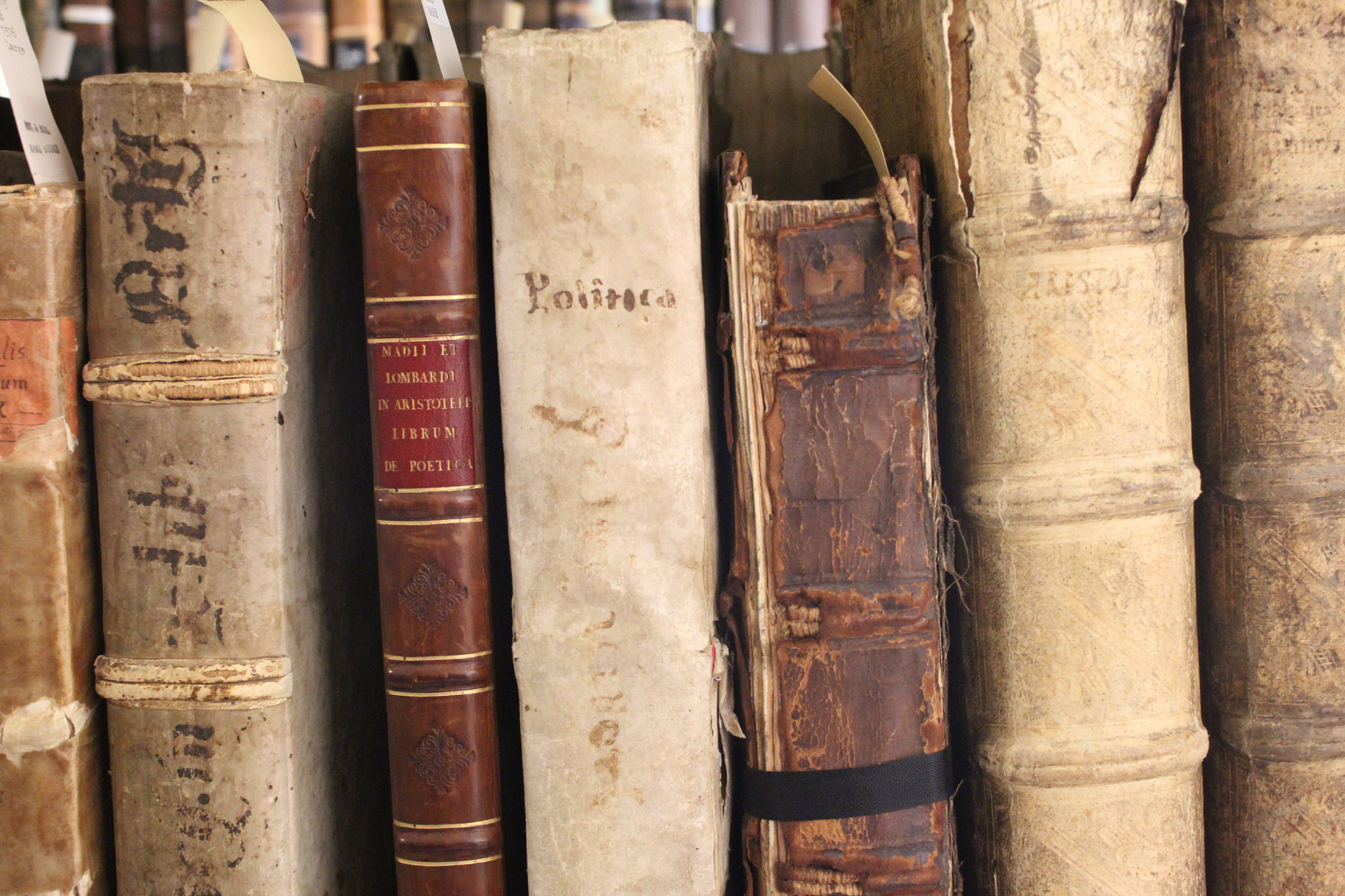 The Centre for Reformation and Renaissance Studies (CRRS) at Victoria University in the University of Toronto is a research and teaching centre. The CRRS is a library devoted to the study of the period from approximately 1350 to 1700, supervises an undergraduate program in Renaissance Studies, organizes lectures and seminars, and maintains an active series of publications. The CRRS library collection of rare and modern books is devoted exclusively to the Renaissance and Reformation periods.
---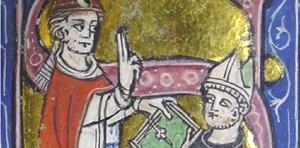 The Pontifical Institute for Mediaeval Studies (PIMS), at the University of Toronto, is Canada's oldest humanities research institute for advanced studies in the intellectual and material cultures of the Middle Ages. PIMS is dedicated to transmitting the inheritance of the Middle Ages to new generations, and to deepening our understanding of the life and ideals of Western culture in the time of its first youth. The Institute has concentrated on maintaining its new post-doctoral Licentiate programme, which, with generous support from the Andrew W. Mellon Foundation of New York, has proven itself an important adjunct to the training of young scholars; on making its rich library resources available to medievalists from across the world; and on continuing the vigorous publishing programme it began in 1955 through new and enduring scholarship devoted to the Middle Ages.
---


The World Shakespeare Bibliography Online (WSB Online) is a searchable electronic database consisting of the most comprehensive record of Shakespeare-related scholarship and theatrical productions published or produced worldwide from 1960 to the present. The collected information is an essential tool for anyone engaged in research on Shakespeare or early modern England.
---


Medieval Spell is an informational site about the history of medieval society such as medieval games, castles, war, knights, games, houses, churches, and much more.
---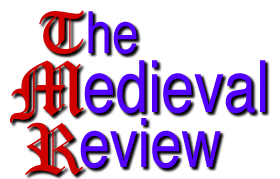 Since 1993, The Medieval Review (TMR) has been publishing reviews of current work in all areas of Medieval Studies, a field it interprets as broadly as possible. The electronic medium allows for very rapid publication of reviews and provides a computer-searchable archive of past reviews, both of which are of great utility to scholars and students around the world. TMR operates as a moderated distribution list. Subscribers receive reviews as e-mail. TMR posts each review as soon as the editors have received and edited it. There is no paper TMR. Once posted, reviews are archived and available for viewing, searching, printing, etc. on the website.
---


The Viking Society for Northern Research (VSNR) is the world's foremost learned society in the field of medieval Scandinavian and Northern Studies. Its website offers excellent editions and translations of primary Old Norse texts, and they are totally free to download as PDF files. The website also has some great secondary sources free to download. VSNR publications and editions of Old Norse texts have always been highly respected by the scholarly community, thereby making the website a great resource for teachers who may want to keep textbook costs low for their classes.
---


THE VIKING LANGUAGE SERIES
Jesse Byock's Viking Language 1 and Viking Language 2 are a must for those interested in Old Norse language, runes, Icelandic sagas, Viking history, and literature. Book 1 is a new introduction to Old Norse, Icelandic sagas, and runes. The beginner has everything in one book: graded lessions, vocabulary, grammar exercises, pronunciation, extensive maps, and sections on Viking history, literature, and myth. The innovative word-frequency method greatly speeds learning. Modern Icelandic has changed little from Old Norse; students are well on the way to mastering Modern Icelandic. Book 2 is a treasure trove of Scandinavian lore, immersing the learner in a wide variety of Old Norse sources and runes. The book offers a large vocabulary, chapters on eddic and skaldic poetry, and a grammar reference. The learner reads complete sagas, myths, creation stories, legends, runic inscriptions, and poems about Scandinavian gods, monster-slayers, dwarves, giants, and warrior kings and queens. The learner sets out on a journey deep into the Old Norse world. Both books have been reviewed by Thomas Shippey in Volume 22, Issue 2, of SMART. Also, visit the Jules Wiliams Press websites: www.oldnorse.org and www.vikinglanguage.com.
---