Honors Community News
University Strategic Planning Committee Input Session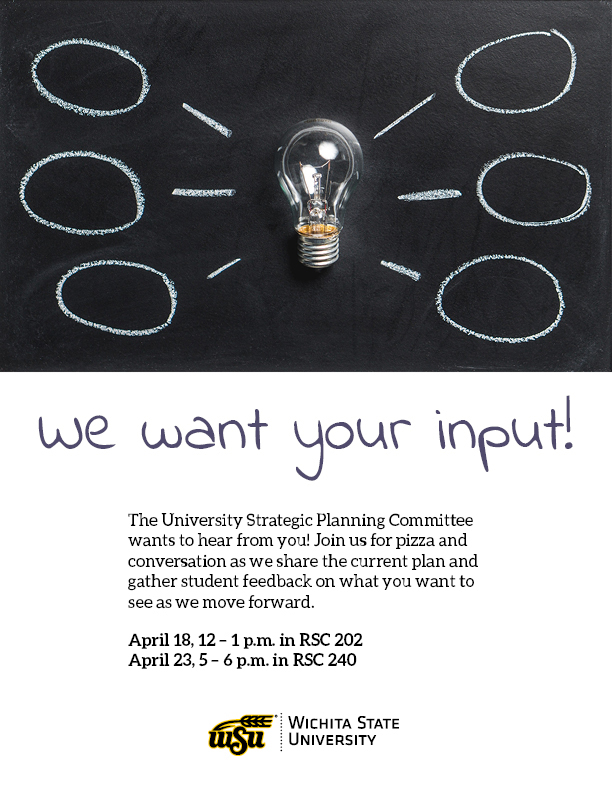 WHEAT Invites All Students
Board Game Night April 22nd - Join WHEAT for a board game night on Monday, April 22nd from 6:00 p.m. to 8:00 p.m. in RSC 258. Feel free to bring friends, whether they are in the Honors College or not. Food and refreshments will be provided.
Pi Promo T-Shirt Sale: Wear Your Honors College Colors with Pride - Take advantage of WHEAT's limited t-shirt sale! Use the promo code "pi" at checkout to receive 3.14% off your purchase. Place your order now! Wear your Honors College colors (maroon and silver) with pride. The new 2019 t-shirt design will soon replace this one, so make sure to grab one while you can.
Apply Now for Alternative Summer Break to Puerto Rico - All Students Welcome!
Alternative Summer Break will expose WSU Students to complex social and cultural issues through community visits, experiential learning, direct service, group discussion, common readings, and reflection activities. This service-learning experience will focus on hurricane relief, environmental justice, school rebuilding and beautification projects, social change and leadership, and Puerto Rico-US relationships.

Students will travel from July 14-20, 2019 and participate in both pre-trip preparation meetings/ class sessions and post-trip activities/ class sessions. A connected service-learning honors course will be offered – open to all students traveling with the Alt Summer Break program. (Further information)
Apply to be an Honors Ambassador by April 26th
The Cohen Honors College is looking for engaging students to serve as Honors Ambassadors. As an Honors Ambassador, you will assist the Cohen Honors College at various events and activities throughout the year by interacting with prospective and current students, university faculty and staff, and alumni. Over the course of the year, you will volunteer approximately 10-15 hours in a variety of ways including mingling with students and parents at programs, serving on panels and hosting information tables.
To learn more about being an Honors Ambassador, the benefits and to submit your application, go to wichita.edu/honorsambassadors. Applications must be submitted no later than 5 p.m. Friday, April 26. If you have questions, please contact Trish Gandu at trish.gandu@wichita.edu.
Faculty and Staff Invited to Join Honors Student council Diversity Training April 25th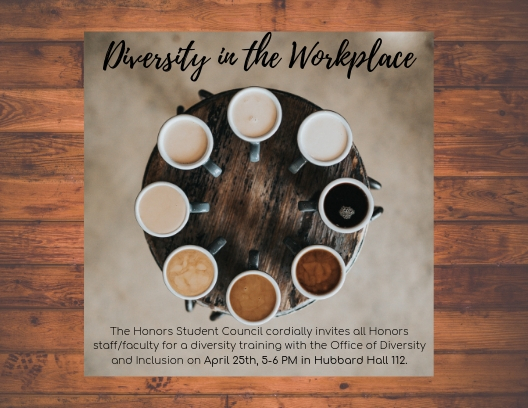 The Honors Student Council is hosting the Office of Diversity and Inclusion's "Diversity in the Workplace" training during their regular meeting on Thursday, April 25th 5:00-6:00 p.m. in 112 Hubbard Hall. Honors faculty and staff are invited to attend to build our conversation about diversity and Honors.
Nominations for the Honors Faculty Mentor Award due by May 1st
The Honors College Student Council is accepting nominations from current honors students for the Faculty Mentor Award. Which professor has made your honors experience more meaningful? Let us know! Please fill out the nomination form by May 1st.
Faculty and Student Opportunities - National Collegiate Honors Council
NCHC offer opportunities for students, faculty and staff. Find honors-focused training on teaching and learning, experiential education, advising, program assessment, and so much more created by trusted professionals from the honors community.
Message from the National collegiate Honors council President
Dear Honors Colleagues:

I just recently returned from Pittsburgh, where I had the pleasure of attending AAC&U's annual Diversity, Equity, and Student Success Conference, an exciting meeting of almost 1,000 faculty, staff, administrators, and students striving to make our work in higher education more equitable and just.

[…]The conversations during this workshop were interesting, encouraging, and sometimes challenging. There remains suspicion in some quarters about honors as a place of privilege, remove, and elitism. Some attendees shared personal stories about not feeling welcome in their own honors program because of the way in which that community understood itself or conducted its business.
Read the President's Full Message in the NCHC Newsletter

How2Heal Logo Competition and PhotoVoice Exhibit
As announced in previous updates, Honors student Ngoc Vuong has been awarded $5,000 by the Wichita Community Foundation to start his mental health initiative, How2Heal.
Now Ngoc needs your help!
How2Heal Opportunities
How2Heal is hosting a student design competition to select their logo. Learn more about submitting here.
How2Heal is a student-led initiative to change the dialogue of mental health and substance use issues through creative mediums, civic engagement, and student-led projects. One of the projects, PhotoVoice, is a way for community members to identify, express, and address their thoughts and perceptions on community issues through photography, poetry, and other forms of art. How2Heal is proud to announce it will be creating a task force to participate in and spearhead community-wide efforts to raise awareness about the various mental health and substance use issues facing our society and to spark crucial conversations about the process of finding the solutions. (Participation Information)
Honors Office News
Honors Advising Appointment Protocol
To schedule an Honors Advising Appointment email Honors@wichita.edu or Jessica.Raburn@wichita.edu. If you happen to be in Hubbard Hall or nearby when a question occurs to you, please feel free to stop by to see if the Honors Academic Advisor can visit with you immediately.
Jessica Raburn
Assistant Director and Academic Advisor
The Dorothy and Bill Cohen Honors College
Office Hours of the Dean
Students Welcome to Walk-in: Thursday 2:00-3:30.
By Appointment: Email honors@wichita.edu.
Visit us in 113 Hubbard Hall through summer 2019.
Have More News?
To submit a story to the Weekly Update fill out this form.
Follow the Honors College on Twitter for more news and update
Looking for More Updates?