Honors Community News
2019 Lenora N. McGregor Scholarship Recipient Announced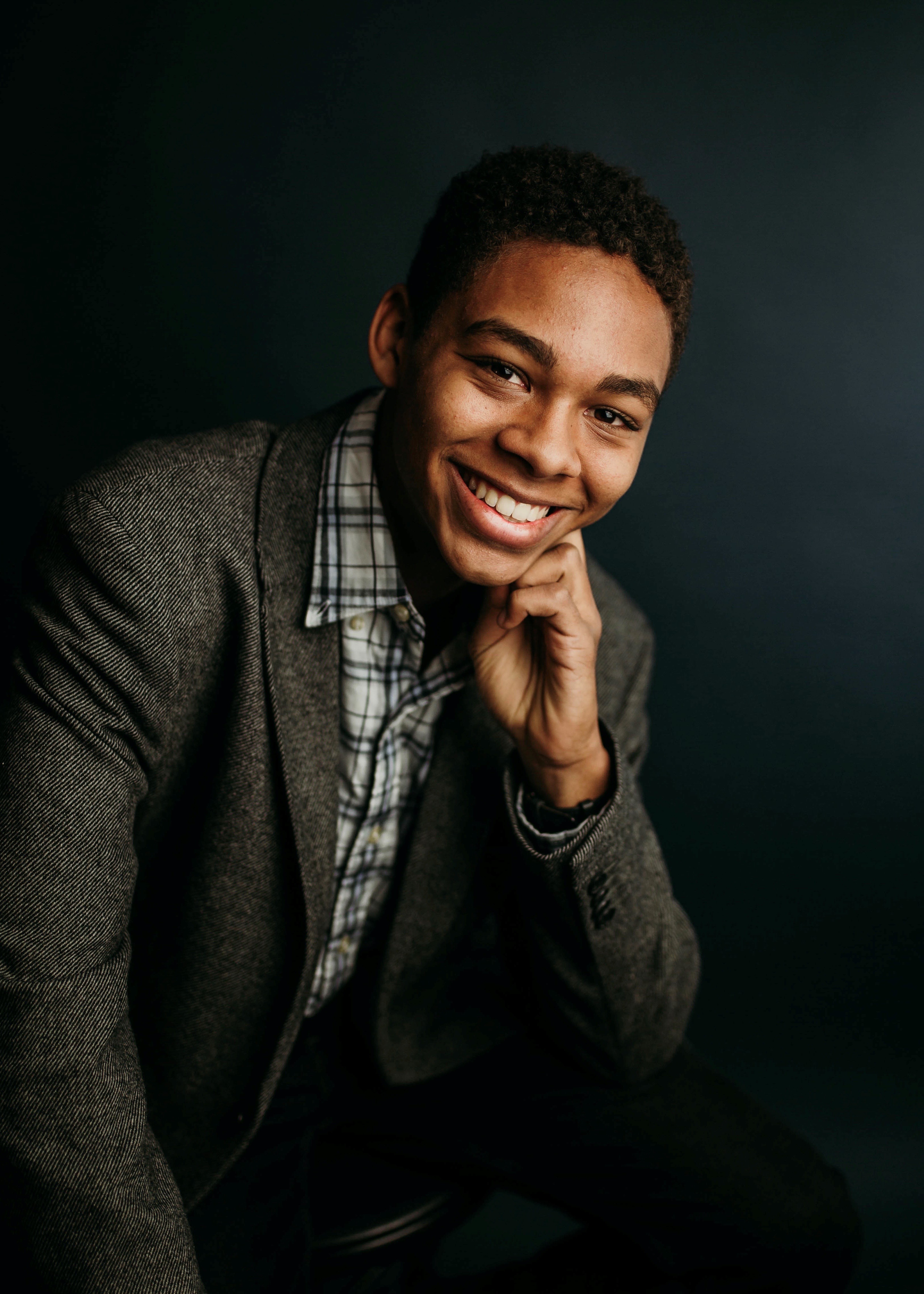 Congratulations to Gabe Kimuri. Kimuri, a senior at Lawrence Free State High School has been awarded the 2019 Lenora N. McGregor Scholarship.
Honors Is a Verb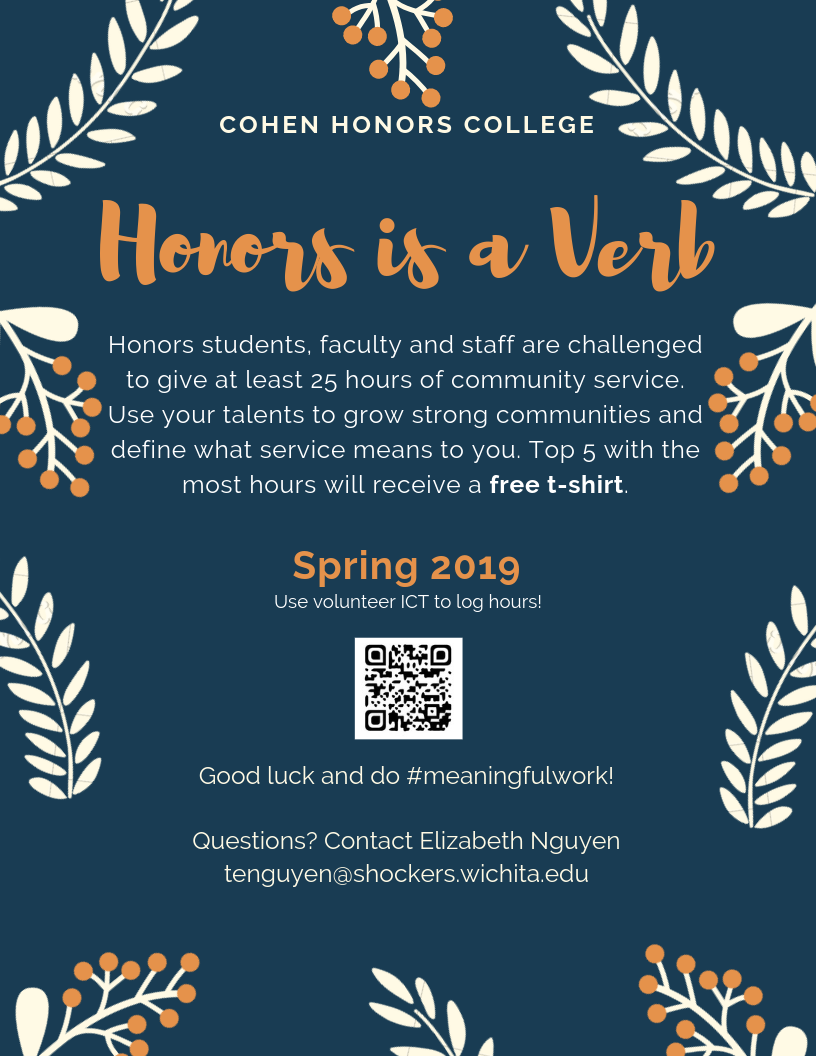 Use your talents to grow strong communities and define what service means to you #meaningfulwork.
Contact Elizabeth Nguyen with questions at tenguyen@shockers.wichita.edu.
Honors College Harry Potter Night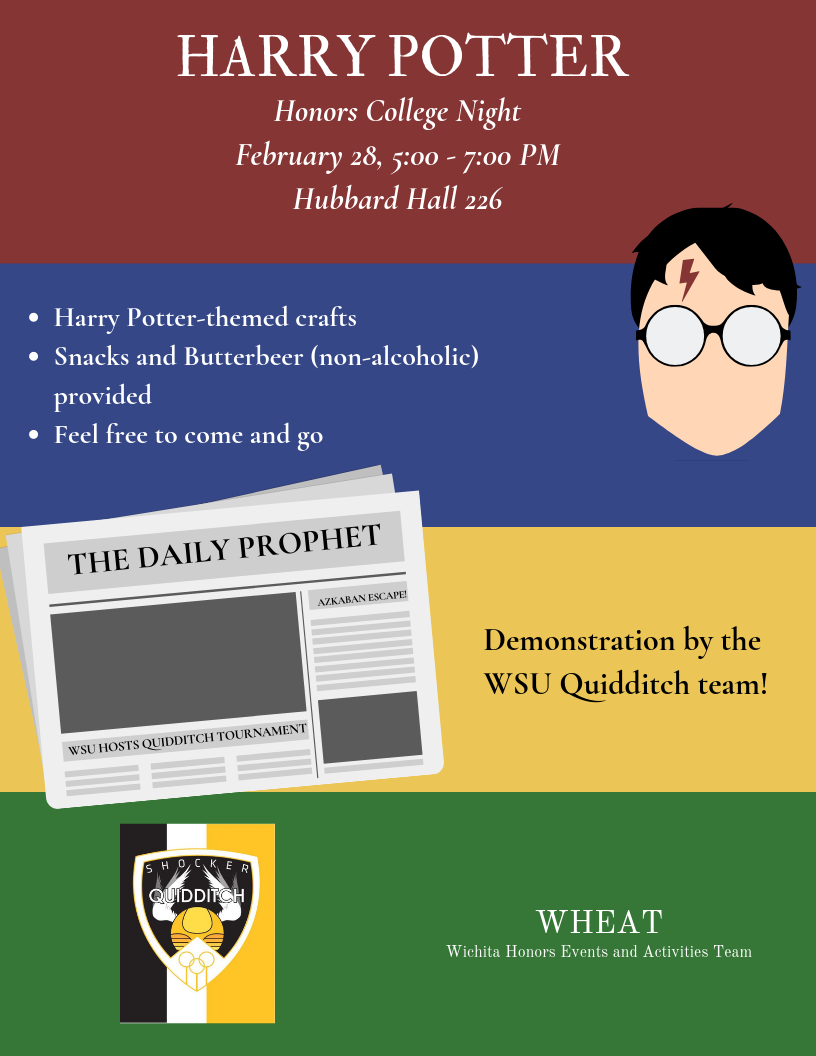 WHEAT is hosting a Harry Potter night for the Honors College! Come join us in Hubbard Hall 226 from 5:00 to 7:00 PM on February 28th. We'll have Harry Potter themed crafts, as well as snacks and butterbeer (non-alcoholic). We'll also have the Shocker Quidditch team to give a demonstration!
Declaration of Candidacy for SGA Senate Open Until Friday 22
Interested in shaping the future of the university? The Declaration for Candidacy for the SGA Senate continue to be open and closes this Friday, February 22 by 5:00pm. Senators work on the voting legislative body of SGA, are required to complete 2 office hours per week, they are able to work on specified initiatives and attend weekly committee and senate meetings on Wednesdays. Go to wichita.edu/sgaelections to learn more.
If you are interested but have questions, please do not hesitate to reach out to Gabriel A. Fonseca, Assistant Director of Student Involvement and SGA Advisor | Rhatigan Student Center | Office: 316.978.3022 | Fax: 316.978.7208 | gabriel.fonseca@wichita.edu
Office News
Student Lounge and Printing in Hubbard Hall 113
The Honors Main Office in 113 Hubbard has a student lounge, two computers, and a printer for student use 8am to 5pm M-F. Just turn left when you walk in the main office door.
Message from the Dean
This semester, Honors is under construction. We are in progress all the time, of course, but this construction is more concrete as we look forward to an expansion of Shocker Hall expected to be complete July 2019.
A front door: In fall 2017, when the Honors College Student Council was asked their vision for the future of Honors, council members talked about more accessibility to Honors and more visibility, more study and community spaces, more course offerings and more scholarships. They talked about the impact of having a front door facing academic buildings.
We want to more clearly welcome the campus into Honors. Since that fall discussion, the number of Honors students has grown to 620 representing more than 90 areas of study. A new gift pledge in summer 2018 increases scholarship support for students with financial need or who are members of minority groups underrepresented in higher education in Kansas by $60,000 each year by the year 2021. This gift pledge also increases funds for teaching faculty and for Honors student groups and recruitment.
Campus impact: You may wonder why we need to expand now. As you know, we aim to do more meaningful work in Honors – in class and in the community. This fall, science faculty developed a proposal to offer a new series of inquiry-based honors labs, and the living-learning community students all participated in first-year honors seminars. In addition, services to students who are not college members increased. Honors piloted a new first-year research experience program, continued undergraduate research and creative activity grant funding, launched a new NSF grant-funded summer program, and supported faculty development of high-impact practices such as study abroad and service learning open to all students.
We continue to work to offer more Honors courses and more faculty engagement with students on the Honors academic path. We also seek to have a positive impact across campus. We look forward to additional student and faculty participation as a result of our expanded space in Shocker Hall.
Student fee: To partially fund this new construction, upgrade technology, and sustain increased services in Honors, there will be a new $50 per semester program fee for all students currently in Honors effective in fall 2019. The fee revenue will be matched by university funds to meet construction costs. The program fee will be assessed for all students with the "HNRS attribute," a code assigned to all Honors College students, whether or not you take an honors class or live on campus.
The Honors College Student Council voted to support the Dean's proclamation and request in November 2018. When the student council voted to support this fee, they also passed a resolution to create a hardship fund to allow students to appeal half of the fee. We don't yet know how this fund will be administered, but we're working to figure that out.
We welcome questions about the vision for Honors. Contact your student council representatives, assistant directors, or dean through honors@wichita.edu with questions. Or stop by Hubbard Hall 113 for conversation.
We look forward to seeing you!
Kimberly Engber, Ph.D.
Dean, The Dorothy and Bill Cohen Honors College
Associate Professor, English
Honors Advising Appointments
To schedule an Honors Advising Appointment email Honors@wichita.edu or Jessica.Raburn@wichita.edu
If you happen to be in Hubbard Hall or nearby when a question occurs to you, please feel free to stop by to see if the Honors Academic Advisor can visit with you immediately.
Jessica Raburn
Assistant Director and Academic Advisor
The Dorothy and Bill Cohen Honors College
HH 133
Office Hours of the Dean
Walk-Ins: Thursdays 2:00-3:30.
By Appointment: Email honors@wichita.edu.
Contact Us
To submit a story to the Weekly Update email Jeromiah Taylor at honorsassistant@wichita.edu
Follow The Honors College on Twitter for more news and updates.
Looking for More Updates?