Honors Community News
Thanks and Condolences to President John Bardo and Family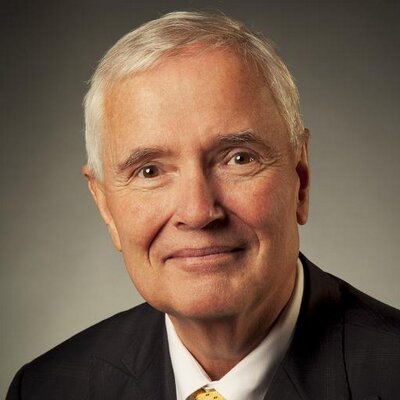 The Cohen Honors College exists because of President John Bardo's vision and his support for faculty development of the long-standing Wichita State honors program into an ambitious college. Our condolences to First Lady Deborah Bardo, son Christopher, and all of President Bardo's family for their loss.
General Assembly
The next Honors General Assembly is scheduled for Thursday, March 21. It will be held in the Santa Fe Room, RSC 233 from 4:00 p.m. to 5:00 p.m. General Assemblies are a valuable opportunity for students to make their voices heard. A vote for the theme of the 2020 Great Plains Council to be hosted by WSU will be conducted during the next General Assembly, Thursday, March 21.
Night with the Colleges March 29
WHEAT invites you to Night with the Colleges. This is an opportunity to network and get to know Honors faculty while eating a delicious dinner. The speaker for the evening will be Daniel Barwick, the President of Independence Community College. He will be talking about authenticity and his experience with Netflix filming Last Chance U at his college and home. The event will be semi-formal dress. If you are interested in attending, please RSVP here.
Pi Day Celebration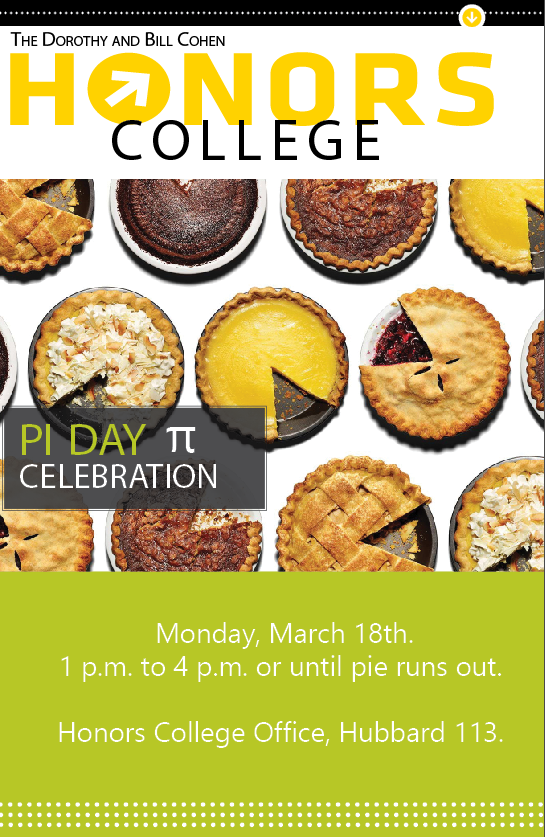 All are invited to celebrate a belated Pi Day with the honors community on March 18th.
Medical Mission at Home -Volunteer Opportunity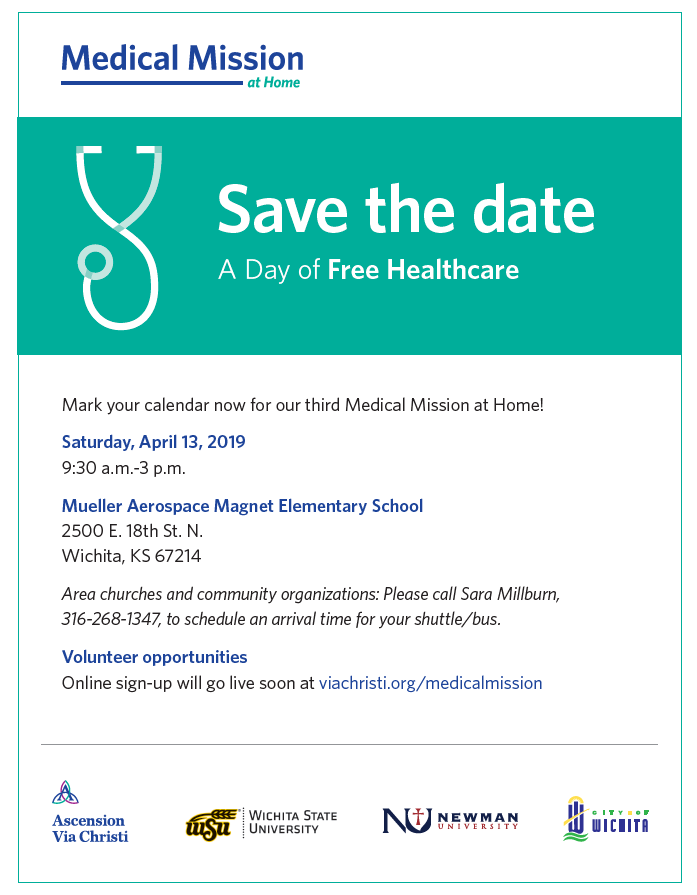 Mark your calendar now for our third Medical Mission at Home!
Medical Mission at Home is a day of free healthcare for the Wichita community which includes dental exams, diagnosis, prescriptions with some filled on site, medical laboratory tests, mental health counseling and many other services. Students who are bilingual would be especially helpful. Languages expected to be needed: Spanish, Vietnamese, Hmong, Mandarin and Burmese. Honors is a Verb!
Seeking Participants for Psychology Study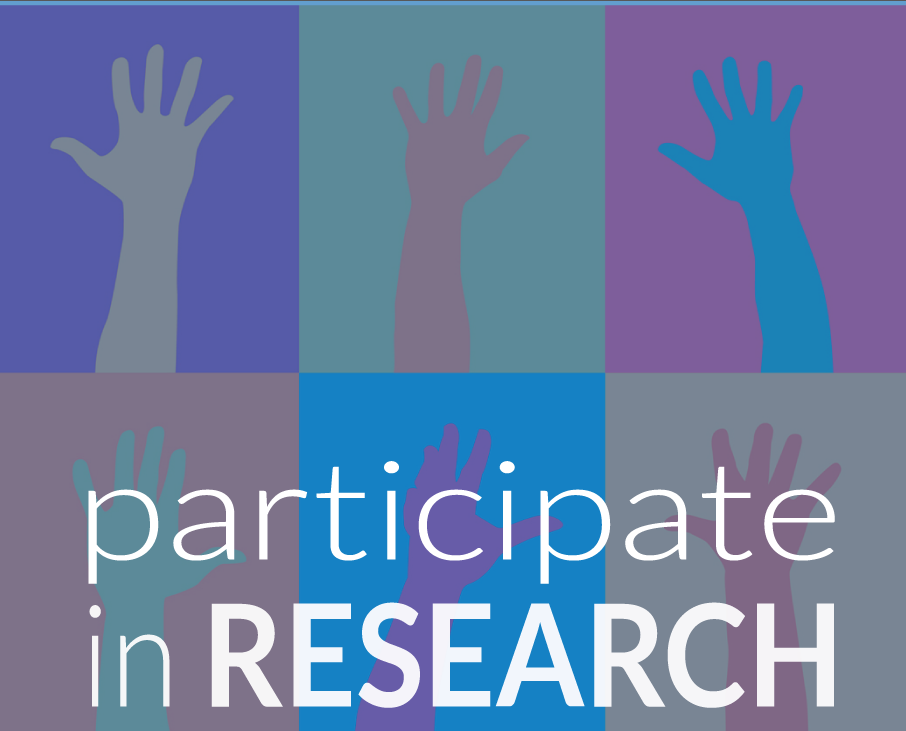 Seeking participants living in Wichita or the greater Wichita area, who are aged 18 and older, to take part in a study examining the effectiveness of protocols for individuals who experience slight to moderate discomfort related to spiders. Anyone who experiences slight to moderate discomfort related to spiders is encouraged to participate.
Individuals interested in participating should complete the screening survey. Individuals taking part in the survey will be entered in to a drawing for a $40 Amazon gift card or earn Sona credit for WSU courses.
Individuals chosen to participate will be entered into a drawing for one $80 Amazon gift card or earn 4 sona credits.
Questions can be directed to Kyle Rexer at kgrexer@shockers.wichita.edu.
GEEKS Tutoring Opportunity
Engineering students who have taken Calculus 1 with Dr. Brady are qualified to apply for a GEEKS tutoring position.
The Summer and Fall 2019 Schedule of Courses is Viewable - See Advisors
Fine Arts and Engineering students must always meet with their major's academic advisor prior to registering.
Health Profession students must meet with their academic advisor until they are juniors.
Undecided students must meet with their college academic advisor until they select a major.
April 8th First day of summer and fall registration (best to have your advising appointment done so you can register when it opens)
Read Full Story
If you don't have a mandatory advising requirement – meet with your academic advisor like you do have one. The appointments are free, short if you are on track and can save you money and time by avoiding mistakes in registering. College academic advisors are subject matter experts. They know all the tricks and can make suggestions based on their past experiences and those of the students who came before you. Part of the job of an academic advisor is direct you to resources (both academic and non-academic). Ask for help if you need it, think you might need it. I, the Honors academic advisor, am available to meet with you by appointment, just email Honors@wichita.edu and we can work out a time or just come in when the sign on the door is set to "Welcome Please Knock". This means I'm expecting students to just show up and start asking random questions.
Honors Office News
Student Printing
Student computer and printing services are available in Hubbard Hall 113A, the temporary Honors student lounge.
Advising Appointments
To schedule an Honors Advising Appointment email Honors@wichita.edu or Jessica.Raburn@wichita.edu. If you happen to be in Hubbard Hall or nearby when a question occurs to you, please feel free to stop by to see if the Honors Academic Advisor can visit with you immediately.
Jessica Raburn
Assistant Director and Academic Advisor
The Dorothy and Bill Cohen Honors College
Office Hours of the Dean
Walk-Ins: Thursday 2:00-3:30.
By Appointment: email honors@wichita.edu.
Contact Us
To submit a story to the Weekly Update fill out this form.
Follow the Honors College on Twitter for more news and updates.
Looking for More Updates?