Kansas Government Finance Officers Association
The Kansas Government Finance Officers Association (KSGFOA) partners with Wichita State University's Public Policy and Management Center to provide membership development and operational support for the association. In addition, WSU staff provides conference planning, board support, marketing assistance and financial management support to the association.
Learn more about Kansas Government Finance Officers Association here.
---
20th Annual KSGFOA Public Finance Conference
The Kansas Government Finance Officers Association is pleased to present a series of workshops for those involved in the financial affairs of municipalities, counties, schools, state agencies, utilities and special authorities.
October 9-11, 2019 (add to outlook calendar)
2019 Registration - Open now
Sponsored by:
---
2019 Keynote Speakers
Thursday keynote:

Mike Con

duff, president/CEO of The Elim Group
"Living and Leaving a Local Government Legacy" by Mike Con
duff, president/CEO of The Elim Group, a governance, leadership, training, speaker and consulting firm.


Conduff has 40+ years of leadership,
management
, and governance
experience
. He is considered one of the country's leading experts in the field of municipal and not-for-profit governance. He earned his B.S. in civil engineering at the University of New Hampshire and his MBA from
Pittsburg
State University. He's a multiple time best-selling author.

Friday keynote: updated information coming soon!
---
2019 Conference Schedule at a Glance
Topics this year include:
Infrastructure Financing

GASB Updates

GFOA Values & Ethics

Internal Controls and How to Prevent Fraud
Buried Danger: ID Red Flags in Construction Projects
Threat of Large Decreases in Taxes
Data Privacy
Financial Wins from Utility Asset Management
Wednesday, October 9th
1:30 - 4:30 p.m. | Pre-Conference Session: "All the Queen's Horses" video and facilitated discussion
1:30 - 5:30 p.m. | Check-In and Conference Registration
---
The Kansas & Missouri Chapter of the Women in Public Finance Association will host a social on Wednesday, Oct. 9 from 5 - 7 p.m. at the conference hotel. Light food and drinks will be provided. RSVP for the free event to Lisa Santa Maria at lsantamaria@pvkansas.com.
Angela Hurt from Veracity Consulting will discuss women's issues in the workplace. As founder and CEO of Veracity, Angela oversees the strategic direction of the Kansas City-based company, a tech consulting team that delivers customized IT solutions for its customers in the commercial and government sectors.
Angela is a passionate advocate for women, and
participates in various STEM, entrepreneurial and mentoring initiatives.
Thursday, October 10th
7:30 - 8:00 a.m. | Registration and Breakfast
8:00- 9:30 a.m. | Keynote Presentation: Mike Conduff, president/CEO of Elim Group
9:45 - 10:45 a.m. | Breakout Sessions 1 & 2
11:00 - 11:30 | Vendor Fair
11:30 - 1:40 p.m. | Lunch: Business Meeting/Presentation
1:50 - 2:50 p.m. | General Session
3:00 - 3:50 p.m. | Breakout Sessions 3 and 4
4:00 - 5:00 p.m. | General Session
5:15 - 6:30 p.m. | Social & Vendor Reception
Friday, October 11th
7:30 - 8:30 a.m. | Breakfast and Vendors
8:30 - 9:30 a.m. | General Session
9:45 - 10:45 a.m. | Breakout Sessions 5 & 6
11:00 - 12:30 p.m. | Keynote Presentation
---
2019 Conference Accommodations

Embassy Suites Hotel & Conference Center

Embassy Suites Olathe | 10401 S. Ridgeview Rd | Olathe, Kansas | 66061
HOTEL ACCOMMODATIONS
Embassy Suites by Hilton Kansas City Olathe
10401 S. Ridgeview Road
Olathe, KS 66061
Reserve your room here. At reservation you will need to enter the conference code, "KSF" to receive the discounted rate of $159 a night.
---
Sponsorships
At the KSGFOA conference, sponsors have opportunities to interface with attendees at vendor booths, social events, lunch and breaks, in addition to branding opportunities on conference materials of all types.
>> See sponsorship levels >> Reserve your sponsorship today
The KSGFOA Conference Committee reserves the right to refuse Exhibitor or Sponsor status to any company or organization.
Sponsorship Contact
Paula Downs, Staff Support, KSGFOA
Wichita State University Public Policy and Management Center
Paula.Downs@wichita.edu
316-978-6678
---
The Innovation Award is designed to recognize and promote creative public finance initiatives and projects that provide innovative and creative solutions to address organizational and community challenges. Winners are those who reflect dedication and inventiveness in working in public finance and governance to deliver excellence in public services.
The award recognizes people, products and services that demonstrate innovation within public finance. Initiatives and projects must have occurred within the last two years.
The award recipient will be recognized at the KSGFOA Business Meeting during the Annual Conference on Thursday, October 10, 2019. A representative for the innovative project or initiative should be present to accept the award.
Application Details
• Applications due September 15, 2019.
• The award recipient must be a member of KSGFOA
>> Nominate someone for the 2019 KSGFOA Innovation Award
---
Americans with Disabilities (ADA) Request for Accommodations
Please contact paula.downs@wichita.edu to request a reasonable accommodation for participating in the conference. Please provide the accommodation request by directly contacting Paula by September 6, 2019.
Dietary Needs
If you require a special meal, please list your requirements in the question at checkout when you register. Accommodations for special diets cannot be guaranteed after September 21, 2019.
---
Become a Member of KSGFOA
Are you a KSGFOA member? Check by emailing morgan.barnes@wichita.edu.
Regular membership is only $50 and includes discounted conference admission, exclusive access to web content + NEW online KSGFOA communication network. Associate and Student membership also available. Become a member here
---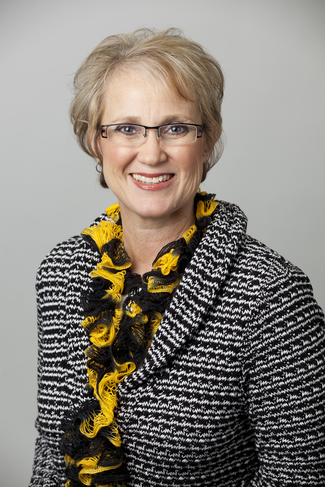 Sponsorship Contact
Paula Downs
Staff Support, KSGFOA
Wichita State University Public Policy and Management Center
paula.downs@wichita.edu
(316) 978-6678