Kansas Government Finance Officers Association
The Kansas Government Finance Officers Association (KSGFOA) partners with Wichita State University's Public Policy and Management Center to provide membership development and operational support for the association. In addition, WSU staff provides conference planning, board support, marketing assistance and financial management support to the association.
Learn more about Kansas Government Finance Officers Association here.
---
19th Annual KSGFOA Fall Professional Conference
The Kansas Government Finance Officers Association is pleased to present a series of workshops for those involved in the financial affairs of municipalities, counties, schools, state agencies, utilities and special authorities.
October 10-12, 2018
Embassy Suites Kansas City/Olathe Hotel & Conference Center
Olathe, Kansas
---
Keynote Speaker - Thursday
Chris Morrill
Executive Director/CEO
Government Finance Officers Association
Chris Morrill is the CEO of the Government Finance Officers Association (GFOA) of the US & Canada. Chris previously served as city manager in Roanoke, VA, assistant city manager and budget director in Savannah, GA, and budget analyst in Catawba County, NC. He also served as Senior Municipal Finance Advisor to the South African National Treasury. In this position, he assisted South Africa with local government finance legislation, municipal budget reforms and capacity building programs.
Chris Morrill is an International City/County Manager Association (ICMA) Credentialed Manager and currently serves as chair of the ICMA Retirement Corporation Vantage Trust Board. He received a bachelor of arts in political science from the College of the Holy Cross in Worcester, MA, and a master of public administration from the University of North Carolina at Chapel Hill.
Keynote Speaker - Friday
Dayton Moore
General Manager, Senior VP-Baseball Operations
Kansas City Royals
Dayton Moore marks his 12th full season with the Kansas City Royals in 2018, being named Senior Vice President-Baseball Operations/General Manager on May 30, 2006. He officially assumed his duties on June 8, 2006, becoming the sixth general manager in franchise history. From day one, the goal Moore set out to accomplish was bringing a World Championship back to Kansas City, a dream that was brought to fruition in 2015.
Moore has received several other accolades over the last four seasons, being named to the Kansas Baseball Hall of Fame and the Kansan of the Year in 2014, while he was also been tabbed "Executive of the Year" by Major League Baseball (GIBBY Awards) in both 2014 and 2015 and the same distinction from the Kansas City Sports Commission in 2015.
---
Conference Schedule at a Glance
Wednesday, October 10
1:30 - 4:30 pm
Pre-conference session: Cybersecurity in Government
BKD Representative
In the digital age, security breaches are inevitable and cyberattacks are becoming more frequent and severe. In fact, email scams alone have increased 2,370% from January 2015 to December 2016, now totaling $5 billion worldwide. Whether ransomware, wire transfer email scams, or data theft, cyberattacks are ranked the No.1 risk facing non-bank US entities. This presentation will make sense of the bewildering landscape of top cyber threats. BKD will explain the motivations and tactics of hackers, how their methods have evolved over time, and how they successfully prey on human behavior, complexity, and social tendencies. Backed by this understanding, you will learn best practices, tips and tricks on how to become more secure through a smart blend of controls, technologies, and cultural changes. You must indicate your attendance at the pre-conference session at the time of main conference registration. This event cannot be added on after conference registration.

1:30 - 5:30 pm
Check-In and Registration
6:00 - 10:00 pm
Pre-conference social: Wine Tasting
Join KSGFOA colleagues for a wine tasting at a beautiful area winery. Transportation from and back to the hotel will be provided. This event is no cost.

You must indicate your attendance at the pre-conference social at the time of main conference registration. This event cannot be added on after conference registration.
Thursday, October 11
7:30 am
Check-In and Registration
8:00 - 9:30 am
Keynote Session
Chris Morrill, Executive Director/CEO, Government Finance Officers Association
9:45 - 10:45 am

Breakout Session 1: Trends, Challenges and Opportunities to Recruit and Retain Employees
Eric Sexton, PhD, Gallagher Benefits
Jeremy Gilson, Gallagher Benefits
This session will present insights into how employee benefits and human capital challenges are addressed by municipalities across the country. This data and its analysis, which Gallagher produces annually, one of the largest surveys in the industry and
provides significant thought leadership and insights on key trends affecting public employers. We will also discuss options, opportunities, and implications posed by these results.


Breakout Session 2: Incorporating Climate Change into Credit Ratings
Denise Rappmund, Moody's Investors Services
In coming years, climate change is forecast to result in a higher frequency and severity of extreme weather events, in turn heightening US exposure and vulnerability to economic loss across industries and geographic regions. This session discusses how Moody's assesses the credit impact of these risks on US state and local issuers, with particular focus on the Midwest and Kansas specifically.

11:00 - 11:30 am
Vendor Fair
11:30 am - 1:15 pm

Lunch - Business Meeting/Presentation

Thursday Lunch Session
George Kahn, Vice President and Economist for the Federal Reserve Bank of Kansas City

1:30 - 2:30 pm
General Session: Economic Forecast
Sheryl Bailey, Springsted Incorporated


This session is a discussion of the economic landscape and forecast over the general economic environment.

2:45 - 3:45 pm

Breakout Session 3: Facilitated Discussion: Innovations in Your Department/Organizations
Moderator: Kathleen VonAchen, KSGFOA Board Member

Breakout Session 4: Facilitated Discussion: Challenges Your Organization is Facing
Moderator: Ryan Adkison, KSGFOA Board Member

4:00 - 5:00 pm
General Session: Economic Development Policies
Gene Goddard, Springsted


Learn the elements of a strong economic development policy to protect your city financially.

5:00 - 6:30 pm
Vendor Reception
Friday, October 12
7:30 am
Breakfast and Networking
8:30 - 10:00 am
Keynote Session
Dayton Moore, General Manager,

Senior VP-Baseball Operations, Kansas City Royals
10:15 - 11:15 am

Breakout Session 5: Dark Store Appraisal Theory: Fact or Fiction?
Greg McHenry, Riley County
During the last few years the number of commercial real estate "big box" property valuation appeals has risen dramatically in Kansas and much of the US. Tax representatives & attorneys involved in these cases have begun using what they describe as the "Dark Store Theory" in these valuation appeals. This presentation will discuss the history of the Dark Store Theory, its relevance, consequences to local units of government and possible remedies.

Breakout Session 6: A New Affordability Tool for Infrastructure Investments by Very Small Systems
Michele Pugh, Wichita State University Environmental Finance Center
Financing of public drinking water and wastewater infrastructure is critical for the viability of communities. These utility services are typically paid for by user fees. Accordingly, communities, regulators and others must assess the affordability of proposed enhancements and renovations to existing infrastructure. The Environmental Finance Center has developed a model that incorporates current and future drinking water and wastewater costs with current and future income to assess the overall affordability of proposed infrastructure enhancements. The model will be discussed and demonstrated in this presentation.


11:30 am - 12:30 pm

General Session: Legislative Update
Stuart Little

Closing
Subject to change
---
Embassy Suites Hotel & Conference Center

Embassy Suites Olathe | 10401 S. Ridgeview Rd | Olathe, Kansas | 66061
HOTEL ACCOMMODATIONS (book by Sept. 10 extended to Sept. 17!)
Embassy Suites by Hilton Kansas City Olathe
10401 S. Ridgeview Road
Olathe, KS 66061
Room Reservations: Book online with code KSA
OR call Hilton Reservations at (800) EMBASSY (362-2779) or the hotel directly at (913) 353-9280 and mention KSGFOA
Conference Room Rate: $159 plus tax. Rate includes Cook to Order Breakfast, Evening Reception with limited free drinks and High Speed Internet. These are Deluxe Suites, with one king or two queen beds, and all include a pullout couch.

The last day to reserve a room within the block is Sept. 10. Cancellation of a room reservation is required 24 hours prior from the arrival date to avoid penalties. Guest check out time is 11:00 a.m. To minimize a check-in delay, the hotel recommends arrival after 4:00 p.m
---
Sponsorships
At the KSGFOA conference, sponsors have opportunities to interface with attendees at vendor booths, social events, lunch and breaks, in addition to branding opportunities on conference materials of all types.
>> See sponsorship levels >> Apply for sponsorship
The KSGFOA Conference Committee reserves the right to refuse Exhibitor or Sponsor status to any company or organization.
Prefer to pay online? No problem! Go to www.wichita.edu/3rdPartyInvoices and follow the directions below.
In the invoice/Order Number payment field, please type: KSGFOA Conference sponsorship level

(Diamond, Gold, Silver, or Bronze) - Company Name. (ie. KSGFOA Conference Gold sponsor – Wichita State University.)
Fill out the remaining fields.
When you receive your emailed payment receipt, please forward that email to adrienne.mcalpine@wichita.edu

along with your completed KSGFOA Conference sponsorship form, a digital version of your company logo and the name(s) of

who will utilize the complimentary registration perk for the conference

.
Sponsor Contact
Adrienne McAlpine, Event Coordinator
Wichita State University Public Policy and Management Center
Adrienne.mcalpine@wichita.edu
316-978-6831
---
Scholarships
The KSGFOA Board is pleased to announce that attendance scholarships for the 2018 annual conference are available! If you are not a member of KSGFOA or are a member who has never had the opportunity to attend the Annual Professional Conference, you will be able to apply for a scholarship. The Board will sponsor up to 5 individuals. The scholarship for non-members will include a one-year KSGFOA membership and for members includes the conference registration. The conference will be held in Olathe, Kansas, October 11 – 12. A pre-conference session is scheduled for October 10th at an additional charge of $75.
Frequently Asked Questions
What are the eligibility requirements?
• Must meet the qualifications to become a KSGFOA member or already be a KSGFOA member.
• Must not have attended the KSGFOA Fall Professional Conference previously. Attendance at KSGFOA's Accounting Academy does not count as attending a KSGFOA Fall Professional Conference.
• Does not include substitutions. If you cannot attend the conference after being awarded the scholarship, it cannot be transferred to another individual nor a future year.
How do I apply for the scholarship?
• Complete the application and E-mail it to KSGFOA at paula.downs@wichita.edu. If you have any questions, please contact Paula Downs via email or by phone 316-978-6678.
How many scholarships are awarded?
• Up to five scholarships will be awarded by the Board. The Board will award as appropriate to continue the growth of the KSGFOA membership.
What does the scholarship cover?
• The scholarship waives the conference registration fee and, for non-members, will pay the 2019 membership fee (January – December) with KSGFOA. All scholarship recipients are still responsible for their travel and lodging and the conference. The scholarship does not cover the pre-conference session on Wednesday, October 10th. If you are already a KSGFOA member, but never attended the conference, the scholarship will cover the cost of the conference registration only.
>> Apply for a scholarship
---
Call for Topics
You are invited to submit topic and speaker ideas or a presentation proposal for the 19th Annual Kansas Government Finance Officers Association (KSGFOA) Conference. We encourage information from federal, state and local practitioners, consultants and keynote speakers. General sessions and breakout sessions can be delivered by an individuals, co-presenters, moderated panel discussions or roundtable topics. Proposals should include presentations on relevant topics for public finance professionals and consultants serving local and state governments across Kansas.
Example topic ideas include, but are not limited to:
• Budget balancing strategies
• Fostering innovation
• Debt levels and sustainability
• Economic development
• Talent drain
• Citizen participation in budgeting
• Recent and emerging fiscal trends
• Financial forecasting
• Succession planning
• Performance budgeting
• Funding aging infrastructure projects
• Capital planning
Proposal Details
• General and breakout sessions are one hour in length
• Proposals will be reviewed and approved by the Conference Planning Committee. Direct questions to Paula Downs via email at paula.downs@wichita.edu or phone at 316-978-6678.
• Travel, lodging and other expenses are the responsibility of each presenter. Travel expenses for keynote and other "key" presenters will be reviewed and approved by the KSGFOA Board. KSGFOA will work with presenters on scheduling session date/times that work with the conference and presenter(s) schedule.
• Presenters for general and break-out sessions will be required to register and pay for attending the conference. Registration fees are $200. Presenters may attend only their session at no cost; however, lunch and conference access will not be included. Registration fees will not be required for keynote and other "key" presenters as determined by the KSGFOA Board.
>> Presentation Application
All presentation information should be completed and delivered by the lead presenter. The information submitted, if accepted, will be used in all marketing materials for the conference, including the conference program, website, social media and other materials. Please provide all the information in the application.
Audiovisual Needs and Handouts
Presenters will have access to a laptop, projector and screen during their presentation. Presenters are responsible for their own handouts. An electronic copy of presentations and handouts must be sent to Adrienne.mcalpine@wichita.edu by October 1, 2018 for posting on the website immediately after the conference.
---
Innovation Award Nominations - still open!
The Innovation Award is designed to recognize and promote creative public finance initiatives and projects that provide innovative and creative solutions to address organizational and community challenges. Winners are those who reflect dedication and inventiveness in working in public finance and governance to deliver excellence in public services.
The award recognizes people, products and services that demonstrate innovation within public finance. Initiatives and projects must have occurred within the last two years.
The award recipient will be recognized at the KSGFOA Business Meeting during the Annual Conference on Thursday, October 11, 2018. A representative for the innovative project or initiative should be present to accept the award.
Application Details
• The KSGFOA Board will determine the award recipient
• The award recipient will be notified no later than September 15, 2018
• The award recipient must be a member of KSGFOA
>> Nominate someone for the 2018 KSGFOA Innovation Award
---
Lifetime Achievement Award Nominations - closed
The Kansas Government Finance Officers Association (KSGFOA) has established a Lifetime Achievement Award. The purpose of the award is to recognize an individual's achievements in outstanding leadership in public finance over the course of their career. The award recognizes the entirety of the recipient's career, rather than, or in addition to, a single contribution. The Award will not be given with any specific periodicity but rather when an eligible recipient is identified.
The KSGFOA Board will be responsible for the final selection of the Award Recipient(s) using the following selection criteria:
• Nominees must have exhibited honesty and integrity throughout their careers and contributed fundamentally to the advancement of sound public finance practices.
• Consideration for the award will be based on the cumulative impact the nominee's works have had and continues to have on the delivery of good public finance.
• Nominee must be a member of KSGFOA.
• Nominee must be determined to have provided extraordinary service and created a positive and lasting legacy within the public finance profession.
• Nominee is credited with changing their profession and inspiring others to do the same.
A nominee must receive the support of a majority of the KSGFOA Board to be given the award. The name of any award recipient(s) will be announced and will be recognized and presented with an award at the KSGFOA Annual Conference- Business Meeting.
Given the listed criteria, the expectation is that the choice of the award recipient is likely to be uncontroversial and would be viewed as a celebration of path-breaking contributions in public finance. The KSGFOA Board will solicit nominations for this award on an annual basis although KSGFOA members may submit nominations meeting the above criteria to the KSGFOA President at any time. Nominations must be submitted at least two months prior to the date of the annual conference in which an award may be given. The nomination form will be available on the KSGFOA website.
The KSGFOA Board will evaluate nominees for the award. Nominated candidates not selected for the award may be considered by the KSGFOA board for a future award.
---
Americans with Disabilities (ADA) Request for Accommodations
Please contact Adrienne.mcalpine@wichita.edu to request a reasonable accommodation for participating in the conference. Please provide the accommodation request by directly contacting Adrienne by September 7, 2018.
Dietary Needs
If you require a special meal, please list your requirements in the question at checkout when you register. Accommodations for special diets cannot be guaranteed after September 21.
---
Become a Member of KSGFOA
Are you a KSGFOA member? Check by emailing morgan.barnes@wichita.edu.
Regular membership is only $50 and includes discounted conference admission, exclusive access to web content + NEW online KSGFOA communication network. Associate and Student membership also available. Become a member here
---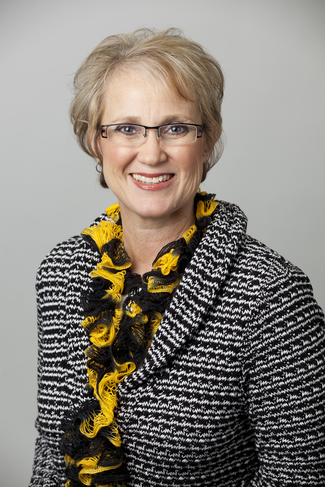 Conference Contact
Paula Downs, Professional Development Manager
Wichita State University Public Policy and Management Center
paula.downs@wichita.edu
(316) 978-6678
Sponsorship & Event Logistics Contact
Adrienne McAlpine, Events Coordinator
Wichita State University Public Policy and Management Center
adrienne.mcalpine@wichita.edu
(316) 978-6831