In conjunction with the University's Strategic Planning process, WSU has developed a Strategic Enrollment Management (SEM) plan for future growth. To stay informed on the progress toward our goals, each month we will provide the status of one of the goals and provide information for you to assist us in moving forward together.
We talk a lot about first-time-in-college (FTIC) students, but who are they exactly? FTIC students are comprised of high school students who have no post-secondary earned hours after their graduation date and have matriculated to WSU directly from high school; while the majority start as freshmen, they may carry enough AP credit to start as sophomores or juniors.
In fall 2018, they were 54.6 percent of all new degree-seeking undergraduate students, a group also comprised of transfers and returning adults.
As seen below, we have increased new fall FTIC students 34 percent from fall 2015 to fall 2018. FTIC students are an important group not only as a primary feeder of new students but also because they are the basis of how we officially report retention and graduation rates. Each FTIC cohort represents a different mix of students who have their own rate of persistence, retention and graduation.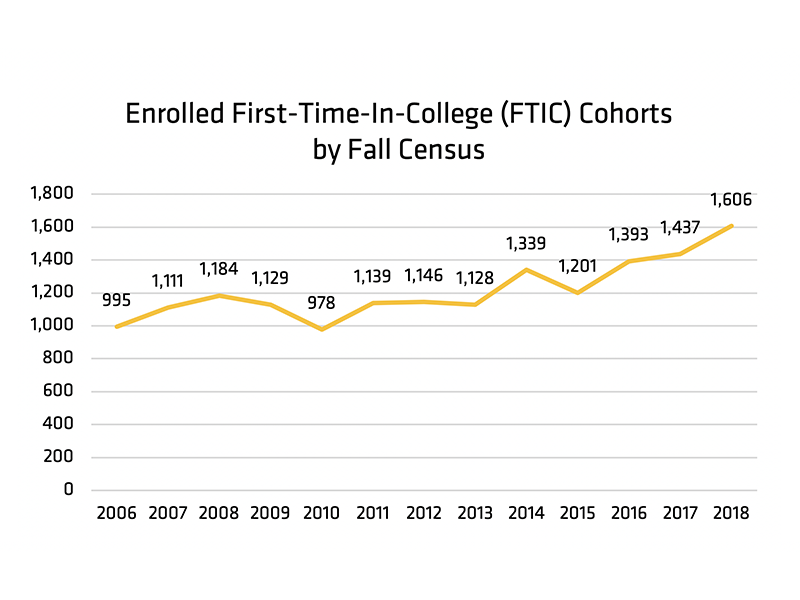 Because high school students play an important role as a primary feeder and source of institutional performance, courses directed at students while they are in high school can be a key part of our recruitment efforts. While this often includes courses taken by high school students at their high school (concurrent) and on our campus, another example is the Project Lead the Way initiative in the College of Engineering.
Project Lead the Way is a national effort to increase STEM awareness among high school students. WSU has been participating for the past two years, and we have experienced substantial growth (see below) in the number of high school students participating in our course offerings, which have grown from 12 classes in fall 2017 to 31 classes in fall 2018.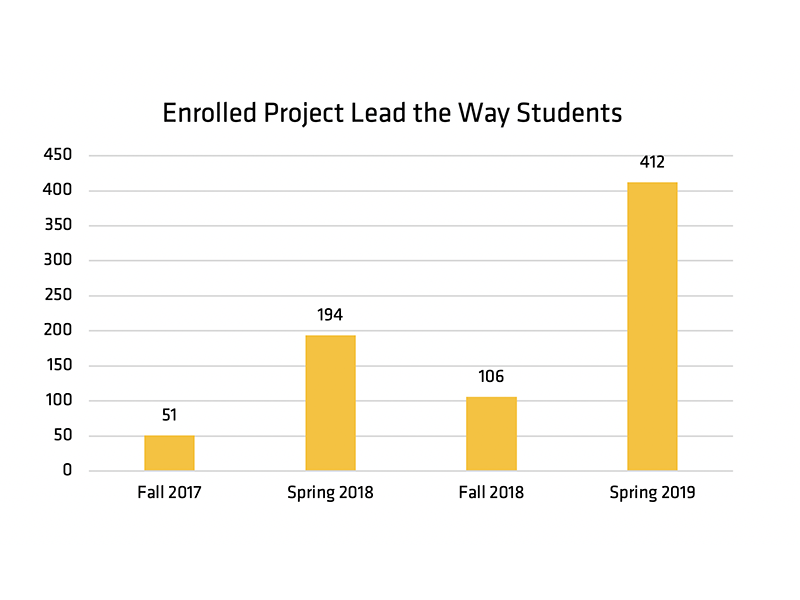 Current courses include Introduction to Engineering, Digital Design and Engineering Graphics. Not only do these courses help satisfy the program's goal of encouraging students to consider STEM, but they also provide us an opportunity to connect with students with the hope they will choose to continue their education at WSU.
High school students have also been among the groups taking advantage of some badge courses WSU offers. Exposing these students to content such as Library Research and College 101 can give them a jumpstart on college credit and exposure to WSU.
A new initiative has begun that offers select badge courses as a value-added option for degree-bound students. The goal is for students to gain additional skills employers want, such as managerial responsibilities and working in a global workforce. These badges are fully accredited short courses outside of the student's primary area of study.
The list of badges being offered to degree-bound students can be found at www.wichita.edu/skillbadges.
What can you do?
Encourage students to check out the badge options for degree-bound students.
Consider whether your program might offer similar opportunities to Project Lead the Way to connect with, serve and recruit high school students. Contact Carolyn Shaw in Academic Affairs to discuss how to advance new initiatives.