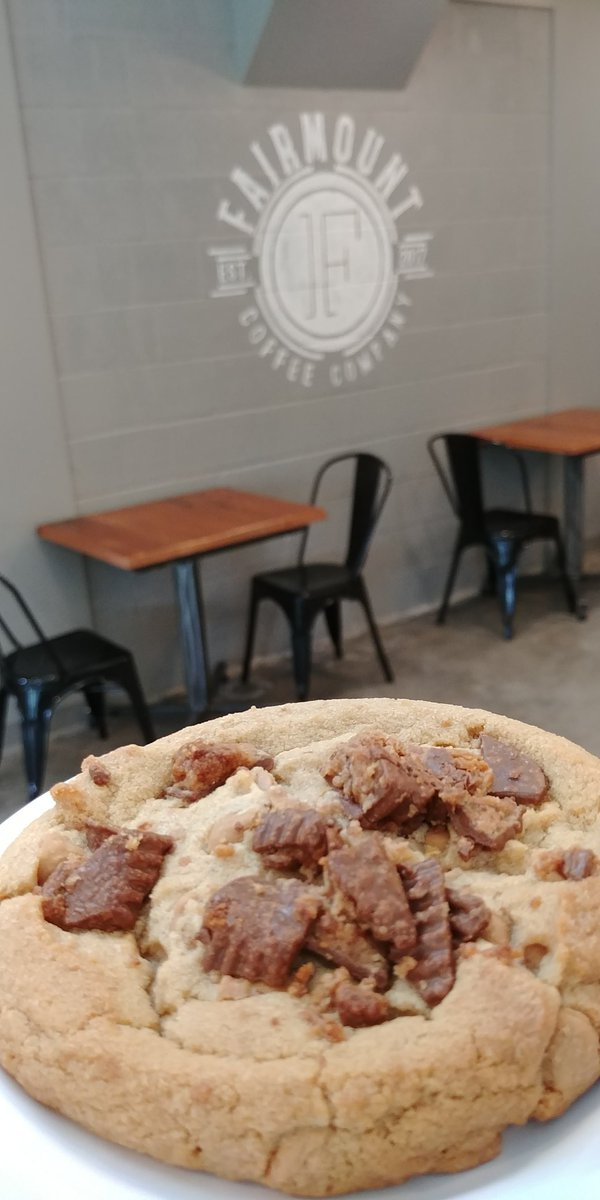 Who would have thought QR codes and blogs would make the biggest comebacks during the pandemic?! Well, here we are, announcing the Wichita State Admissions blog as your one-stop-shop for all things #ShockerNation. Whether you want restaurant recommendations, tips on filling out your FAFSA, student life insights or the best places to study on campus, we've got your back. We'll mix it up with the inside scoop on campus happenings, academic programs, notable Wichita State news and more. Let's just dive right in with what is arguably my greatest area of expertise. You don't spend nearly 25 years on this campus without accumulating an awareness of the best chocolate chip cookie sources. Here's the list.
Fairmount Coffee Co. - 3815 E 17th N, Wichita, KS 67208
It's the showstopper of Wichita State chocolate chip cookies. The picture says it all on what your first destination should be when you're seeking out a gooey delight near campus. Nestled along 17th street on the south side of Wichita State's campus, this is a popular study spot for many, a place of worship for some, and somewhere you're guaranteed an amazing cup of coffee or an even better chocolate chip cookie.
Chick-Fil-A – Rhatigan Student Center (On-Campus)
In the heart of campus is one of the most popular restaurants in the area: Chick-Fil-A. You're probably thinking to yourself, "I get nuggies and fries here; this is a cookie blog?" Exactly. Nothing beats a fresh, warm chocolate chip cookie, and these are always waiting in the warmers when you go through the line at the counter.
Shocker Hall Dining and Catering – Shocker Hall (On-Campus)
While Shocker Hall Dining has many delicious desserts to choose from, but on the occasion they've got the cookies served, skip the main entrée and stop to get your cookies first. Since students who live on-campus their first year have unlimited dining passes, they're entitled to all of the cookies. Color me jealous.
McDonald's – 1811 N Hillside, Wichita, KS 67214
I'll receive no royalty or advertising income on this but I can confirm McDonald's cookies are really good, and the location near campus has them ready for pick-up all-day. Take yourself a study break, head over to 17th and Hillside and grab yourself some fresh, warm cookies with a spicy Sprite. Ask anyone, it's a great idea.
Starbucks – Rhatigan Student Center or Braeburn Square
Of course, Starbucks is a student favorite at Wichita State, and with two locations on campus it's an accessible spot to grab cookies. The staff always have the hook-up and a few drips of caffeine to compliment the chocolate will make the meeting, paper or gathering that much better. It's quick, it's simple, it's sweet and warm. *chef's kiss*
Honorable mention: The Shocker Store and Shocker Sports Grill and Lane in the Rhatigan Student Center. Both locations have pre-packaged cookies at your convenience. If you're in a rush and need something sweet, there you go.
In the meantime, follow us on Facebook, Twitter, Instagram and TikTok for more great blogs, videos, student highlights and other on-campus events! With so much more to come, you don't want to miss out. Go Shockers!
Bobby Gandu
Assistant VP of Strategic Enrollment Management and Director of Admissions
Blog home
All posts