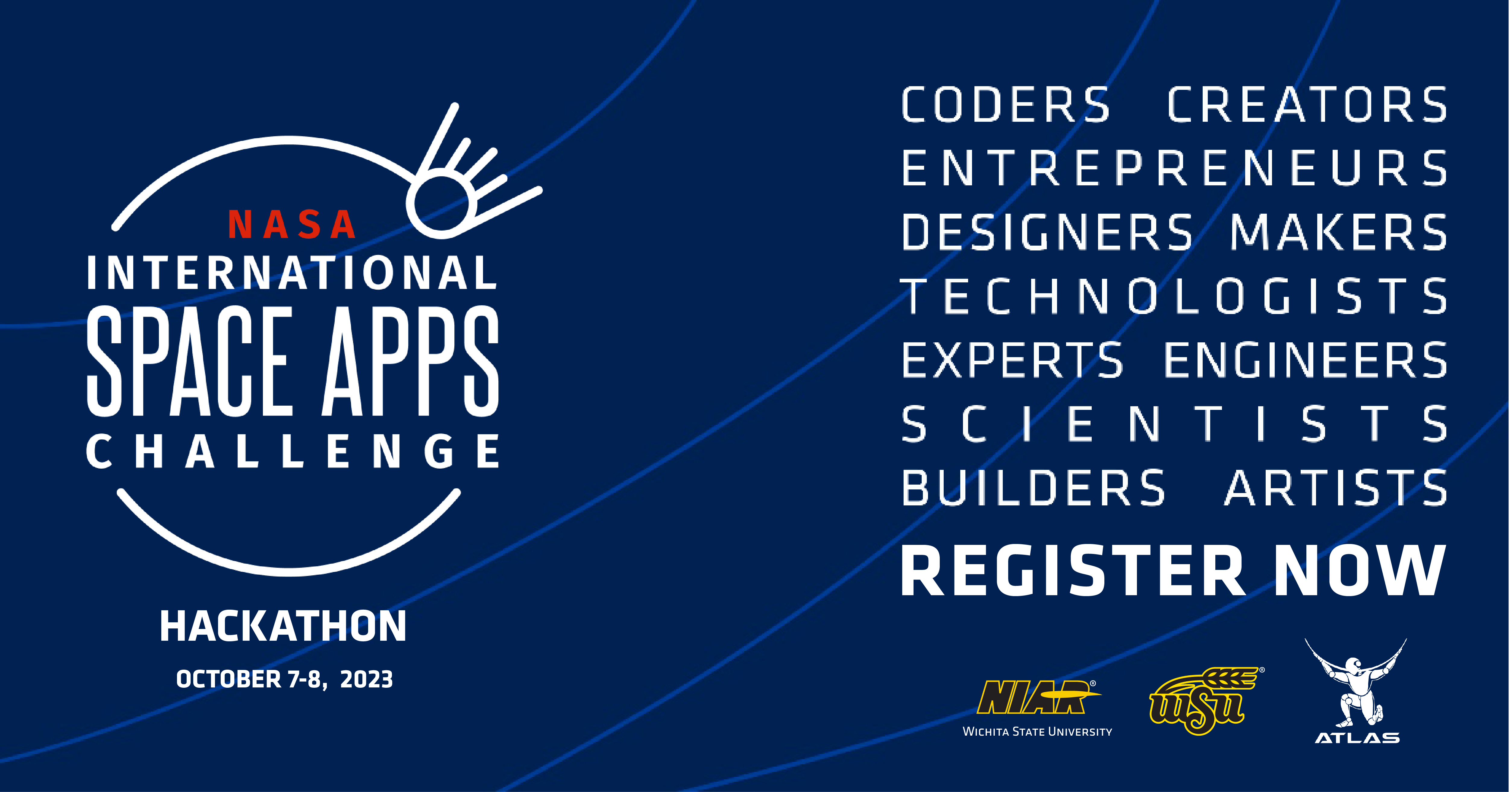 NASA's International Space Apps hackathon is coming back to Wichita State University's National Institute for Aviation Research (NIAR) Oct. 7-8.
WSU-NIAR and NASA invite coders, entrepreneurs, scientists, designers, storytellers, makers, builders, artists and technologists of all ages to come together in a global hackathon using open-source data from NASA and its Space Agency Partners.
Local in-person competitors will convene at NIAR's Advanced Technologies Lab for Aerospace Systems for the weekend of October 7-8 to define and complete their chosen challenge programs. Participants should register now as individuals. Team formation is a separate process, which begins Tuesday, Sept. 19.
The challenge is open to all ages, but participants under the age of 18 must be registered for the event by a parent or legal guardian and accompanied during the event.
Teams can choose from 31 challenges focused on topics such as Artemis II, Space Biology, Eclipses, Water Conservation, Geomagnetic Storms, Biodiversity, Moonquakes, Fire Management and many more.
SpaceApps, which started in 2012, is the largest annual global hackathon in the world. This year's event theme is "Explore Open Science Together" in collaboration with NASA Transform to Open Science (TOPS). This theme acknowledges 2023 as A Year of Open Science - as declared by NASA, the White House, and other Federal Agencies.
Space Apps is for everyone, including those who have never hacked before. The competition is open to passionate problem solvers of all ages: students, faculty, staff, experts, engineers, makers, artists and storytellers. While some of the challenges are technical, others require the use of artistic ability, business acumen, and historical imagination. In other words, you do not need to be a coder or data expert to be a part of Space Apps. In fact, the most diverse teams are often the most successful.
Learn more about the competition and register at www.spaceappschallenge.org. The deadline to register for the Wichita event is Sunday Sept. 24.
The hackathon is hosted by and on location at the NIAR's Advanced Technologies Lab for Aerospace Systems (ATLAS), 4174 S. Oliver, Bldg 140H. Participants selected as local winners will win a prize package (details TBD) from WSU-NIAR and move on to compete for the global prize.