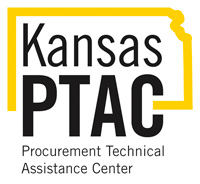 Kansas PTAC counselors are prepared to assist Kansas businesses to help with securing local, state, and federal government contracts. Assistance and services provided by the PTAC include daily bid-matching, bid preparation assistance, specifications and standards, registrations and certifications, procurement/price history, and training seminars.
Kansas PTAC serves the entire state of Kansas.
Our Overland Park office serves businesses located in the following counties: Anderson, Coffey, Franklin, Johnson, Linn, Leavenworth, Miami and Wyandotte.
Our Wichita office serves businesses located in all other Kansas counties.
Wichita Office Phone: (316) 978-6788
Wichita State University
Wichita KS
Scott Knapp, Procurement Counselor
Beth Uhler, Client Services Coordinator
Terri Bennett, Program Director
Julián Gonzalez-Salamanca, Procurement Counselor
Kristi Dunn, Procurement Counselor