Statement from WSU President John Bardo regarding U.S. immigration policy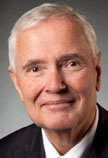 The United States, the state of Kansas and Wichita State University are all stronger because of those who have come from throughout the world to study, teach and work. We embrace the diversity that international students, faculty and staff bring to learning, innovation and entrepreneurship on our campus.
Intelligence, talent, work ethic and achievement recognize no borders. We want to be clear that international students are welcome at Wichita State and we're communicating our concerns to federal policymakers.
Wichita State University is committed to serving as a resource and support for all students, faculty and staff who need our help. Today our Office of International Education advised that students from the seven countries affected by President Trump's order remain in the U.S. until immigration policy is clear.
Rest assured we will do everything we can to enable our students to continue their education and our faculty and staff to continue their important work. Affected students and WSU employees may contact the WSU Office of International Education for further information, 316-978-3232 or international@wichita.edu.