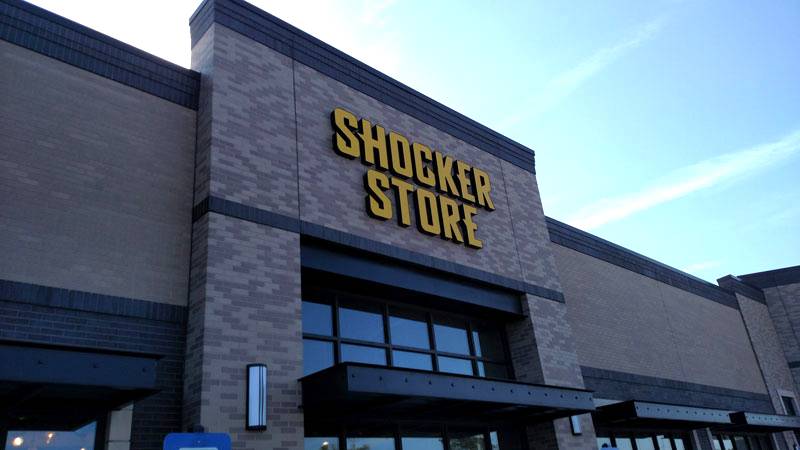 The newest Shocker Store location in Wichita State University's retail area, Braeburn Square, will have its grand opening from 10 a.m.-8 p.m. on Saturday, Sept. 29. The first 50 guests through the door will receive a Shocker Store gift card with a random dollar amount on it. The next 50 guests through the door will receive a Shocker Store T-shirt.
There will also be a ribbon cutting from noon-4 p.m. Friday, Sept. 28, with the actual ceremony occurring at 12:15 p.m. Guests will be able to tour and shop the new store.
This new location will be a 2,840-square-foot store with Shocker merchandise geared toward sports fans, alumni and the WSU community. It will feature an extended line of Shocker apparel, different from the merchandise carried in the Rhatigan Student Center's Shocker Store.
Hours of operation will be 10 a.m.-8 p.m. Monday through Saturday and noon-6 p.m. Sunday.
---
The mission of Wichita State University is to be an essential educational, cultural and economic driver for Kansas and the greater public good. Wichita State is a doctoral research university enrolling nearly 15,000 students and offering 59 undergraduate degree programs in more than 150 areas of study in seven undergraduate colleges. The Graduate School offers 45 master's and 12 doctoral degrees that offer study in more than 100 areas. Wichita State's Innovation Campus is an interconnected community of partnership buildings, laboratories and mixed-use areas where students, faculty, staff, entrepreneurs and businesses have access to the university's vast resources and technology. For more information, follow us on Twitter at www.twitter.com/wichitastate and Facebook at www.facebook.com/wichita.state.