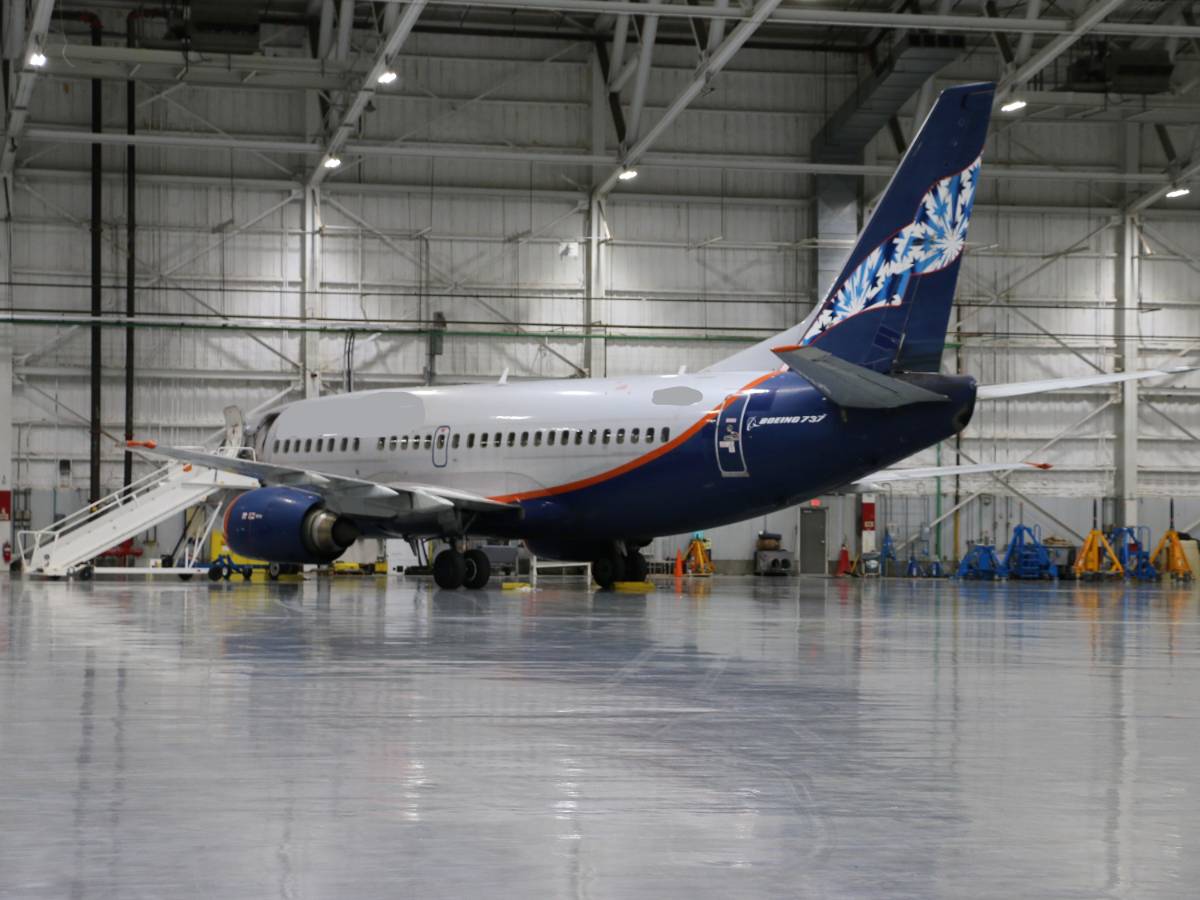 NIAR begins work on Boeing 737 special-mission modifications
Wichita State University's National Institute for Aviation Research has received delivery of two Boeing 737 aircraft for modification.
The aircraft are part of a yearlong project with Virginia-based Dynamic Aviation to modify three 737 aircraft for a special-mission program.
"Dynamic Aviation is excited to partner with WSU-NIAR. Through this partnership we will create significant value, which will allow us to continue to serve our customer well," said Michael Stoltzfus, CEO of Dynamic Aviation.
Read more about NIAR's special-missions work
---
Barton School adding master's program in business analytics
The W. Frank Barton School of Business at Wichita State University has added a Master of Science in Business Analytics (MSBA) to its wealth of degree options for graduate students.
The new MSBA was developed as an interdisciplinary program with resources and faculty from the Barton School as well as the College of Engineering and the Fairmount College of Liberal Arts and Sciences to address the growing needs of industry. Admission to this STEM-designated program is now open.
"Technological advances are generating a massive amount of data in every field of business including operations, supply chain, marketing and finance," said Dr. Sue Abdinnour, MSBA program director at the Barton School. "Analytics help turn big data into actionable insights that impact business strategy and decision making. The focus of this program is to train future business leaders on state-of-the-art analytics tools and techniques."
---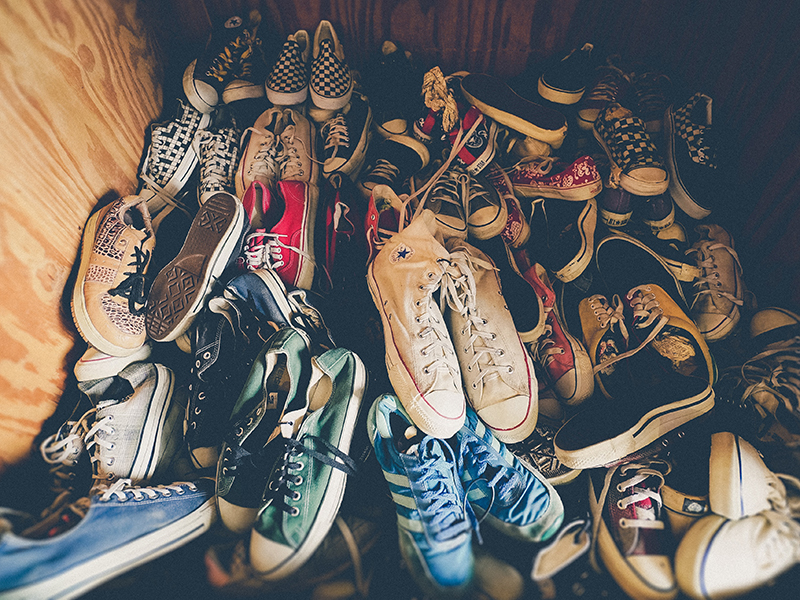 Engineering students' project keeps shoes out of landfills
A class project in Kara McCluskey's environmental engineering technology class this semester set out to tackle an immense issue: The fact that each year in America, 300 million pairs of shoes are thrown away, taking an average of 30 to 40 years for just one pair to decompose.
Led by McCluskey, engineering students Brett Herrman, Oltunbosun "Bosun" Fagbemi and Nathan Lipinski set out to create shoe recycling projects to reduce the amount of shoes in landfills. They worked in groups to start shoe collection campaigns to collect sneakers for the Nike Reuse-a-Shoe program. Following the campaign, the shoes were taken to the nearest Nike Reuse-a-Shoe drop of location, The Nike Factory Store in Oklahoma City.
---
We're dancing! Shockers return to the NCAA Tournament
All season long, Wichita State has put its fans through the emotional ringer, winning close game after close game. Why should Selection Sunday be any different?

The Shockers survived a potential bubble-bursting loss to Cincinnati in Saturday's American Athletic Conference semifinals and last-minute raids from various "bid-thieves" to secure one of the final at-large berths in this year's NCAA Men's Basketball Championship.

No. 11 seed WSU is headed to the First Four where it will face fellow-No. 11 Drake on Thursday, Mar. 18 at Purdue's Mackey Arena in West Lafaeytte, Ind. The 5:27 p.m. CT tip will air on TBS.
The winner advances to take on No. 6 seed USC at Bankers Life Arena in Indianapolis on Saturday, Mar. 20 (3:30 p.m. CT, TNT).
Read more about the Shockers' appearance in March Madness
---
Wichita State mourns death of President Emeritus Eugene Hughes
From Interim President Rick Muma:
It is with great sadness that I, on behalf of the entire Wichita State University community, express my condolences to the family and friends of Eugene Hughes, former president of Wichita State. President Hughes died on March 10 in Flagstaff, Arizona.
President Hughes served as Wichita State's 11th and centennial president from 1993 to his retirement at the end of 1998. When he took office, he began a campaign for "The Metropolitan Advantage," aimed at redefining Wichita State's connection to the community – a pillar we hold near and dear to our mission to this day.
Dr. Hughes believed that universities are never finished products, and urban institutions like Wichita State must evolve in response to the changes in the community. He said this dynamic quality would allow Wichita State to remain a powerful educational force for Wichita, our state and the nation for many years to come.
Read more about President Hughes
---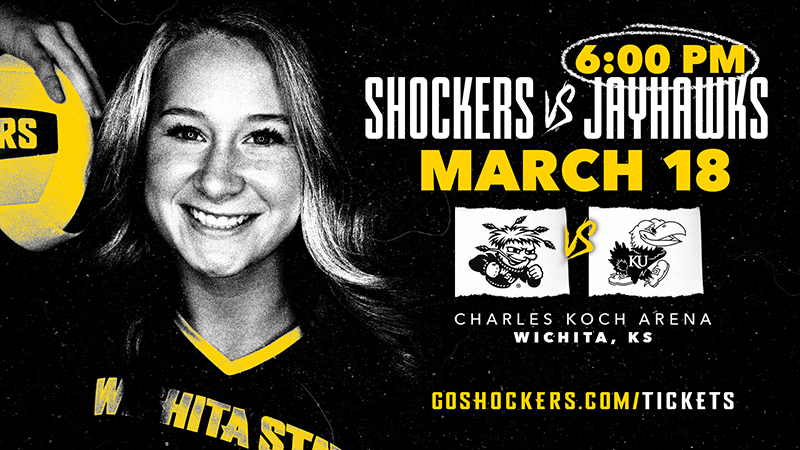 Shocker Volleyball Set hosts in-state rivals Kansas Jayhawks
Shocker Volleyball takes on the Kansas Jayhawks in at 6 p.m. Thursday, March 18, at Charles Koch Arena. Be a part of the action as the excitement ramps up for this in-state rivalry matchup. Seating is limited due to Covid-19 restrictions, but tickets are still available. Get yours today and Watch Us by visiting GoShockers.Com/Tickets or by calling the Shocker Ticket Office at 316-978-FANS.
---

Ulrich looks at connection between basketball, contemporary art
It's March Madness and the Ulrich Museum of Art on the Wichita State University campus is excited for the Shockers to make a deep run in the NCAA Tournament. The museum is getting ready for Wichita State's first game this week with an exciting virtual program that looks at the powerful connection between basketball and contemporary art.
Join the Ulrich at 10:30 a.m. Wednesday when Emily Stamey, curator of exhibitions at the Weatherspoon Art Museum, discusses her latest curatorial project, "To the Hoop: Basketball and Contemporary Art." The exhibition was scheduled to be on display at the Ulrich last fall, but had to be canceled due to the coronavirus outbreak. Stamey will talk about the show, which combines photography, fashion, prints, and other artistic depictions of the sport to look at a number of pressing social issues such as over-commercialization, gender and racial identity, and the urban-rural divide in this country, among others. Her talk is free and open to all, but registration is required to get the Zoom link.