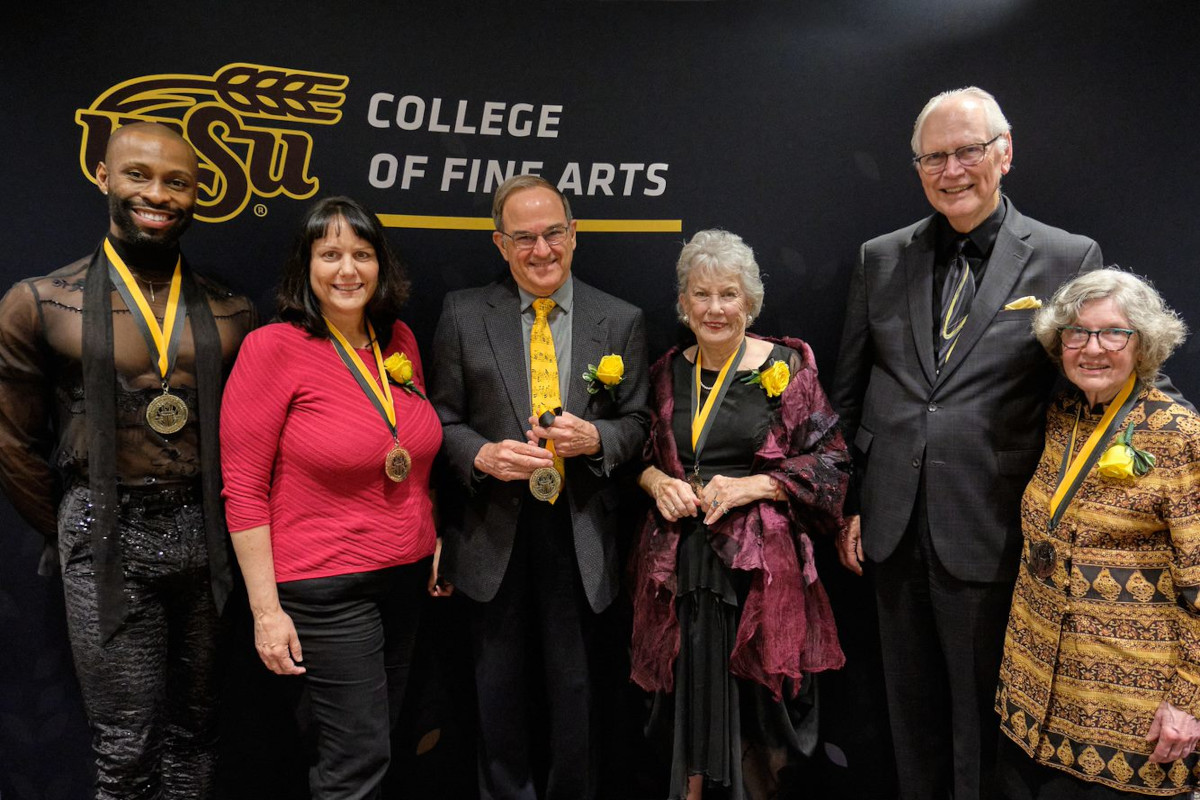 From left to right: Taurean Everett, Cheryl Moffatt, Jerry Juhnke, Mary Sue Foster, Rodney Miller and Mary Joan Waid.
The College of Fine Arts (CFA) at Wichita State University held its 2023 Hall of Fame Gala on May 13. CFA recognized exceptional alumni from the college, patrons who give their time and resources in support of fine arts at WSU, and retired faculty, staff and administrators who have inspired the WSU community.
This year, five recipients were inducted into the hall of fame for their accomplishments and contributions to the College of Fine Arts: Alumni Taurean Everett, Michael Powell and Mary Joan Waid; patron Sam & Rie Bloomfield Foundation; and mentor Mary Sue Foster.
"The College of Fine Arts has an unprecedented legacy of superb faculty and staff, aided by committed patrons, who have mentored, taught and trained an amazing array of students who have gone on to distinguish themselves regionally, nationally and internationally," said Rodney Miller, dean, College of Fine Arts. "While we recognize these wonderful people who have brought honor to this college, in a larger sense we are also honoring the college itself as an institution that nourishes such people. There are many who are deserving of taking their place in this Hall of Fame, and this class represents the very best and the very brightest."
The Hall of Fame award recipients:
Taurean Everett, School of Performing Arts, currently performing in the musical Moulin Rouge on Broadway, returned to Wichita to be inducted. Taurean graduated with a BFA in Dance in 2008.
Michael Powell, School of Music, internationally acclaimed trombonist and teacher who graduated in 1973 and currently resides in New Jersey, was unable to attend in person due to health issues. Accepting on his behalf was Jerry Juhnke, a friend and classmate of Michael's.
Mary Joan Waid, School of Art, Design and Creative Industries, internationally celebrated painter and arts activist, also returned to Wichita from New York City to be inducted.
The Sam and Rie Bloomfield Foundation was selected as the patron honored for its continuing support of the College of Fine Arts. One of their Trustees, Cheryl Moffatt, traveled to Wichita from the west coast to accept the medal for the family foundation.
Mary Sue Foster, selected as the mentor honored, resides in Wichita. Mary Sue taught art education at WSU for 51 years before retiring in 2017.
The College of Fine Arts congratulates the recipients of the 2023 Hall of Fame awards and thanks all of those who support the college's efforts to advance the interests of the arts at WSU and the greater Wichita community.
---
About Wichita State University
Wichita State University is Kansas' only urban public research university, enrolling almost 22,000 students between its main campus and WSU Tech, including students from every state in the U.S. and more than 100 countries. Wichita State and WSU Tech are recognized for being student centered and innovation driven.
Located in the largest city in the state with one of the highest concentrations in the United States of jobs involving science, technology, engineering and math (STEM), Wichita State University provides uniquely distinctive and innovative pathways of applied learning, applied research and career opportunities for all of our students.
The Innovation Campus, which is a physical extension of the Wichita State University main campus, is one of the nation's largest and fastest-growing research/innovation parks, encompassing over 120 acres and is home to a number of global companies and organizations.
For more information, follow us on Twitter at www.twitter.com/wichitastate and Facebook at www.facebook.com/wichita.state.